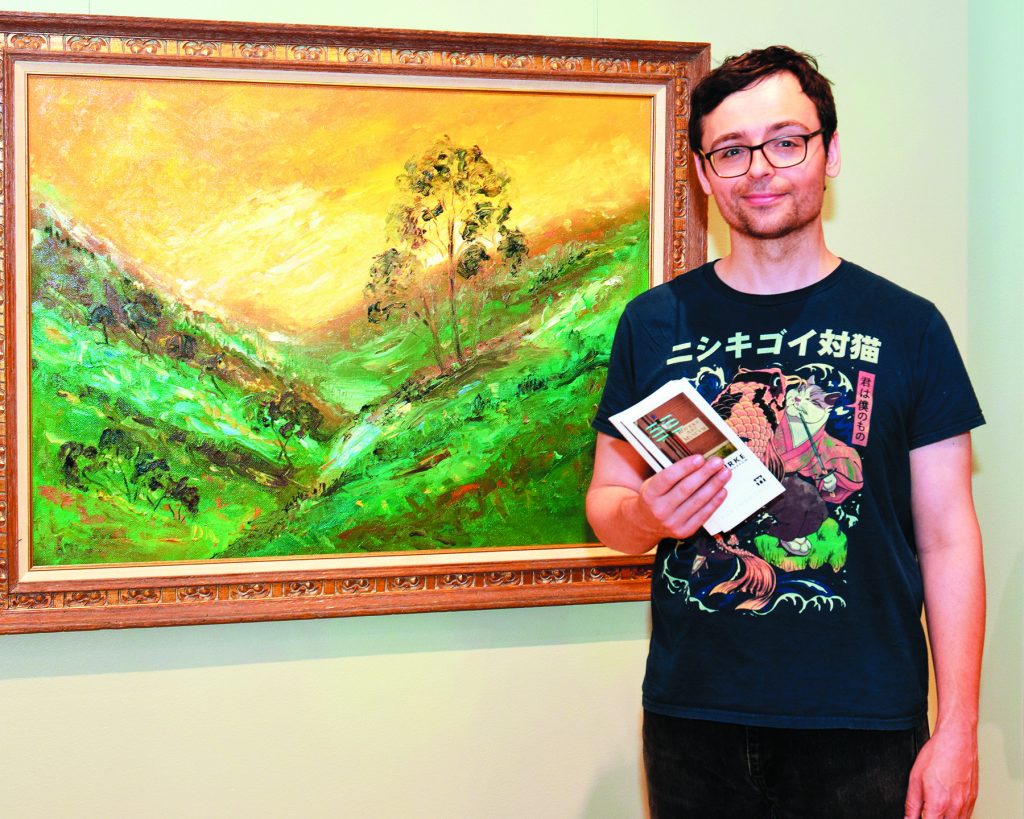 Nancy Edmonds Hanson
hansonnanc@gmail.com

Sixty years ago, freshly graduated Concordia College art student James O'Rourke invited 20 of his classmates and friends to show their best work in his brand-new art gallery here in Moorhead.
O'Rourke has been gone since 2011, when he died at the age of 77, but his brainchild and his passion live on. Now known as The Rourke Art Gallery + Museum, the area's oldest institution devoted to showcasing the fine arts is hosting the latest incarnation of that very first show – the 60th annual Midwestern Invitation Exhibition of Fine Art. It opened on June 18, the 59th anniversary of the day O'Rourke and brother Orland Rourke opened the doors of what would become a treasured local art venue.
The key to what sets the exhibition apart from other local art shows, says executive director Jonathan Rutter says, is the word "invitational." "Most group exhibits are open to anyone who wants to participate with their work and can pay the entry fee," he explains. "This one is different. Every artist who's represented here has been specifically invited."
It's a specifically curated list of 95 whose works hang in the main gallery of the former Moorhead Post Office at 521 Main Ave. The range of ages, visions and media is the broadest. The late Yvonne Butzon, who died two weeks before the show opened at the age of 96, is the only one of the original 20 represented; with her eyesight failing, she submitted a painting she completed back in the seminal year of 1960 entitled "Sheyenne Valley."
Other artists' names are as much household standards as one can be in the Midwest region, Rutter comments: Walter Piehl, George Pfeifer, Gordon Mortenson, Kathleen Ristinen, LeRoy Aasland (Jim's college roommate), James VerDoorn, Charlie Thysell … it's a litany of noted careers launched at least in part by O'Rourke's gallery and under his tutelage.
At the other end of the calendar are several new, younger artists singled out with invitations, among them Brett Lysne, Aunna Escobedo, Courtney Donahue and 18-year-old Ives Hilger. Donahus is currently an MSUM honors apprentice working at the gallery.
"Our goal, besides honoring Jim, is to maintain the continuity of what's become a real tradition," Jonathan says. "Like him, we continue to seek to challenge them and give them an opportunity to get to know established artists."
Rutter, a Minnesota State University graduate, took over the museum's reins in 2017 after consulting as its curator. He says he holds the distinction of having worked for Jim himself for the longest tenure of any of the hundreds who passed through the gallery's doors. "Seven and one-half years," he says, "beginning when I was a student 18 years ago." He adds, "It wasn't continuous, though. I quit twice."
As he did many others, the highly demanding gallery director influenced the course of Jonathan's own career. "I was in mass communications, going into graphic design," he remembers. "Jim taught me two things: Art looked like a lot more fun, and I learned a lot about designing graphics with a very particular client standing over your shoulder." Steered toward fine art, he graduated with an art degree with an emphasis in painting from MSUM and a master's from the Pennsylvania Academy of Fine Arts.
The Rourke tradition stands apart from other galleries and museums in several ways. "It's the only art gallery in Moorhead, the only art center in Clay County," he enumerates. "It has the largest permanent collection in the Red River Valley. In any month, you can see more art here per square foot than in any other venue." Too, it cycles through more exhibits between the main floor now occupied by the Invitational and two upstairs galleries, the Gustavian and Katherine Kilbourne Burgum: "Come back in five weeks, and you'll be sure to see something new. That's a tradition we've kept from Jim's leadership. We're always rotating in a new emphasis."
The Rourke Gallery's six-decade history might best be called "tumultuous." Co-founder Orland Rourke, Jim's brother, left to go back to teaching in its first year. Its longtime location in a historic home on Fourth Street South was sold ten years ago to allow the organization to concentrate on its Main Avenue building, igniting controversy among its supporters. It found itself in dire financial straits over the past decade – a challenge that Jonathan says was finally solved with radical frugality, sometimes-painful staff cuts, directing every dollar to debt repayment and fund-raising, including a benefit auction that raised nearly $20,000.
The picture is far more stable today. One perhaps-surprising reason is the policy adopted here and at the Plains Art Museum in Fargo to do away with admission fees, replacing the lost revenue with vigorous and successful member recruitment. The membership roster was 100 in 2016; today it's more than 250.
"Now we derive far more revenue from freewill donations by visitors who come in free than we did by charging them," he explains. That's due in large part to the dramatic increase in attendees. In the first year after the new policy was instituted, attendance went up 1,700; the next, another 2,000; and in 2018, more than 1,500.
One feature of the Midwestern Exhibition has been its unpredictable themes, selected by a different artist each year. Some have been pastoral – flowers, mother and child, home. Others are more esoteric, like this year's "Zeitgeist," which invited artists to depict the tense tenor of the times. "Grumbling about the themes is part of our tradition," Jonathan notes. The peak of grumbling was probably the year when artists were challenged with "Art in the Age of the Spiritual Machines." He says, "No one quite knew what to make of that."
The year ahead holds one major occasion: the 60th anniversary of the founding of the Rourke Gallery itself, when a variety of highlights are being planned: "We'll be looking back fondly and projecting forward with plans for the next 60 years." Otherwise, the gallery's financial stability permits taking a look at some restorations and improvements in its venerable building. "They're primarily aesthetics," he comments. "We do have some concern about the exterior masonry of the portico and some settling in front. But it's a real testament to how this building was built back in 1913 that we've seen as little movement as we have."
The Rourke Gallery + Museum is open to visitors from 1 to 5 pm. Friday, Saturday and Sunday, and by appointments at other times. The 60th Midwestern Invitational is scheduled through September 1.