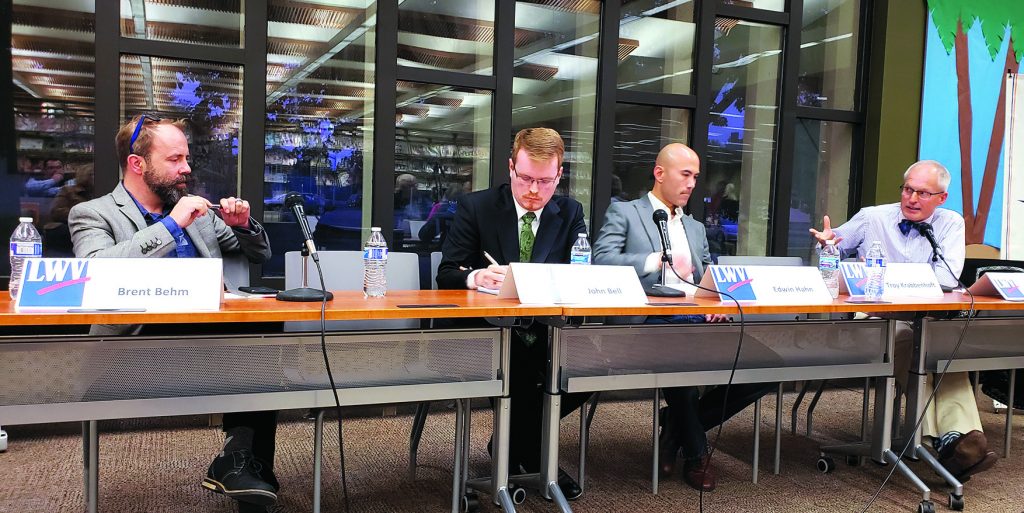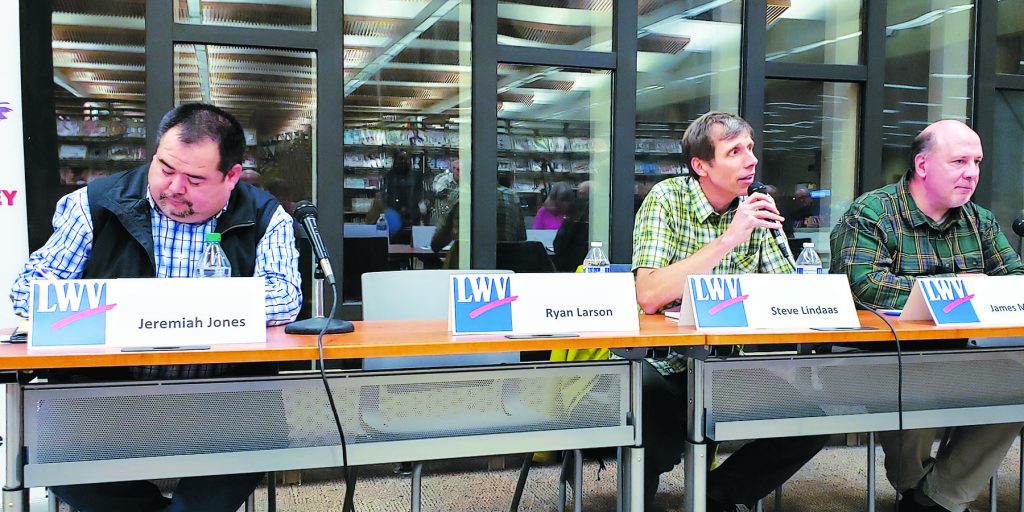 Nancy Edmonds Hanson
hansonnanc@gmail.com
Seven of the 12 men running for City Council seats representing south Moorhead's Wards 3 and 4 introduced themselves to citizens Thursday, Oct. 3, at the Moorhead Public Library. All largely agreed on major issues facing the city, from the need for citizen input as downtown development presses forward to their unanimous support for the Moorhead School District's proposed $100 million bond issue for Moorhead High School.
The differences between them came down to a few fine points – that, and the varied backgrounds they bring to the race.
Representing the field for Ward 3 were Brent Behm, Jon Bell, Edwin Hahn and Larry Seljevold. Troy Krabbenhoft did not attend.
Three Ward 4 candidates particpated – Jeremiah Jones, Steve Lindaas and James McKinstra. A fourth, Swede Stelzer, could not attend because he was under medical care; another, Marc Hedlund, declined due to a prior family commitment. The League of Women Voters of the Red River Vally, which hosted the forum, did not hear from the sixth and seventh men, Ryan Larson and Eric Smith.
Behm, who has lived in Moorhead for about five years, noted the importance of "insuring equitable development" that enhances, rather than detracts from, the city's existing culture. "We have missed opportunity after opportunity in the past. At last, things will be changing," he said, adding, "We need to present these plans to everyone in an easily digestible way." As an architect, he said, he has the right eye for this time "when there's so much to be considered and be built," including experience in finding the best way to utilize the existing infrastructure. He commented, "There's a right time to build and when not to build."
Jon Bell, a 2011 Concordia graduate who's office manager for St. John's Lutheran Church, stressed his choice to remain here after college. He noted that the city's future depends on attracting and keeping young people, including those who come here to attend the three colleges. "I am one of those young people who have made the conscious decision to stay," he said. "I can provide that valuable perspective for the council." Of the council's recent agreement to work with Roers Development on redevelopment of City Hall and adjoining property, he said, "I trust the city council, but I understand how making that decision behind closed doors is frustrating for some citizens."
Edwin Hahn described himself as one who believes in "freedom, collaboration and advancement of this community." A Moorhead resident for just one year, he stressed the importance of ongoing downtown development conversations. "You can judge the pulse of a community by its downtown," he said. "We're going in the right direction." He later added, "We're not going to be an extension of downtown Fargo. We're going to be our own Moorhead – walkable, pedestrian-friendly, a place where youth want to live, work, shop and play."
Larry Seljevold is making a bid to return to the council after serving from one term in 1999-2001. A lifelong Moorhead resident, he called it an exciting time to return to public service, especially with the flurry of activity embracing downtown's future. Like his fellow candidates, he expressed strong support for the arts as an essential piece in what the city has to offer. While he said he will be voting "yes" on the school bond issue – like his opponents – he cautioned that the city may "need to tighten its belt so the taxpayers are not overwhelmed" by public-funded developments downtown as well as the new high school.
All four Ward 3 candidates expressed support for the proposed dog park the council has endorsed on River Oaks Point, as well as completion of the city's flood protection along that area of the Red River.
---
As in Ward 3, the three men present who are vying for Ward 4's open seat on the council expressed agreement across the board on major issues facing the city – support for the school bond referendum Nov. 4, for the arts and for citizen input into government decisions.
They were challenged with one question that wasn't asked of Ward 3: "Should the city be run as a business or a social organization?" On that, too, they were largely in agreement. Jeremiah Jones, an Oregon native who has lived here for five years, suggested some of both. "You have to answer questions of where the money is coming from and going. But it can't all be business. There are social concerns, as well."
Steve Lindaas, a physics professor at Minnesota State University, echoed that sentiment: "Both. But a city isn't a business. Businesses don't need to explain their decisions to the citizens, and city government does."
James McKinstra, who moved here from Illinois, responded to another query about the cost of infrastructure. "To me, moving here a couple years ago, Moorhead seems pretty affordable in terms of taxes and other expenses."
Lindaas and Jones commented on the closed-door session at which the city council decided to bring in Roers to assist with predevelopment of city property downtown. "I'm a big fan of transparency," Lindaas said. "If people understand how a decision was made, they're going to be more supportive."
Jones called the process "disheartening," adding, "but there are times when it's necessary to discuss matters in private. We elect city officials to make those hard decisions for the whole community and do need to trust them to do that."
As for the school bond referendum, the three agreed. Jones commented that strong schools are essential: "Cities with a good public school system also have good private schools," McKinstra.
Jones, who has no children, drew on personal experience. "I was part of a school system that was busting at the seams – 45 in a class," he recalled. "I'm in favor, and I want to make sure we built it to sustain the system for many, many years."
The arts, too, have their strong support. Jones took it a step farther. "We need more arts in Moorhead – but not just the arts from here. We have outstanding immigrants from all over the world in our city." Identifying himself as a tribal member from eastern Oregon, he said, "We can include everybody. Our community can enjoy a whole world of things that we haven't seen here before. Moorhead can open its heart to all types of people and all kinds of art."