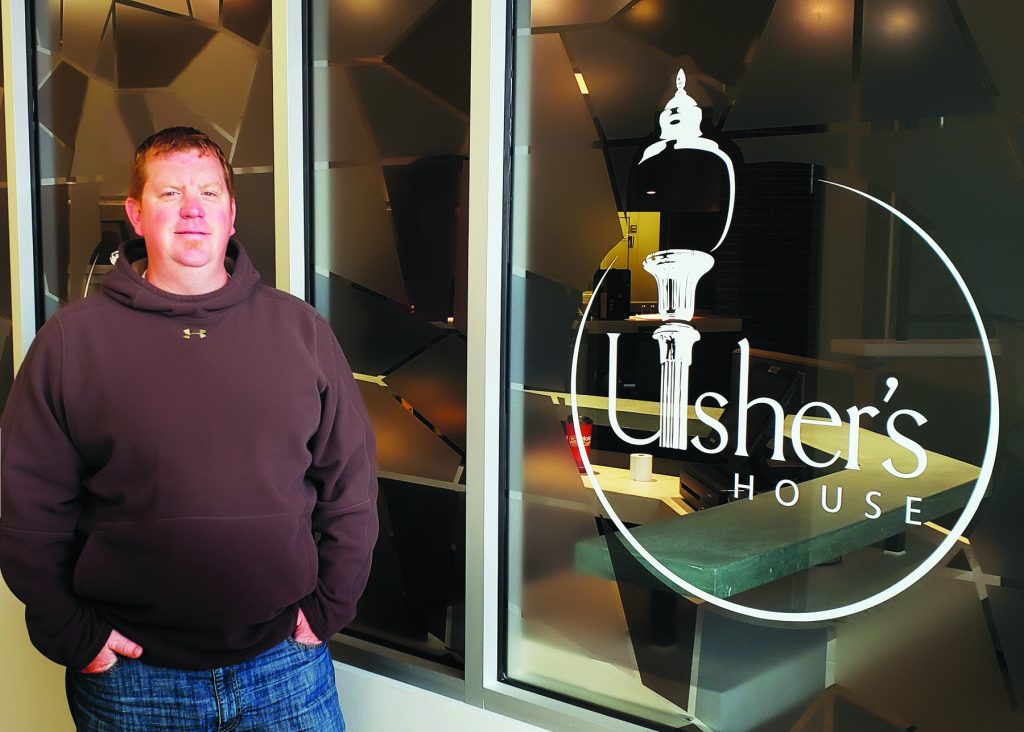 Nancy Edmonds Hanson
hansonnanc@gmail.com
One of Moorhead's favorite fine-dining spots, Usher's House, reopens next week with a new look, a new menu and some of the same faces local customers have missed during the 18 months since it closed the doors in its favorite location.
Meanwhile, work is expected to begin at its original address to turn the 85-year-old local landmark into a dashing new events center for weddings, corporate meetings, fund-raisers and concerts.
The new Usher's House occupies much of the first floor of The Loft, also known as Block E, at the corner of Main Avenue and Eighth Street South. Nate Sauvageau says the restaurant's new look will be unveiled beginning Tuesday, May 7, with a week dinners served by reservation only. That "soft opening" will be followed by regular service beginning May 13. Weekday hours are 11 a.m. until closing. On Saturdays, it will open with a brunch menu at 10 a.m.; a brunch buffet is planned Sundays.
Nate is the son of the late Nancy Sauvageau, who owned the restaurant for 11 years until her unexpected death in September 2017. That set off a chain of events that's led to the new restaurant location, along with the purchase of the former American Legion hall at 700 First Ave. N. by partners Jade Nielsen and Aaron Duma, who had been Usher's general manager for eight years.
"We love Moorhead. Our customers have always been the best," Nate says. He predicts they'll like what they see in the reimagined restaurant. "We have the same executive chef, Cary Carr. He's bringing back some of the old classics and introducing new recipes." Cody Miller is also back as general manager.
Nate describes the menu as protein-heavy – a modern American steak and seafood destination that also features hand-rolled pastas and entree salads. The atmosphere? "It has more of a downtown urban-style restaurant feel," he says. That includes airy, open lounge and dining areas done in shades of grey, black and white. Seating accommodates 78 patrons.
Usher's House is introducing one concept that's new to Fargo-Moorhead – a chef's table. The bar-style seating overlooks the open kitchen. Diners can ask questions and interact with the chefs while they prepare their food. It fills an often-mentioned gap in the local dining scene, especially for business travelers and others who dine alone.
The new location already feels like home to Nate and his family: They live in one of the Loft apartments right above the residence. His wife Melissa is also a manager at Usher's; they have a son and daughter, 12 and 7.
What's he looking forward to most next week? "I already know what I'm going to have for my first dinner," he reveals. "The mixed grill, with Chilean sea bass, scallops and lobster. Chef Cary is ready to go, and I can't wait."
To make dinner reservations (suggested due to limited seating), call (218) 303-1718.
River Haven to open in fall
Meanwhile, former Usher's general manager Aaron Duma and partner Jade Nielsen are closing on the landmark building along the Red River that used to house the restaurant. "We expect interior demolition to get started in May, "Aaron reports, "possibly opening in October."
Lovers of the historic building, crafted of hand-carved fieldstone under the Depression-era Works Progress Administration, need not worry about that word "demolition." Aaron is referring to the planned removal of the kitchen that has separated the bar area from the glassed-in conservatory overlooking the river. "I always used to daydream about opening it up and taking down the old stone wall that separates the areas," he says, "and now we get to do it. When we're done, the upper level will be one great open space – perfect for hosting weddings, meetings, small concerts and other special events.
Aaron well knows the appetite for special events centers. Since it opened in July 2017, the Sanctuary Events Center near downtown Fargo – his first endeavor – has been fully booked. "We hosted 321 events last year, from weddings to concerts, corporate occasions to celebrations of life." Located in the former St. Mark's Lutheran Church, it even hosts Sunday outreach services by Moorhead's Good Shepherd Lutheran Church.
The Moorhead enterprise will be known as River Haven. "It'll be the Sanctuary's little sister," he suggests. After remodeling is complete, he says it will accommodate weddings of about 200 from ceremony through dinner and dance, or 300 or so for corporate occasions. While it's a bit small for the kind of concerts the Fargo facility hosts, local and regional musicians will be scheduled on the expansive patio area outside … reviving a long-popular Thursday evening tradition.
"It's great to be back in Moorhead," Aaron says of his new business. He says the city where he, his wife Emily and their two toddlers live has "such a great feel," adding, "It's where I met my wife two days before the first Usher's House opened. Two kids, three businesses and 10 years later, we're still here.
"Moorhead businesses and people are so incredibly supportive," he adds. "Given a choice, they'll spend their money here on the Moorhead side of the river every time. We're going to make it an easy decision."
With the opening date still speculative, the management group isn't signing contracts for upcoming events. "We are taking down contact information for 2020, however, and saving dates."
For more information and to tentatively reserve a date, talk to sales director Kayla Cash, (701) 404-9006.