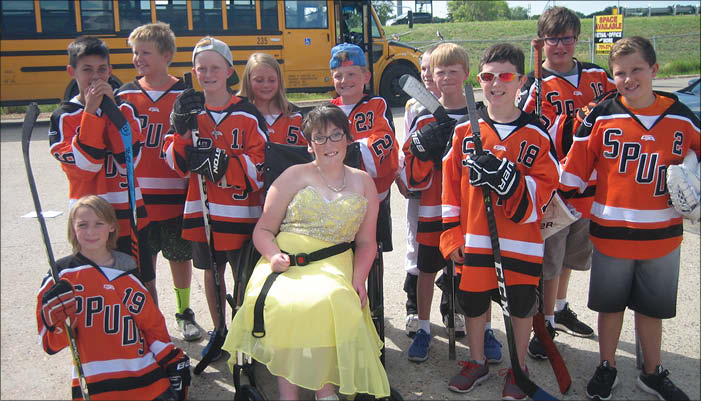 Royalty reigned at Addie's Pretty Princess Lemonade and Cupcake Stand on Monday. Addie Loerzel, 11, smiled as Disney princesses, a few princes and many area royals mingled in the crowd with tiaras sparkling.
Marisa Bengtson-Loerzel is the queen mother of it all. She is Addie's mom.
"Addie has spina bifida and received her dream come true in 2013. It was our first family vacation that didn't include doctor's appointments, exams, tests or surgeries. For one week, Addie got to be a kid. It was such a wonderful experience and we wanted to do our part to pay it forward. Addie came up with having the lemonade stand. They have grown each year and this one was our biggest by far. Addie has now been a part of six dreams come true. Our first stand was in 2013 on the corner of our street.
"We as a family also enjoy this event. It was Addie's dream but benefited our entire family. We are very proud of the community for everything they do to make this stand successful. I've thought about it many times and I don't know that we could do something like this in a bigger city. We have the Moorhead spirit that brings us all together to make things like this happen. We are Moorhead Proud," Marisa said.
"Addie loves helping out other kids in this way. She wants them to feel the power of a dream come true – just like she did. This is the highlight of her summer and she loves being involved in all of the planning," Marisa added.
Two youngsters who will benefit from all the pretty princesses help this year are Paityn Barnes, 7, from Minot, N.D., and Trent Korpela from St. Cloud, Minn. Paityn has cerebral palsy and Trent has low functioning autism. They both dream of going to Disney World, Marisa said.
The Barnes and Korpela families walked underneath a hockey stick tunnel, held up by Moorhead Youth Hockey members. Many of the hockey stick holders are Addie's schoolmates. Trent loves hockey. Pauline Economon became the first Fairy Godmother to grace the princess party. As she greeted Paityn and Trent, she gave them each a special gift box.
The Disney princesses included Ariel, Jasmine, Pocahontas, Snow White, Cinderella, Elsa, Anna, Sleeping Beauty, Belle, Elena of Avalor and Rapunzel. Royalty included Miss U.S. Teen from Barnes County, Miss Teen North Dakota International, Minnesota's International Junior Miss and Miss Minnesota.
Family friend Hannah Boser made the cupcakes from scratch. This year she baked more than 2,000, beginning last Thursday. Hannah's roommate, Samantha Hamlin, said they cleaned clouds of powdered sugar.
The record-breaking total from the day was about $5,000 as the Bengtson-Loerzel family went to bed Monday night, with plans to sleep in on Tuesday. Donations can still be made through the Sunshine Foundation, grantor of Addie's wish. Let them know you are supporting Addie's Pretty Princess Lemonade and Cupcake Stand project.