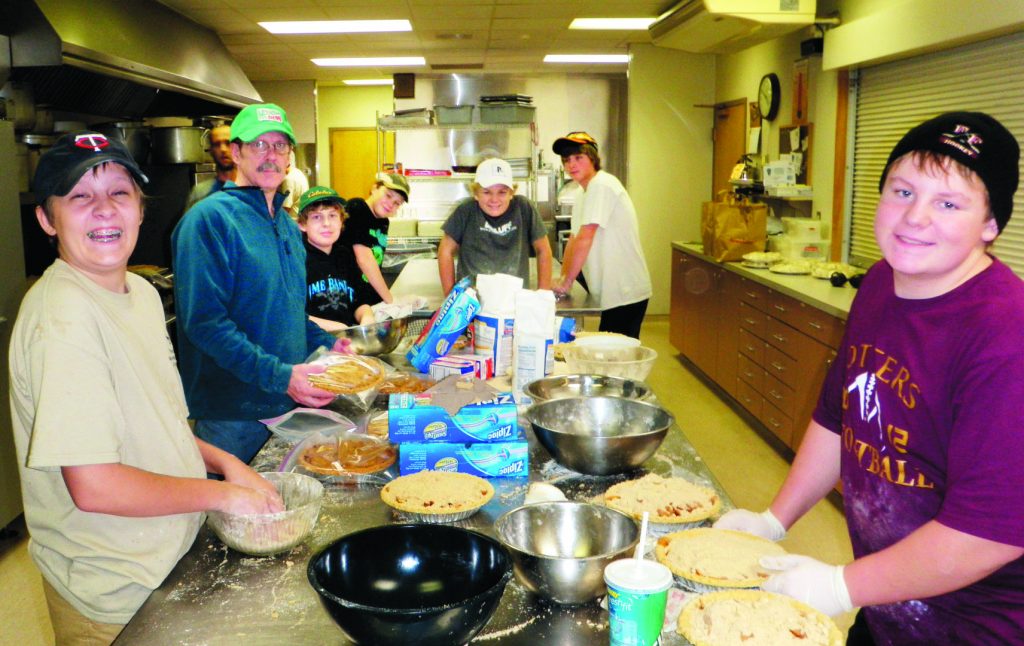 Nancy Edmonds Hanson
hansonnanc@gmail.com

Scoutmaster John Altendorf says it started back in 2014, when Moorhead Troop 637 was looking for a way to raise funds to bring the boys to a high adventure camp sponsored by Boy Scouts of America.
They were looking for something a little different. Looking at backyard trees bursting with ripening apples, he remembered hearing about a Grand Forks youth group who sold pies. "We had no idea what it entailed, but it sounded like fun."
Several dozen parents and Scouts agreed to roll it out that fall. They've been doing it ever since. They plan to break out the pie plates and paring knives again Nov. 8 for another day of baking Dutch apple pies and apple crisps.
Parents have been gathering apples from local yards to provide the main ingredient. They and their offspring will gather in the kitchen of Trinity Lutheran Church to prepare their tasty merchandise – about 125 pies and 25 crisps, depending on how far the fruit goes. As they're completed, Scouts slip them into bags and slide them into the church's spacious freezer. They'll go to eager buyers the next morning, who will take them home and bake them hot and fresh.
That's what surprised the scoutmaster the most during the project's inaugural year. "I couldn't believe how fast they sold," John says. At $10 each, the boys' rendition of the recipe from his family recipe box was an instant hit.
Two groups of parents and sons will take part in the day-long bake-off. "The boys love doing it," he observes. "We make sure everything is done properly, following all state food standards. The Scouts who take part have to be 14 and over, just to be safe. There's a lot of knives involved."
The first several years' profits went to send 13 boys to the BSA Sea Base in Marathon, Fla., for a deep-sea diving experience. Later years have been pledged to buying equipment for the troop and summer camp. "When another trip comes up, that's where it will go again," he says.
John, a mental health counselor with Altendorf Consulting, has led the troop since last fall, following the death of longtime scoutmaster Jack Sculthort. He first became involved in 2012. "This project has been a lot of fun for everyone involved," he notes. "We put on some music and have a lot of laughs. And when we're done, they're great to eat. We bake good pies!"
To pre-order one of Troop 637's pies, call volunteer mom Brenda Elmer, 218-790-0555, or John, 701-412-7345.