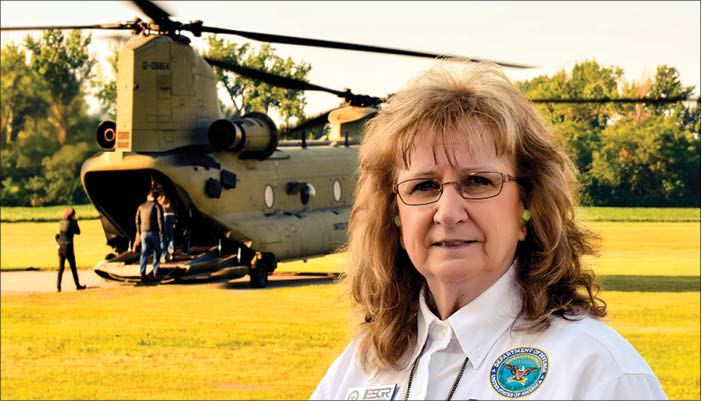 When the looming Chinook helicopter set down at Moorhead Airport last Friday, none in the waiting crowd was more excited to see it than Lois Robinson of Moorhead.
"I've always loved the helicopters. I wish I could have gone," the 27-year veteran of the Minnesota Army National Guard and Air National Guard said wistfully as she watched 15 Moorhead, Fargo and Fergus Falls employers board the twin-engine, tandem-prop heavy-lift helicopter. Flying out of St. Cloud, it was taking the men and women to Camp Ripley for the day to see Guard training in action – a trip she'd organized in the scant week before it landed.
Lois, who retired from the Air Guard six years ago, chairs northern Minnesota's ESGR — Employer Support of the Guard and Reserve. She's one of 11 volunteers in Region 1. Their mission: Helping businesses navigate the rules and understand the roles of their employees who serve in the Guard and Reserve.
It was Moorhead's first Bosslift. Initiated in 2011 around the Twin Cities, trips like this are designed to give employers an inside look at what Guard and Reserve soldiers do on those monthly National Guard weekend drills and two weeks of annual training every summer. "Employer support is essential," Lois noted. "As a volunteer, I help them understand the rules with regular service, along with the deployments going on all over the world. A lot has changed since 9/11."
She also conducts annual briefings for members of the Guard and Reserve to inform them about their employment rights and steer them toward where to find help if job issues arise. By law, they're entitled to receive regular benefits while on duty and to return to their jobs after their service with the same seniority, status and rate of pay.
Lois remembers watching National Guard convoys driving through her hometown of Brainerd when she was a girl, little dreaming that she'd spend her career in uniform. That changed in 1984, when she enlisted in the Minnesota National Guard and went to work full-time at Camp Ripley near Little Falls.
She worked in TISA – Troop Issue Subsistence Activity – managing the warehouse where food and other supplies were stored and distributed.
In 1993 she moved to Cannon Falls and went to work with the Air National Guard's 133rd Airlift Wing, based in St. Paul. "For four years, I ordered all the technical publications and forms. It was back in the paper days," she says. She went on to work in the Orderly Room, providing administrative support for the commander and first sergeant, and then the Operations Group, where she was the group commander's administrative person. She handled orders and records for the wing's C-130 turboprop military transport aircraft, including maintaining the database of flight and training hours, cutting orders for the plane and basically, she says, "everything related to what the crew does to fly it."
Her Air Guard service included deployments to Hawaii, Puerto Rico, Germany and Afghanistan, providing support in a variety of areas – flight orders, training hours, secret codes and "whatever else needed doing." She adds, "I'm a worker bee. I was always ready to help out."
After mandatory retirement at 60, Lois moved to Moorhead to be close to her two adult sons and two grandsons, now 5 and 10. Never one to stay idle for long, she's also completing a long-deferred degree in accounting at M State. She'd begun her studies in the late 1990s; but after 9/11, her frequent deployments got in the way.
She got involved with Moorhead veterans groups shortly after her move, including the VFW's Beyond the Yellow Ribbon group. It was at an American Legion bowling tournament just six months after her separation from the service that she was recruited back into the military world she'd only just left behind – as a volunteer this time, working with ESGR. She's now one of 113 Minnesotans who donate their time toward maintaining good relations between employers and those in military service. "We're always looking for more volunteers," she adds.
Now, organizing the Bosslift has given her a chance to share her appreciation again with others, offering many of them a first glimpse of a day in the life of a soldier. The local contingent watched Guard members practice on the firing range at the 53,000-acre training facility, as well as visit Camp Ripley's Minnesota Military Museum.
Lois says additional Bosslifts are possible in the future. She has talked with North Dakota Air National Guard about putting together a shared trip via C-130 transport. Another possibility: a return to Camp Ripley next summer for Bradley tank exercises.
Seeing that venerable Chinook land at Moorhead Airport brought back all kinds of memories. "I used to beg for rides on the helicopters when I had free time," she recalls. "When they got the Bradleys, I sometimes rode along during testing in the turret.
"I just love the military world – the pride in serving my country, the teamwork, just knowing that I was there to do my part," Lois says of her 27 years of service. "There's nothing else quite like it."