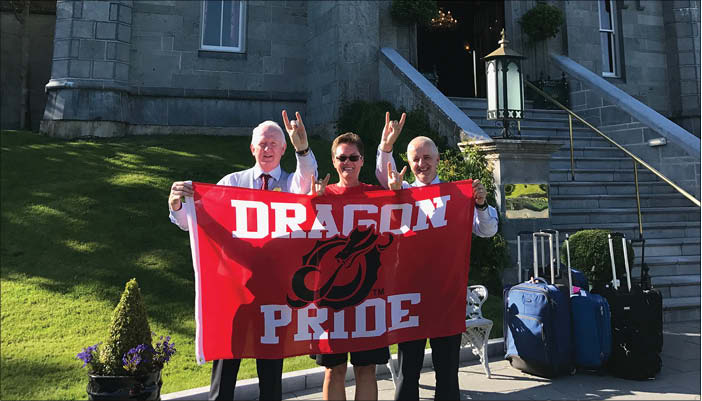 You might think it was enough for a group of Moorhead Country Club golfers to golf at historic St. Andrew's Golf Club in Scotland and the courses of Ireland. Nope. Next, they are on to Iceland where they will golf at midnight with full sun.
Karla Nelson, better known as the Minnesota State University Moorhead women's basketball coach whose teams brought her 300th career win this year, and who was named the Northern Sun Intercollegiate Conference Coach of the Year in February, is a golfer. By definition, a golfer is one who finds hitting small, dimpled balls on a designed-to-make-you-fail course; fighting bunkers and water and the occasional bug; walking miles and miles, in sun, rain and wind; and has a great time with great friends.
Karla and her bucket list friends are golfers. A few years ago a group she regularly golfs with decided they needed to start ticking things off their golf bucket list. They said, "We'd better do it now," and the planning began.
Because courses in Scotland and Ireland are walking courses, they wanted to be sure they could all do it. "Traveling with this group I was able to do something I wanted to do and have a great time doing it," Karla says.
Connie Tharaldson became the travel planner for the group that includes Connie's husband, Gary, Carrie Green, Rodney Tharaldson, Adeline Johnson, Annette Ambuehl and Wendy Frappier.
They had to reserve in the fall to play the historic St. Andrew's course in the early summer. "Stepping on to the course at St. Andrew's was surreal," Karla said. "We walked the Swilken Bridge where Jack Nicklaus stood. I was nervous on the first tee box. By the time we got to the fourteenth tee, I wanted to slow down and look around, take it all in."
Some sightseeing is added to each trip. "We looked to the peak of Stirling Castle. There are no nails. It is built using the pressure points of the wood," she said of the famous Scottish castle.
In Ireland this year, they flew into Dublin, played courses south of the capitol, and moved to the west side of the country with coastline courses. Karla has Irish ancestry but will have to return another time to find out more about that.
Next, the group will golf in Iceland so they can say they golfed at midnight. They will add some English golf courses to the trip, too.
The Moorhead Country Club is home. "People are so genuinely nice, welcoming. The country club has a real community." Karla has played all the courses in the area and likes them all but MCC is what she loves.
She will be at MCC, welcoming golfers to Dragon Women's Golf Scramble July 11. It will be a Texas Scramble with a shotgun start. A 19th Hole reception follows at the clubhouse with a dinner buffet and cash bar about 6 p.m. The reception ends with an awards ceremony, raffle and tidbits on Dragon athletics.
Register by July 7. Karla has more information at 218.477.2421 or contact the MSUM Department of Athletics.