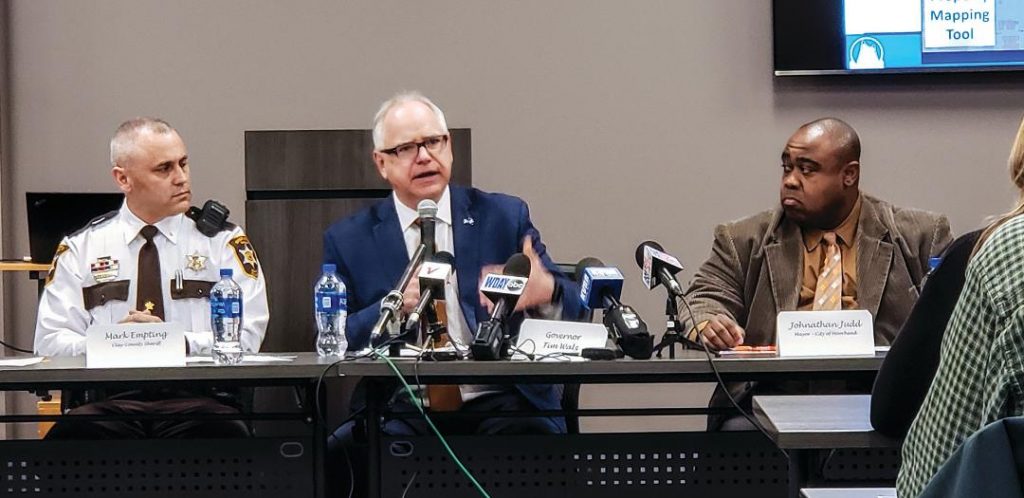 Nancy Edmonds Hanson
hansonnanc@gmail.com
Clay County and Moorhead city officials briefed Gov. Tim Walz Monday on preparations for fighting the anticipated flood … including a plan to fill 150,000 sandbags to have at hand for gaps in the extensive system of river levees and other mitigation efforts.
City engineer Bob Zimmerman noted that the relatively modest goal reflects dramatic progress since the record flood of 2009, when a 41.8-foot Red River crest was held at bay on the Minnesota side by 2.5 million sandbags, plus more than 9 miles of clay levees. Since then, $110 million has been invested in flood mitigation, largely through grants from the Minnesota Department of Natural Resources. The most recent grant, received in November, is being used to close the final gap, an area of far north Moorhead annexed in 2015 as part of Oakport Township – which itself is mostly protected by $36 million in levees constructed in recent years by the Buffalo-Red River Watershed District.
Volunteers needed in coming days
Moorhead began filling those sandbags yesterday (March 27) at the School Operations Center, the former Muscatell car dealership on 30th Avenue South that now houses school buses. According to public works director Steve Moore, the goal is recruiting 50 volunteers a day to complete 20,000 sandbags. Hours are 9 a.m. to 9 p.m. Through Saturday; noon to 9 p.m. Sunday; and 9 to 9 again next week Monday through Wednesday. Recruits can sign up for two-hour shifts. There are two ways to volunteer: Call the operations center, (218) 299-5300, or register online at cityofmoorhead.com/flood, then click "volunteer."
On Monday, the governor told officials that this year's flood fight stands out because, he said, "We are planning for catastrophic flooding in all parts of the state." He urged property owners who think there's even a chance of their land being affected to purchase flood insurance immediately, since it must be held for 30 days before it goes into effect.
Joe Kelly, director of Minnesota Homeland Security and Emergency Readiness, applauded city and county officials for preparing detailed action plans to combat the waters. "Hope is not a plan," he said, quoting the governor. "A plan is having 290 steps to increase your readiness posture." Like Walz, he reassured officials of state support in case it's needed. "We'll be right with you," Kelly said.