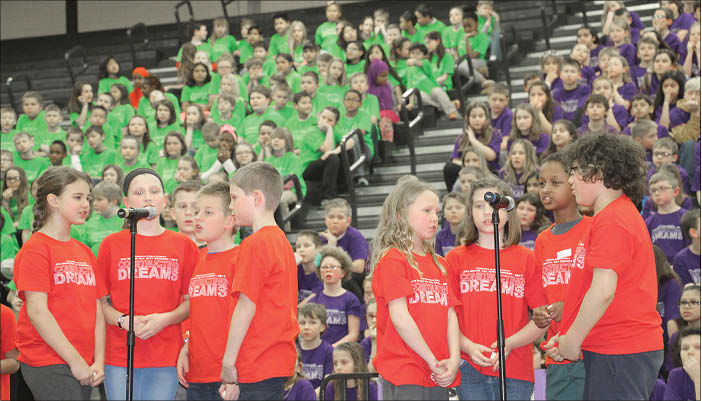 Last month more than 500 fourth-grade students in Moorhead Area Public Schools performed the program "Constructing Dreams." The fourth-grade students and their music teachers from Ellen Hopkins, Robert Asp and S.G. Reinertsen Elementary Schools shared songs and words during the first all-city fourth-grade concert held in the Moorhead High School gymnasium March 23.
Students joined together for performances of "My Town, My World" by John Jacobson and John Higgins and closed with "We Are the People of the 21st Century" by Teresa Jennings. In between, each school was featured on two songs, including "I Am a Citizen of the World" by Teresa Jennings sung by Robert Asp fourth-graders, "I Am But a Small Voice" by Roger Whittaker and Odina E. Batnag sung by S.G. Reinertsen fourth-graders, and "The Future Begins With Us" by Teresa Jennings sung by Ellen Hopkins fourth-graders. Between the songs, student speakers shared messages focused on dreams for the future.
Carla Smith, principal at S.G. Reinertsen Elementary School, served as emcee. Smith will be principal at Horizon Middle School West Campus, where the fourth-grade students will attend as fifth-graders in the fall.