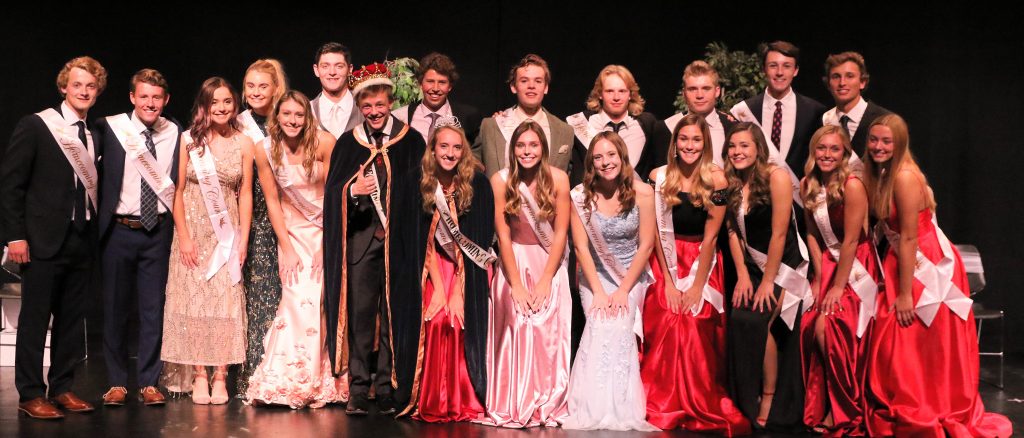 Moorhead High's homecoming parade headed north on 20th Street on Sept. 27. Parade entries included the early childhood programs, Moorhead High homecoming court, Red River Area Learning Center, Moorhead High AVID program, Horizon orchestra and band, Moorhead High School marching band and athletic teams, and many others.
On Sept. 23 Jonah Hanson and Taylor Melton were named Moorhead High School's homecoming king and queen at coronation. Other members of the homecoming court are Greta Almlie, Jordan Carlson, Jalen Ennen, Claire Fahrendorf, Lukas Feir, Grant Gervais, Luke Gramer, Wyatt Gunkel, Tukker Hammer, Megan Haugo, Hailey Hedlund, Kai Holm, Caden Howell, Claire Howell, Carter Johnson, Jenna Schroeder, Cassidy Wendt and Parker Wood.
The homecoming football game against Sartell included the rededication of the athletic field in honor of Cliff Halmrast, Moorhead High graduate and former teacher, coach and School Board member.
Moorhead High's Blake Walthall scored the first touchdown on a 67-yard run after a pass from Trey Feeney. Walthall caught 10 passes for a total of 116 yards. Drew Hagen caught a pass from Feeney and scored the second touchdown.
Moorhead was up 14-6 going into the half, and after a scoreless third quarter the Sabres tied the score at 14-14. Keanan Wendt carried nine times for a total of 60 yards that ended with the game-winning touchdown as the Spuds defeated Sartell for a 21-14 homecoming victory.
Feeney completed 17 passes on 25 attempts for a total of 218 yards. Hayden Netland had nine tackles, an assist and a sack for a loss. Austin Altepeter also had a sack for a loss and five additional tackles. Jackson Gotta and Jacob Wesley each had a sack; Gotta had three tackles for a loss, while Wesley had two.
The Spuds football parent night is at 7 p.m. Oct. 4 as they play Sauk Rapids-Rice at home.