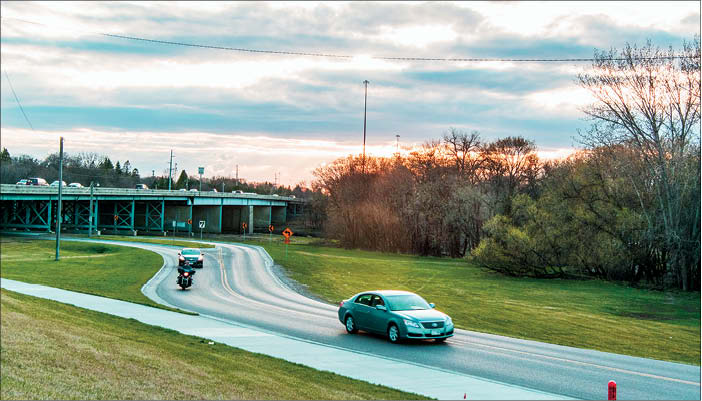 Minnesota Department of Transportation engineers are forecasting a far sunnier construction season ahead for local drivers – much quieter than the massive projects that snarled traffic and frustrated motorists east of the Red River for much of last summer.
Compared with last year's epic reconstruction of the busiest traffic point in Moorhead – the Highway 75 overpass above Interstate 94 – this year's roadwork menu treats treat local residents and visitors with a far lighter touch. In 2016, closure of the overpass and construction crews at surrounding intersections disrupted access to southside businesses and temporarily shunted detoured traffic through residential neighborhoods.
"We expect very few closures this year, though lanes may be closed from time to time," assistant District 4 engineer Mike Ginnaty reports. Most of work on the sole local project involving I-94 – a $2 million upgrade for the Red River bridge, with the cost shared by North Dakota – will take place during the quieter overnight hours.
The bridge project focuses on replacing and upgrading the anti-icing system installed 10 to 16 years ago. The engineer notes that the automated 24-hour system, which sprays the deck with anti-icing solution when it reaches the critical temperature, has been effective in reducing crashes, but is close to the end of its useful life.
Meanwhile, painting crews will be working on the bridge's underpinnings. The $630,000 spruce-up also mandates removal of the original paint, which contains lead. The east end of the bridge, which is flanked by residential neighborhoods, will require tenting to contain the lead-tainted flakes that will be sand-blasted away. That will involve closing the underpass road favored by neighborhood commuters for about one week. The project is slated to start next month.
The good news: Highway 75 will remain open throughout the summer. The not-too-bad news: There are just five blocks left to go. The stretch of highway between 35th and 40th Avenues South will be resurfaced later this summer, wrapping up in November. Jerimiah Moerke, District 4 public affairs coordinator, says the construction from roughly Essentia Clinic to Hornbacher's is scheduled for mid-August through September. The $800,000 plan includes installation of traffic signals at the intersection with 37th Avenue.
"Eighth Street – Highway 75 – will be open at all times," he predicts.
While MnDOT is busy on the highways, in-town thoroughfares will also be affected by completion of last summer's upgrades. City Engineer Tom Trowbridge says the final portion of the major project involving Main and Center Avenues will begin in June. About $2 million of the $11 million CIMS project — Corridor Improvement Management Strategy — remains. Sidewalks, intersections and road improvements will be made to Main Avenue from Eighth to 11th Streets and on Center Avenue from 11th to 14th Streets.
Elsewhere in Moorhead, reconstruction of 12th Avenue South is scheduled this summer, along with mill and overlay work on a number of residential streets. The loop around the new Dorothy Dodd Elementary School will be upgraded, with the gravel surface of the county section line road to be paved from 40th to 45th Streets. Local traffic will be shunted onto a three-mile detour during May and June.
Highway 10 Work Begins This Week
Highway 10 improvements will have more impact, especially during the lake season. Glyndon's stretch of highway will be reshaped with the addition of left-turn lanes from mid-May to early August. According to District 4 project supervisor Dave Keranen, few traffic backups are expected, though some delays are probably inevitable during the peak of weekend travel. The project, which includes new traffic signals, is estimated at $2.5 million.
Weekend trips to Lake Country are going to impacted most by another Highway 10 project, this one in Detroit Lakes. The eastbound bridge over Highway 59 is being replaced and the highway resurfaced from the bridge to Summit Avenue. Work has already begun on the $4.8 million undertaking, which involves routing eastbound traffic onto one of the westbound lanes. It's projected to wrap up in October.
Driving from Moorhead to Minneapolis will be complicated for much of the summer by the largest project in District 4 – a $31-million undertaking in the Alexandria area. It includes new decks on four bridges and resurfacing of 15 miles of highway. Expected to begin late this summer, the project won't be completed until the end of the 2018 construction season.
A total of $80 million in construction is being invested in 19 projects throughout MnDOT's District 4, which stretches from Mahnomena, Clay and Becker counties south to Big Stone and Swife.