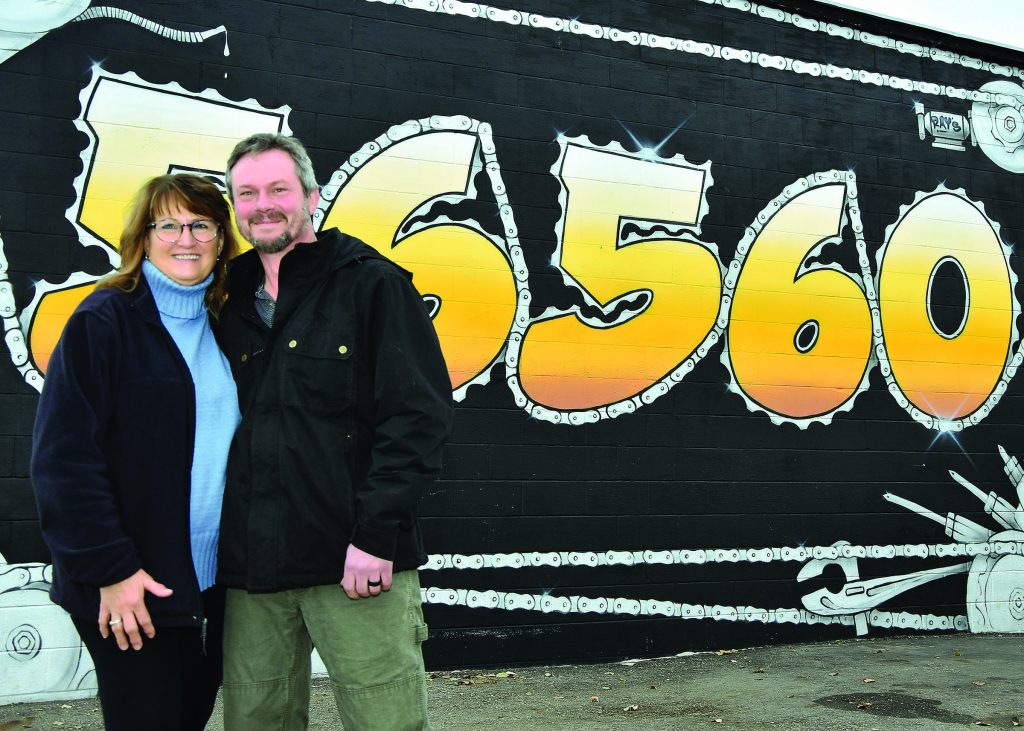 Nancy Edmonds Hanson
hansonnanc@gmail.com

Ray and Peggy Bernard not only fix cars in their shop at 1313Main Avenue – the shop with the billboard-sized "56560" mural on its wall. Sometimes they give them away.
And they're at it again. Ray's Certified Automotive Service has just begun work on the 10th car that's become part of their informal, but heartfelt, habit. Between now and Dec. 20, they're looking for nominations for the special person who, by the dawn of 2020, will be driving a fully refurbished and detailed 2006 Nissan Altima.
"It just feels good," Ray says of their giveaways. They've been repairing vehicles and putting the keys in the hands of surprised and appreciative local men and women since 2015. "It's really fun to see the look on their faces when they get the car they need for free. Then we get to see them again when they come in for service." Ray and his three technicians also provide maintenance free for the first year.
Who might be the next winner? "We're looking for nominations of someone who's deserving, but maybe in a tough spot," he says. "They're good people – the kind who help their neighbor, who donate their time to do good in the community even if they're a little down on their luck."
Past recipients range from a mother escaping an abusive domestic situation to an avid volunteer who needed transportation to medical appointments.
Peggy says, "The stories we hear are really moving. Some have nothing, but they're still trying to help their neighbors. Their friends who know what's happening nominate these good-hearted people who need a little help." The community has plenty who fill the bill – and more than a few who appreciate them by nominating them. The last giveaway drew some 75 nominations.
Car #10 isn't the only giveaway of the moment. An 11th car is also in the works, but the Bernards already have that recipient in mind. It's headed for southern Minnesota, where Peggy's brother and sister-in-law work with the Five Sisters Project, a shelter for abused women, including victims of trafficking.
Fixing cars, as well as offering a helping hand, has been in Ray's blood since growing up on the family farm near Fairmount in the extreme southeast corner of North Dakota. His father and five older brothers taught him the basics of keeping machinery running. Breakdowns, he confesses, became his favorite thing: "I got so bored sitting on the tractor staring down the field," he says with a laugh. "I got excited every time it broke down. Finally, some fun!"
After graduating from Hankinson High School and completing the State College of Science's automotive technology program, he ran the Cenex shop in his home town. Soon, though, he moved to Fargo, where he spent 10 years with Selland Motors and the Cenex store on Center Avenue. Eventually he bought their equipment and leased the shop in what was by then Petroserve for his own operation.
In time, "we were looking for a bigger locationwith four bays," he recalls. He and Peggy spotted their current corner, the former site of Kar-Du Toppers and RV Sales, and bought it ten years ago. Kar-Du, too, had long sold Christmas trees. "That first year, we had a lot of disappointed customers," he confides.
By then, he and Peggy – who grew up in Fergus Falls – were a couple. "He was my mechanic in Fairmount," she says. "When I moved to Fargo, I needed some help with my car, and there he was."
With their four children all grown and raising the couple's 10 grandchildren, the Bernards have moved to a farmstead near Baker, Minnesota. "We love the country," Ray says. Peggy agrees. Both fans of the outdoors – camping, fishing, hunting – they've spent the past year fixing up their new home inside and out, as well as tending two large gardens there and a third in town behind Ray's shop. He has lately been concentrating on fencing to accommodate the buffalo calves he plans to bring to their farm next spring.
Ray's Certified Automotive Service operates in a high-tech world light years away from the hands-on farm repairs Ray grew up with. Computers rule the day, calling for intensive, ongoing training and a staff skilled in digital diagnosis and operation. "That's the biggest challenge these days," he says, "finding and keeping good technicians. There aren't so many farm kids anymore who grow up working on vehicles."
Peggy interjects, "Even if they go to school, they don't necessarily have that kind of intuition for figuring out what's wrong that comes with kids who grew up with it."
Ray adds, "Kids who have the aptitude just seem to go straight into computers. When you find good people, you really have to treat them well to keep them and make it a fun place to work." That means everything from daily doughnut missions to Hornbacher's to McDonald's on Fridays. When the weather cooperates, he grills burgers out back.
While the work has evolved, so have his customers. "When I started out, I had lots of farmers come in," he reflects. "Now the equipment is huge and specialized. They're running fleets of semis, and driving pickups that are still under warranty."
But plenty of drivers around Moorhead, Fargo and the area are looking for the kind of small-town relationships that Ray's offers, along with big-city, high-tech service. That personal touch draws not only customers who need expert guidance on keeping their cars running smoothly, but also guidance from professionals they know and trust. From solid – "the key to keeping your car running is changing the oil" – to a reputation for good works, they can find it in the Bernards' shop. Their website carries a motto that captures that spirit – "because we care about you and your car."
To nominate someone for Ray and Peggy's next car giveaway, send a message on their website, rayscertifiedautorepair.com.