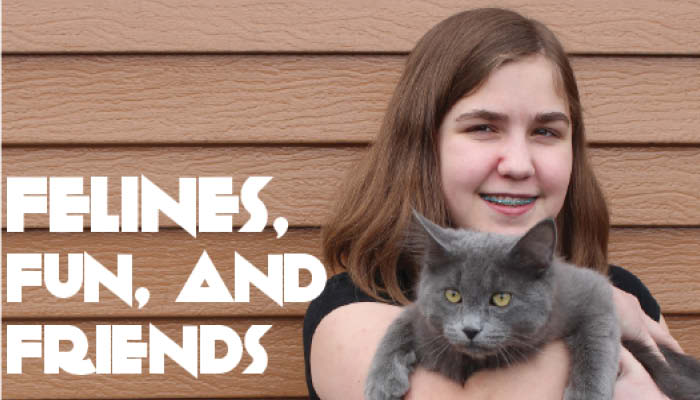 Ask the average person about pet shows and their response will likely involve dogs. Events like the televised Westminster Kennel Club Dog Show have made canine competitions a world famous activity. Cat shows, on the other hand, have not enjoyed the same notoriety. That doesn't bother people like Anni Budge and Sheila and Pete Dewey, however. To them and countless other feline enthusiasts, cat shows is where the real action is.
Valley City's Sheila and Pete Dewey have been participating in cat shows for almost fifteen years. "I have always been a cat lover," Sheila explained. After attending her first show as a spectator, she was hooked. It is now a passion that the Deweys share together, and plan on continuing for many years to come. "As we approach retirement, we have more time to get involved," she said.
Anni Budge is on the other end of the spectrum as far as cat shows, but the teenager is already hooked. She participated in her first show on a whim after seeing a sign for the local event. The youngster may not be as seasoned as long-time participants like Sheila and Pete, but her passion runs just as deep. "I absolutely love cats," she explained, adding that she currently has three. Anni's show cat is a long hair, "cuddly" cat named Cedric, a Gaelic name her mother picked out. The rest of the Budge cat clan includes Siouhan, a Gaelic name that means, "God is gracious," and Rafiki, named after the popular character in the movie The Lion King.
Participating in her first show gave Anni the bug. "It's just really fun," she said. The atmosphere can be a bit competitive, however, something Anni doesn't necessarily enjoy. As she gains experience, however, that may be something that changes. For Sheila, the competitive factor is what drives her. "I like the challenge of getting the best cat in the ring," she said, adding that she had to spend a great deal of time "earning her stripes." The first few years of competition were often met with disappointment. "We didn't even make the finals," she said. Time and experience, however, has helped the Deweys earn those stripes and build a highly respected reputation.
For those who have never been to a cat show, the time is now. The Minn-Kota Feline Club will be hosting their 70th and 71st annual American Cat Fanciers Association purebred and household pet cat show on April 4th and 5th at the Red River Valley Fairgrounds in West Fargo. It is an event that is looked forward to by participants and spectators alike. "We usually have over 100 cats," explained organizer Lisa Ferguson. "Last year was close to 130."
Show cats are organized into four distinct categories: Household Pets (mixed breeds, rescues, barn cats, etc.), Champion (purebred breeding cats), Alter (purebred spayed/neutered cats), and Purebred Kittens. A highly-qualified panel of judges chooses the best two cats in each section, as well as the top ten cats overall. "It is always exciting to make the Top 10," Lisa explained. Ribbons are given out to the winners, who also accumulate points toward receiving regional or international titles. The grand prize, of course, is bragging rights.
The Minn-Kota Feline Club (MKFC) is a local organization compiled of people who enjoy cats and showing cats. "Our main function is to put on the annual cat show, but we also promote feline welfare," Lisa said. In the past, the group has made donations to local shelters, given scholarships to students in local vet tech programs, and promoted shelter adoption. Like most cat-related organizations, the MKFC falls under the umbrella of the American Cat Fanciers Association (ACFA). "It (the set-up) is similar to a local chapter of a philanthropic organization like the Lion's Club," Lisa expounded.
In addition to being a cat lover herself, Lisa is also a show participant. "My husband and I joined MKFC in 1997 after we had bought our first Main Coon Cat," she said. "We brought him to the show and had such a fun time that we were hooked on showing." Since then, the couple has shown a number of cats in competitions across the Midwest. Like the Deweys, once the show bug had bitten the Fergusons, it never left.
It is not too late to enter your favorite feline in the upcoming show, although the deadline is fast approaching. All participants must be signed up by midnight on March 27. Both Sheila and Lisa would like to warn people, however, that not all animals make good show cats. "A good show cat must have an outgoing personality, be willing to be handled by many different people, and have the ability to handle the noise of the show hall and not be bothered by the smells of the other cats," Lisa explained. Sheila expanded on those sentiments, saying, "Cats have to like being in the show ring. Not all cats do."
One doesn't have to be a cat show veteran or extreme feline enthusiast to enjoy the upcoming event. "Everyone is invited to come to the show and watch the competition, walk around to see all the cats, and talk to their owners/breeders to find out more about all the different breeds," Lisa said. "This is great family entertainment for all ages."
Information about the American Cat Fanciers Association can be found at www.acfacat.com, while specific information about the Minn-Kota Feline Club can be found at www.acfanorthcentralregion.org.