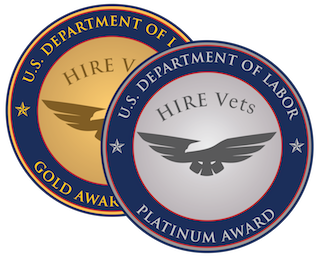 Karen Newman
jokarmid@gmail.com
The Department of Labor encourages local businesses to become part of the 2020 HIRE Vets Medallion Program. The HIRE Vets program offers large and small businesses the opportunity to become part of an elite group dedicated to the professional development of veterans, including disabled veterans.
According to Jerome Billups, ND Job Service's Veterans Employment Administrator, about 200,000 individuals separate from the military annually. As part of the transition from military life to civilian life, the separating personnel attend continuing education programs which includes information about job opportunities with veteran-supportive businesses. Information about businesses participating in the HIRE Vets Medallion program is part of the educational materials presented to personnel departing the service.
Billups cited the benefits to businesses when veterans become their employees. He said, "Veterans show up for the job on time. They know how to work as a team and understand the chain of command. Their work ethic is excellent and their integrity, honor and dedication from military life transitions into their civilian roles."
A program of the US Department of Labor, the HIRE Vets Act was signed by President Trump on May 5, 2017. The act requires the Secretary of Labor to establish a program that recognizes employer efforts to recruit, employ, and retain veterans. Gold and platinum awards are given to small, medium and large-size businesses. Recipients are permitted to display the award logo as part of their advertising for the year following the award's presentation.
Regional businesses earning HIRE Vets awards include Sysco and Midwest Ag Energy in North Dakota and Connelly Industrial Electronics, Azule Opportunities. Ever-Green Energy, Nuss Truck and Equipment and Boy's Electric in Minnesota.
In the Red River Valley, three communities' metro areas overlap the Minnesota/North Dakota border. For that reason, Minnesota employers in the Fargo/Moorhead, Wahpeton/Breckinridge and Grand Forks/East Grand Forks regions all work through the ND Job Service offices for the HIRE Vets program. For additional information about the 2020 Hire Vets Medallion Program or with enrollment assistance, call:
· Fargo 701-239-7300
· Wahpeton 701-671-1550
· Grand Forks 701-795-3700
\Minnesota businesses may also contact LaDeen Schillinger, Veterans Employment Representative, Minnesota Department of Employment and Economic Development at 320-763-3109 or email to ladeen.schillinger@state.mn.us.
https://www.hirevets.gov/about is the website offering on-line information about the program.