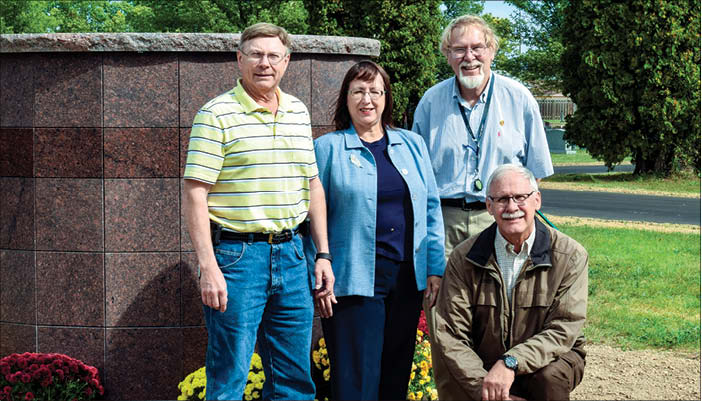 Benjamin Franklin may have said it best: "In this world, nothing can be said to be certain, except death and taxes."
But that certainty doesn't extend to the way that society copes with either. While taxes rarely leave the headlines, far fewer have noticed how much burial traditions have been changing … until, that is, a loved one's death brings the topic into focus.
That's why Evergreen Memorial Cemetery has become the latest in Moorhead to add a columbarium – a handsome granite vault where families can inter cremated remains of their loved ones. Riverside, St. Joseph's and Prairie Home Cemeteries also have outdoor vaults to accommodate urns, while several congregations have built their own facilities on church grounds to serve their members.
"In the past 10 years of my ministry, the rate of cremation has grown dramatically," says the Rev. Phil Holtan, interim pastor at Bethesda Lutheran Church in Moorhead. "So much of our religious observance is about honoring our ancestors," he points out. "Laying them to rest in a green and welcoming place is very much a part of honoring people we love."
The church owns Evergreen Cemetery, located six blocks north of the church along Eighth Street South. It dates back at least to 1885, when the first heart-shaped plot of land there was pressed into use for burials of the Swedish Lutherans who founded the congregation in 1880.
Today the community cemetery is open to all faiths and beliefs. Phil estimates more than half of the funerals conducted today in Fargo-Moorhead involve cremation rather than traditional casket burials. He cites a statistic some may find startling: 63 percent of Minnesota families now choose cremation over casket burial; the number is expected to reach 70 percent by 2020. Nationwide, 49 percent elected cremation in the most recent year tabulated. The rate in Canada is half again the American standard. The highest U.S. adoption, according to theCremation Association of North America, is in Nevada, thePacific Northwest and Montana; the lowest is in the Deep South.
After the funeral, what next? Families who choose cremation are about evenly divided (according to the association) between in-ground burials, scattering the ashes and keeping the remains. Columbaria like Evergreen's offer another a choice – a dignified option amidst traditional gravesites where survivors can gather to grieve and share memories, both at the time of the funeral and in future years.
Cost has a good deal to do with evolving preferences. "A full cemetery burial – including the gravesite, the casket and the concrete vault in which it's placed – can cost from $6,000 to much more," cemetery board president Larry Carlson notes. "That can be a hardship at a difficult time. With cremation, all those costs are rolled into one price" – he estimates perhaps about half of what a modest traditional burial would require.
He adds, "We're more like gypsies today. While some families still live where they all grew up, more and more are scattered all over the country." While his own parents and grandparents occupy Evergreen, it's less likely that coming generations will someday join them.
Phil cites several other factors beyond cost. "Many people think cremation is more sensitive to the environment. Cemeteries in larger cities are running out of land, and there are questions about whether it's responsible to use all the resources for preservation, elaborate coffins and the concrete vaults that the law has required for the last 50 or 60 years."
Back in 1960, only 3.6 percent of deaths led to cremation. "It's remarkable to see how quickly a deeply felt tradition has evolved," he comments. That's been supported, in part, by the shift within some religious denominations that formerly banned cremation. The Roman Catholic Church reversed its ban in 1963 … about the same time the shift gathered steam.
Investing in a columbarium represents a major challenge to nonprofit cemeteries. In Evergreen's case, its vault was funded by a gift from Roger and Lisa Erickson of Moorhead. Roger's parents, grandparents, aunts and uncles already reside there. Their headstones are focal points for honoring their memory; he says that engraved niches in the columbarium – each of which can accommodate a pair of urns – will provide the same kind of memorial in the days ahead.
The vault, custom-built by Eickhof Columbaria of Crookston, Minn., includes something that's new even to the manufacturer: an ossuarium, or common entombment vault in the center of the octagonal structure. Individual remains will be interred in velvet bags, with the deceased's name engraved on a band circling the columbarium. It offers an especially low-cost, yet dignified, option.
Evergreen board member Teresa Norwig notes that, while the specific aspects of burial may be changing, families' respect for their loved ones lives on. One bit of evidence, she says, is the generosity of those whose gifts support operation and improvements at the cemetery. In recent years, donors' memorials have funded plantings of trees, installation of water lines and – this summer – surfacing of roads throughout the park-like, 6-acre burial ground. The road project was underwritten by a gift from benefactor Lloyd Paulson in memory of his late wife Bev, a member of the cemetery board.
"Supporters like Roger and Lloyd make it possible for families to have a beautiful, green place to remember their loved ones," she says. "The church established this place 130 years ago to meet the needs of the people who worshipped there. Now we can offer the same comfort and hospitality to new generations as their needs and wishes change" – while what truly matters remains the same.