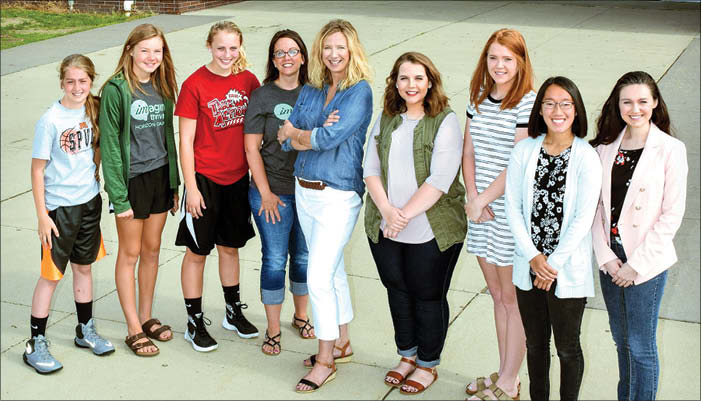 One in four teenagers is trying to cope with anxiety or depression. One in 10 area teens has attempted suicide. More teen-agers die from suicide each year than total deaths from cancer, heart disease, AIDS, birth defects, stroke, pneumonia, influenza and chronic lung disease combined.
The startling statistics come from the North Dakota and Minnesota Youth Risk Behavior Studies. But here in Moorhead, Fargo and West Fargo, a small community organization has been having an outsize impact on the mental health of middle school and high school students, spreading a simple but powerful message.
"Having these feelings doesn't mean you're weak or bad or some kind of freak," explains Abby Tow, executive director of the mental wellness program called Imagine Thriving. "Mental illness is a medical condition – not a character flaw. There is help … andour goal is to connect students and their parents with the resources they need to help them thrive."
The seed was planted in 2010 when Abby – then a professional photographer – connected with TV newswoman Stephanie Goetz while shooting a cover photo for Area Woman magazine. "We connected from the start," the 40-year-old Moorhead woman recalls. "Stephanie had lost her brother to suicide, and I've coped with mental illness in my own family." By December 2012 the two friends – both dynamic, both passionate about emotional wellness – hatched a vision of providing teens with the knowledge and help they need, as she says, to "learn to be well."
The Goetz Mental Wellness Initiative was born in February 2013, and two months later, Abby took the reins as its first executive director.
"Our mission is to make sure that all kids have the access to mental health care, education and resources so that they can imagine themselves thriving," she says, explaining the program's name. "Mental illness can make a person feel hopeless. It can take you to a place so deep and dark that it's hard to imagine anything else. We are here to lift those kids up!"
She adds, "A lot of young people are struggling, but they don't like to talk about it. There's so much shame and stigma. Even their friends and families may not realize what's going on inside."
She knows; she has been there herself. While attending Moorhead High School back in the early 1990s, Abby says she felt a deep anxiety that made it almost impossible to go on. "I was paralyzed. I'd go to school but end up driving around and around the block. I just could not go in.
"It was my secret. Nobody knew. My parents had no idea," she recounts. Eventually, in 1995, she dropped out of school. "But I was able to get help. I came to understand that I was not bad or weak – that this was a medical condition. Then things got better."
She completed her GED, then attended Minnesota State University Moorhead, where she studied photojournalism. She ultimately established her own business, Classic Photography, above Premier Video on Main Avenue.
That's how she was drawn in a new direction. She was photographing the founder of Riding on Angels Wings –in 2009 for an Area Woman cover story when her interest in helping young people came to the fore. Bette invited her, first, to join the board of the nonprofit, which provided equestrian therapy to young people with physical disabilities and emotional needs. After eventually retiring her studio, she went on to spend several years as its marketing director.
The Goetz foundation presented a new opportunity to help youth with challenges. She and Stephanie laid out a two-part vision. Imagine Thriving encompassed an initiative to reach students in several ways – through a volunteer student board representing the area student population; through support of full-time professional student wellness coordinators on the campuses of Moorhead and Fargo schools; and, most recently, by creating student chapters of Imagine Thriving to equip teens themselves with ways to cope with their feelings. The first chapter started last year at Horizon Middle School; more are launching this fall in Fargo.
Along with Imagine Thriving, Abby and Stephanie laid groundwork for what they called the Access to Care Fund. The fund is intended to cover otherwise-daunting expenses related to seeking and getting help, from medical co-pays and prescriptions to cab rides, help in making appointments and other large and small obstacles that might stand in the way. They estimated the fund would require $20,000 per year to operate; instead, she reports that it's invested only $17,000 in the last four years. "We have wonderful community resources," she says.
The central pillar of Imagine Thriving is its school-based wellness coordinators. The foundation pledged to cover the cost of adding them to the districts' existing counseling programs for three years, with the understanding that the schools would then incorporate them into their own budgets. "We gave ourselves five years to accomplish that," Abby notes. "This fall, we will have achieved that goal – in just four." Over that period, she and her group raised $300,000 from individual gifts and foundation grants to fund Moorhead and Fargo coordinators. This fall West Fargo will add its own wellness coordinator, thanks to a recent grant from Sanford Health and the United Way.
Students finds their way to Danelle Klayman, the Moorhead coordinator, and her Fargo counterparts in a variety of ways. Some are referred by teachers and guidance counselors and others by their parents. Some seek the help themselves. The coordinators don't offer direct counseling themselves; instead, they connect the students and their parents with other resources in the community and help them find their way through the thicket of eligibilities and reimbursements critical to making it happen.
Abby, a generation older than today's teens, points out that the incidence of serious anxiety, depression and other mental illnesses appears to be rising. At the same time, though, she's convinced that some of the barriers to seeking healing services are diminishing, making it easier for young people to confront their issues.
Last year 365 Moorhead and Fargo students sought out Imagine Thriving's help; the total for all three years is approaching 900. Its student board has shared it message of mental wellness not only in their own schools, but with peers in Ada, Fergus Falls and Grafton; they have testified before the North Dakota Legislature and addressed last fall's North Dakota teachers conference. As its original members have graduated and gone on to college, new recruits are taking their places.
"We've worked hard to reduce the stigma of mental illness and help people overcome their challenges, and it's created a ripple effect … from the students themselves to their siblings and parents and on to classmates and teachers," Abby observes. "Thriving is not about being perfect. It means overcoming challenges and being able to grow – like a tree, forming deep, healthy roots to keep it stable and withstand life's storms."
She's full of optimism for the young students whom she's come to know through her work with Imagine Thriving, what some are calling Generation Z. "The kids I've come to know are altruistic and philanthropic. Thirty percent of them have already donated to charity at their young age. "From what I can see with our student board, our school chapters and the young people we meet," she says, "I'm filled with hope for our future."\
More information on Imagine Thriving's program, services and opportunities for support is available online at imaginethriving.org.