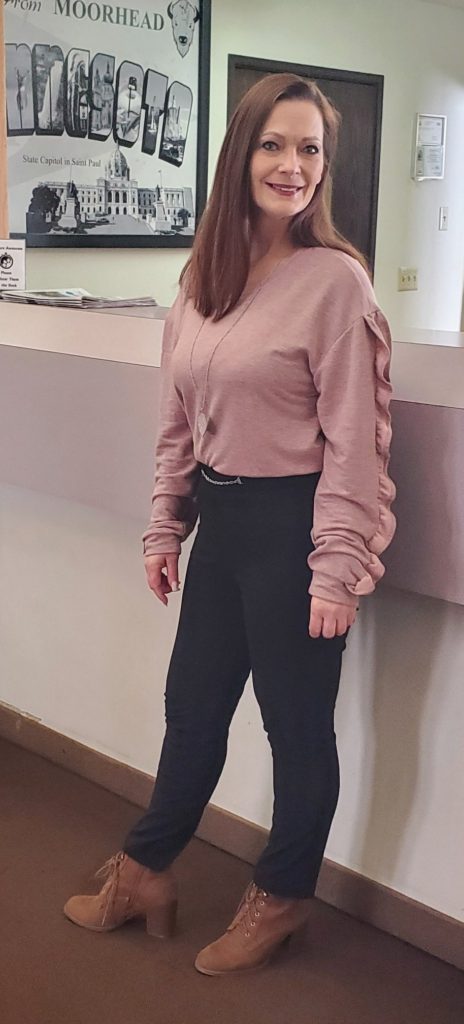 Karen Newman
On January 15, the former Super 8 motel located on Highway 75 south in Moorhead became the Bison Plains Lodge. Now under local ownership, General Manager (GM) Paula Ennis excitedly described plans for updating and remodeling. With previous experience in guest services and management, Ennis finds the transition to the hospitality industry a good fit for her, saying, "I love meeting new people. I have already learned that returning guests become like family."
As the new owners took over the motel, deep cleaning rooms was a priority, but who could help moving all the heavy furniture? Looking to the community for collaboration and assistance, the management team found the Moorhead High School Wrestlers and coach available to provide muscle power in exchange for a donation to the program. Once the rooms were cleared, the furniture was examined and repaired, walls scrubbed and the carpets professionally cleaned.
It was a priority to remove smoke buildup and odor from the rooms. When remodeling is complete, the smoking rooms for the Bison Plains Lodge will be located in one section of the second floor with the remainder of the hotel designated as smoke-free. The latest in ventilation equipment is being installed to ensure high air quality.
Ennis explained that a fitness room will be an important addition to the refurbished lodging establishments. The exercise room will not only feature fitness equipment but will include an infrared dry sauna, one of the first of its kind in the area. According to the Mayo Clinic website, infrared dry saunas heat the body directly without warming surrounding air. The traditional sauna model causes reactions similar to those the body has with moderate exercise, an elevated heart rate and sweating through heating surrounding air, which in turn heats the body. The infrared sauna produces the same effects at lower temperatures so people who can't tolerate the high heat and steam of the traditional model may enjoy similar health benefits.
GM Ennis pointed out that the Bison Plains Lodge honors the military with 15% discounts and designated military parking. Senior citizens also qualify for the 15% discount. They provide three accessible rooms for those who may require specific accommodations. Pets are welcome for a $10 fee plus deposit. Ennis declared, "Pets are awesome!" She emphasized the facility's spacious parking lot which accommodates trucks, trailers and RVs. A hot breakfast is available daily.
More information about the Bison Plains Lodge may be find at their website bisonplainslodge.com. or by calling 218-233-8880.