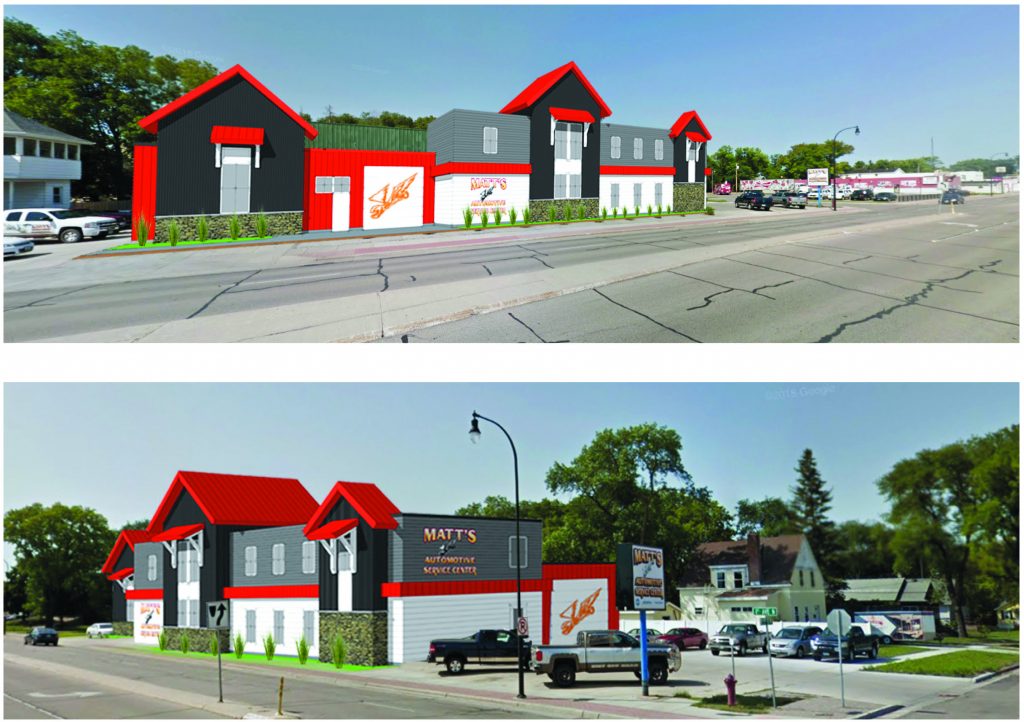 Nancy Edmonds Hanson
hansonnanc@gmail.com

The future of Matt's Automotive in Moorhead is looking bright, according to owner Matt Lachowitzer – now thanks in part to a tax exemption awarded Monday by the Moorhead City Council.
Lachowitzer's auto repair business at 1234 First Ave. N. was flattened by heavy snows last winter and declared a total loss. The firm has been temporarily operating at 1231 Center Ave. He told council members that construction should begin this month on a $1.2 million building on the original site with an entirely new look and feel – a first-floor shop and waiting area similar to those of new-car dealerships, along with a training area on the second floor to accommodate free car-care seminars for women, men and young drivers.
The council awarded Lachowitzer a ten-year tax exemption under the city's Renaissance Zone program. Redesigned in 2018, the incentive program offers property tax abatements on developments based on the owner's investment per square foot. Under those guidelines, Matt's Automotive qualified for a full exemption for the first five years after construction plus a 75% abatement in years 6 through 10.
Council members lauded Lachowitzer both for the quality of the building he proposed and his decision to rebuild in Moorhead. "It doesn't look like a car shop," Joel Paulsen marveled at the gray, white and orange architectural rendering. "This is a beautiful example of making it fit into the neighborhood around it."
The building is expected to be completed in March 2020. Lachowitzer said his companies will continue to occupy the Center Avenue facility as well, where he'll house both corporate offices and a promotions company he established several years ago. That enterprise produces screen-printed and embroidered logo wear.
Helping hand for business facelifts
Existing businesses that are showing their age can apply to receive a helping hand for exterior facelifts under an updated city program now to be called Storefront Rehab Program.
Downtown Moorhead Inc. director Derrick LaPoint received council approval for an updated approach to helping older businesses redesign, repair and upgrade their exteriors. Working with assistant city manager Dan Mahli, his group has revised an older program that has never received a single application. The incentives approved this week are similar to programs available in Fargo and West Fargo.
Business owners can now apply for city loans of up to $25,000 from Moorhead's revolving loan funds administered by West Central Initiative. They must match the loan dollar for dollar. Repayment of the zero-percent interest loan can be deferred for five years and, afterwards, the total amount forgiven.
Loans can be used for exterior renovation, such as signs, exterior doors, windows, awnings, exterior graphics, exterior lighting, and other façade or landscape improvements. Building code violations such as roofing, structural repair and necessary mechanical system upgrades are eligible, too, but only as part of an approved storefront renovation. Businesses within the Renaissance Zone are specifically eligible, but LaPoint emphasized that others may be considered for exemption from that requirement.
A total of $200,000 has been earmarked for the refreshed rehab program, down from the $250,000 that has sat unused since the original program's inception. The big difference in the current plan, said LaPoint, is that the application process has been dramatically pared down and simplified, from 17 or 18 pages of paperwork to one double-sided page. Instead of needing the approval of three committees, newcomers will be reviewed by one. He said several businesses have already shown interest in taking part to spruce up the faces they put forward.
Liquor licenses approved
Liquor licenses have been approved for two highly anticipated Moorhead eateries – Rustica Eatery and Tavern, 321 Main Ave., and Sol Ave. Kitchen, expected to open soon at 1408 First Ave. N. next to Junkyard Brewing. The Rustica license was awarded to new owners Anna Weisenburger and chef Micah Leitel. Sol Ave. Kitchen – expected to open late this month – is owned by Nikki Berglund and chef Ryan Nitschke, who also own and operate Luna Coffee in Fargo. Both businesses received on sale/Sunday licenses.