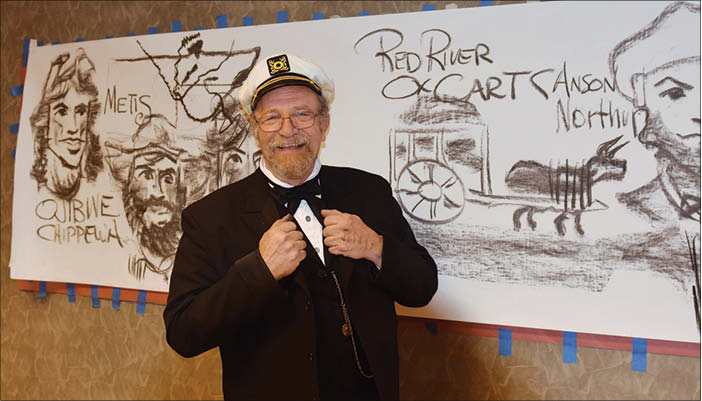 The walls vibrate with the energy of 300 rambunctious fourth graders, but when Mr. History walks in, they quiet down in rapt attention.
Today, Steve Stark enters as a genial riverboat captain, pulling his great-grandfather's pocket watch from his frock coat, to the youngsters' delight. Many of them have met him before in local schools, where his lyceums are a much-anticipated highlight of grades 3 and 4 (in Fargo and West Fargo) or 5 and 6 (in Moorhead).
Dressed in an admiral's cap and a frock coat, Steve strides into the Hjemkomst Center today to sketch out local history for River Keepers' annual Red River Water Festival – literally sketch it. As he tells the twists and turns of the river's history, he simultaneously applies vine charcoal in quick, sure strokes across the 16-foot panorama of newsprint taped to the wall behind him.
He'll sum up 300 years in the next 30 minutes. His rapid-fire cartoons depict a cast of cultures and characters. From the Ojibwe, Dakota and Metís to steamboat captain Anson Northup, Wells Fargo Express founder William Fargo and Northern Pacific executive and William Moorhead. The children hang on his every word, eagerly connecting his drawings and tales to the land and cities that they call home.
Afterwards, a group from St. Joseph's School bravely approach. "Can we have that?" the boldest asks. He rolls it up and hands it over. They cheer and scramble out the door.
"I adore these kids," Steve says afterwards, taking a breather before welcoming the next batch of soon-to-be history fans. "They really love putting the pieces together and figuring out where these names come from.
"I've been involved in a lot of things over the years – journalism, advertising, entertaining. It's been a wonderful series of professions. My role as the guy who gives illustrated history presentations, though … that's one of the greatest joys of my life."
Since his first school programs 25 years ago, Steve has become a familiar figure with the area's young, as well as their parents who remember him from their own school days. He went from occasional dates to regular presentations 18 years ago through the sponsorship of the nonprofit Learning Bank, which supports his programs in local schools. Since then, he estimates he's shared the history of the Red River Valley and its people to almost 100,000 area elementary school students, along with adult audiences in 28 states.
They come up to him before and after his talks, clamoring to see the famous pocket watch tucked into his vest – originally owned, back in the days when it still kept time, by his great-grandfather Jacob Knut Olsen, a schooner captain who sailed Lake Michigan. They shyly tap him standing in the supermarket line. They wave when they recognize his car on the street, clued in by the license plate wife Gwen gave him several Christmases ago: MRHSTRY.
It was his young audience, in fact, who dubbed him with the name, and it stuck. Today and forever, he's Mr. History, whether he's elucidating audiences about Swiss geologist Louis Agassiz, who lent his insights and his name to countless landmarks, or the history of the land-grant universities. His early alter ego as Theodore Roosevelt has given way to a wider range of luminaries and topics thathe tackles with charcoal in hand, from bonanza farms to natural history. Among his grown-up audiences have been the U.S. Forest Service, the Orphan Train Historical Society and attendees at the rededication of the Heritage Center in Bismarck, for whom he sketched the state's entire history in 60 minutes, ending at the exact moment when President Buchanan had signed the charter for the two Dakotas 125 years before.
"I just hope my audiences are as fascinated by my stories," he says, "as the guy who draws the pictures."
The pull of history tugged at him when he was the same age as the boys and girls he teaches and entertains. Growing up in Excelsior, Minn., Steve was the kind of kid, he says, who worshipped librarians and devoured odd bits of the past. He also had a taste for drama, the field in which he'd one day major at North Dakota State University. A special seed was planted when a third-grade buddy invited him to a Bible school event where a storyteller told the tale of the Good Samaritan. "He drew it while he talked," Steve says. "I remember how that blew me away. I thought I'd gone to heaven."
He developed a knack for drawing himself, but only took a single art class from Wayne Tollefson back in college. "I'm a cartoonist," he says flatly. "I'm not an artist." Yet he was already contributing cartoons – illustrations with a point, often a sharp one — to the college newspaper, the Spectrum.
After graduating from NDSU in 1972, Steve and Gwen moved to Two Harbors, Minn., where she taught high school and he got his foot in the door of the Lake Country News-Chronicle as an editorial cartoonist. After completing a master's degree in communication arts at the University of Wisconsin-Superior, he became the newspaper's editor. He continued submitting editorial cartoons to papers in northeastern Minnesota.
The Starks returned to Fargo, where Gwen launched her 31-year career in theatre at Fargo South High School. Steve brought his way with words and pictures to NDSU's Ag Extension Service for a decade, then joined Flint Communications as head copywriter. He has also been employed by Forum Communications, where his editorial page cartoons continue to be published by newspapers across the region.
His best hours, he says, are spent with young people as eager to learn as he is to share the past with them. "History can be international, national, regional, local … and personal," he points out. "It's when you make that personal connection that it sticks with you."
Early in his lyceum days, he hoped to someday share his enthusiasm for the past with his and Gwen's three grandchildren. He got his wish not long ago, when he was called upon to visit the Eastwood Elementary classroom where granddaughter Madelynn, now 11, was a student.
"I hope I'll be around to do it for the younger ones, Liam, who's 4, and 18-month-old Julianna," he muses. "One day, one of them will treasure their great-great-great-grandfather's pocket watch as much as I do and think of that connection. When the history becomes personal, it's something you'll never forget."