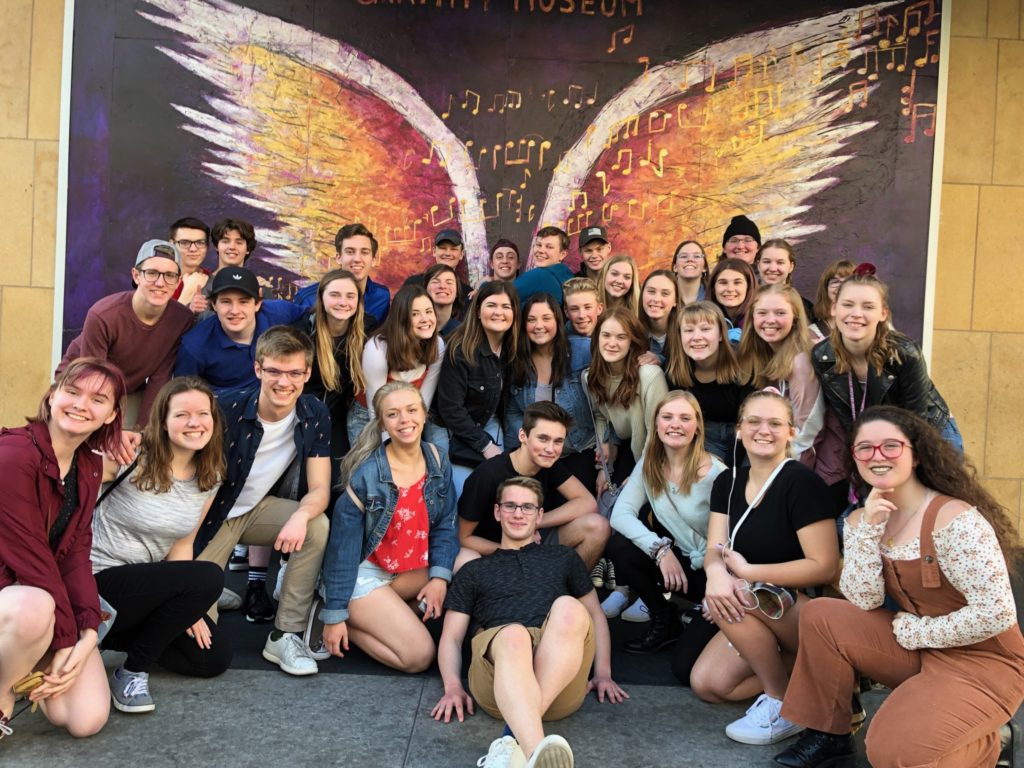 The Moorhead High School choir students traveled to Southern California for a major magnitude field trip lead by choir director Kathie Brekke in January. Forty nine students landed in Los Angeles and their first stop was the Grammy museum, in the heart of LA, which contains more than two dozen exhibits exploring Grammy music from rock and hip-hop to country, classical, Latin, R & B and jazz.
The educational focus of the trip was a musical training opportunity for students to participate in a choral clinic with Juan Carlos Acosta, a California renowned director of choral music. Thalia Christenson felt fortunate to participate. "When I heard our clinician, Juan talk about how he grew up in a school with limited music programs and instructors, I found myself being so thankful for all of the musical opportunities we have at our high school."
While this once-in-a-lifetime musical clinic was a highlight for students, the five-day trip was packed with many additional destinations, performances and learning opportunities. The group visited Sony Studios participating in a walking tour where the Yellow Brick Road once wound through Munchkin Land, where the agents from "Men in Black" battled aliens from outer space and where Spider-Man catapulted from skyscraper to skyscraper. Visiting the sets of hit game shows "Jeopardy," "Wheel of Fortune" and "The Goldbergs," students learned about set design. The group sang in the Barbara Streisand Theater where famous composer John Williams recorded the theme for "Star Wars" and many other major motion picture recordings are made. As a Sony grand finale, students performed "Somewhere Over the Rainbow" on the 80th anniversary of "The Wizard of Oz" with the rainbow from the set as a backdrop.
A professional guide led the group on a walking tour of Hollywood and Highland. The tour included the Hollywood Walk of Fame, Grauman's Chinese Theatre, El Capitan, and the Egyptian Theatre with plenty of entertainment and history along the way regarding how Hollywood got its name and how theater and movies developed over the century.
The choir toured the USS Midway Navy Ship and Museum, visiting with Veterans and learning what it was like out at sea for long periods. They explored the exhibits including a collection of restored aircraft and performed "America, the Beautiful" and other selections on the aircraft flight deck. Following the Midway, students visited the Unconditional Surrender Statue, a giant statue of a World War II sailor kissing a nurse and the National Salute to Bob Hope and the military memorial. The group experienced a sense of appreciation and sincere gratitude for those who serve in our military. One student commented, "I never thought of the sacrifice of living on a ship for long periods of time and getting stuck sleeping in that little middle bunk."
Students rode tandem bikes, scooters, played football and enjoyed the ocean on Coronado Island while F-16 fighter jets were practicing formations overhead. Enjoying the sunshine, they performed outside at scenic places like the Santa Monica Pier in Los Angeles and San Diego's Safari Park and La Jolla Cove where the group observed sea lions, seals and water adventurists. The also got the opportunity to attend a Broadway musical "Frozen" at the famous Hollywood Pantages Theatre.
On Martin Luther King Day, the choir performed for a retirement villa where they were welcomed with joyful faces. Director Kathie Brekke started the performance with King's quote, "People fail to get along because they fear each other; they fear each other because they don't know each other; they don't know each other because they have not communicated with each other." After the performance, students spent time with the residents asking them about their life story. Brekke asked students to share with each other the stories of their new friends and challenged students to think forward 60 years to what their story might be.
"Major Magnitude field trips provide innovative, accelerated learning opportunities for our students. Outstanding educators, like Kathie Brekke, put in a massive amount of time and effort to make these trips not only incredible learning opportunities, but catalysts for impactful experiences, connection and personal growth for students," said Brandon Lunak, Moorhead Area Public Schools superintendent.
Claire Atchison claimed that the trip was life changing for her. "I loved this trip and it definitely changed my life for the better. Choir is the most supportive and uplifting group. I've never found an activity where everyone is so embraced and loved. We had so much fun performing and exploring in California."
Cassie Freedman agreed, 'The nice weather and new experiences were awesome. Drawing crowds when we performed out in public was cool. Hearing the life stories at the retirement village was really fun."