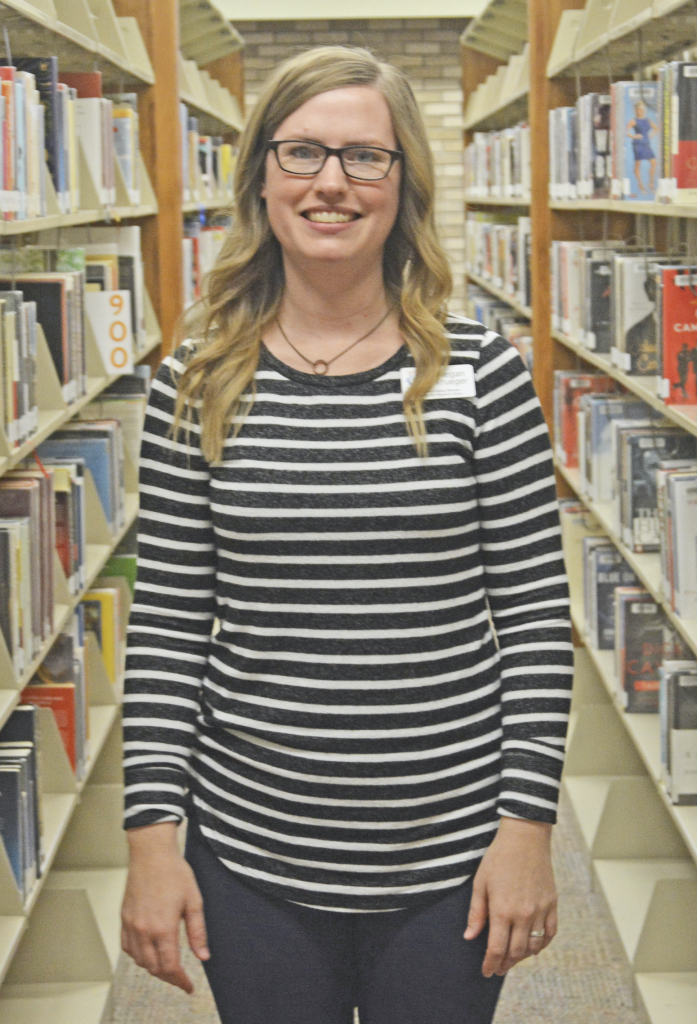 Bryce Haugen
brycevincenthaugen@gmail.com
Everybody knows that the library is a place to find something to read, but the Moorhead Public Library offers much more than just novels and nonfiction.
"It's way more than that," said library director Megan Krueger. "We get so much traffic in every day. You just never know what somebody's coming in here for."
The Lake Agassiz Regional Library system, with 13 branches in seven area counties has 186,046 books, DVDs, CDs and magazines available for checking out. All titles are either on hand at the Moorhead Public Library, which is located at 118 Fifth Street South, or available through interlibrary loan. The library also has 36 public computers with printing services.
The Moorhead Public Library mission statement is "to enrich lives and strengthen communities."
Krueger grew up coming to the Moorhead branch for Storytime. Now she's in charge of the vast amount of services and programming the institution provides the community.
"It's a place where anybody can come," Krueger said. "Everything is available to anyone who wants to use it. Whatever you're here for – entertainment, education, to go to programming or to check out a book – the possibilities are endless."
Here are some of the lesser known services and programs that the library offers:
DVDs, including new releases. "The only catch is that there is often a waiting list, so be sure to request the items you want early," Krueger said.
Downloadable eBooks and eAudiobooks, available at the library website, https://larl.org/ "People are still checking out print books, but our eBook and eAudiobook usage is through the roof," Krueger said.
Technology assistance, from helping people sign up for email addresses, learn how to connect with family on Facebook (often so grandparents can see pictures of grandchildren, etc.), and learn how to use their smartphone or tablet. Community members can receive assistance from a staff person at weekly Ask a Techspert events Monday afternoons at 2 p.m. or by meeting individually with a staff member.
The library recently began offering wireless printing, which offers customers the ability to print to a library printer from their own device. "This is great because we have many customers who bring their laptop to the library, either for office space or to utilize the WiFi … We also have customers who will send their print jobs from home and pick them up later that day," Krueger said.
Beginning in January, the library will have two Notary Publics on staff.
During the colder months, the library accepts donations of hats, mittens, scarves, etc. for a mitten tree. Items are free to anyone who needs or wants them.
The library offers current online access to newspapers such as the New York Times. "I often hear people complaining that they've already reached their limit of New York Times articles for the month," Krueger said. "While the Times will limit the amount of articles you can read without a subscription, you can access all the articles you want from your library."
Reference services are traditionally offered by a library, but people often don't think to call with reference questions anymore, Krueger said. "Staff are still available in public libraries to assist the public in finding information on various topics," she said. "We can often help customers navigate the web to find the best suitable information on a topic, and we might also have access to information not freely available on the web. (Author) Neil Gaiman says it best: 'Google can bring you back 10,000 answers. A librarian can bring you back the right one.'"
Books & Beer: The library offers several book clubs, but this one is the most unconventional. The group meets every other month at a local bar, and it focuses on nonfiction titles. The next Books & Beer is 7 p.m. January 10 at the Everest Tikka House. It's led by Krueger.
Storytime: Children and their caregivers are encouraged to come to the library for this ongoing event, which features stories, songs and poems. It's Tuesdays at 6:30 p.m., Wednesdays at 10:30 a.m. and the second Saturday of each month at 11 a.m.
The first Saturday of each month at 2 p.m. therapy pets visit the library and kids read to them.
Baby Bounce, on Thursdays at 10:15 a.m., features songs, stories, flannel board and action poems for infants through preschoolers and their caregivers.
The LEGO Blocks Club meets the second Thursday of the month at 6 p.m. and the fourth Saturday at 2 p.m. All ages and abilities are welcomes to make their own LEGO creation. Supplies are provided, but attendees are required to bring their imagination.
On the second and fourth Mondays of the month at 6:30 p.m. all ages and abilities are welcomes to practice the skill of paper folding with fellow origami enthusiasts. Basic materials are provided.
The Chess Club meets on Tuesdays at 6:30 p.m.
The Moorhead Friends of the Library Writing Group meets the first and third Tuesdays of the month at 7 p.m. Come share work, discuss ideas and network with other writers.
There's a Jigsaw Puzzle Exchange on Jan. 19 from 2 to 4 p.m. Bring puzzles of all sizes and exchange them with others. Puzzles must be complete with all the pieces included.
There's a Silent Reading Party Saturday, Jan. 26 from 1 to 5 p.m. Enjoy free popcorn, refreshments, friendly company and a healthy dose of silence.