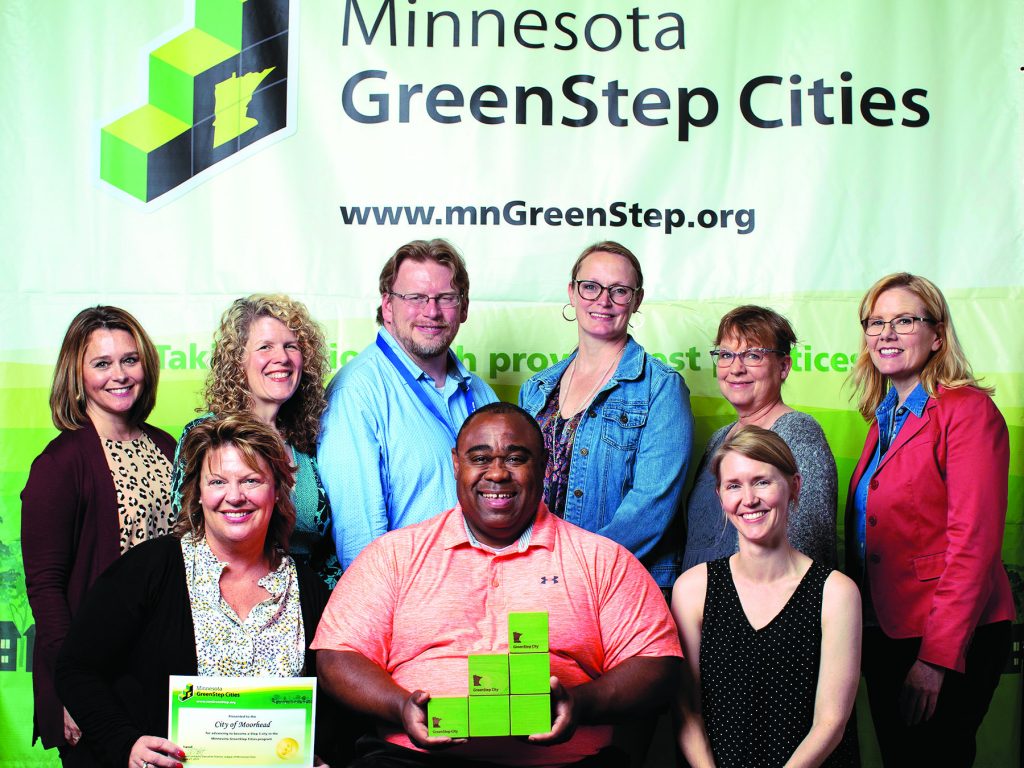 Nancy Edmonds Hanson
hansonnanc@gmail.com
Moorhead's efforts to increase conservation, recycling and sustainability have been recognized by the statewide GreenStep Cities program. Coordinators of the Minnesota Pollution Control Agency program presented Mayor Johnathan Judd and the city team with the Level 3 award at last week's Minnesota League of Cities conference in Duluth.
The city has been involved in MPCA's voluntary challenge, a partnership of public and private organizations, since 2017. It's one of 127 Minnesota communities of all sizes engaged in efforts to improve their quality of life through initiatives including energy use reduction, cost savings and civic innovations in the areas of buildings and lighting, land use, transportation, environmental management and resilient economic and community development practices.
City manager Chris Volkers said Moorhead has reached the third (of five) levels through a variety of steps reflecting best practices identified by GreenSteps. Among them: Replacing parks and parking lot lighting with energy- and-cost saving LED lights over time; offering "Bike & Bus" multi-passes through MATBUS; and capturing the methane gas generated by wastewater treatment to heat the entire Wastewater Treatment Plant.
The city has also partnered with River Keepers and Audubon Dakota to restore woodland prairie along the river corridor to improve water quality in the Red River and support natural plant and animal species. More than 700 trees have been planted annually as well … helping not only achieve the GreenSteps designation, but maintaining the title of "Tree City USA" for 30 years.
She cited several ways in which residents can help the city move toward its "green" goals. One, she said, is to adopt a park, a street, a section of the river or even one of the city's flowerbeds. Another easy – and frugal – step is to take advantage of Moorhead Public Service's Bright Energy Solutions rebates to reduce electric costs and increase efficiency in homes and businesses. "Volunteers are always needed for trash cleanup events," she noted. "And as always – reduce, reuse, recycle."
To complete the five-part GreenSteps program, the city's efforts, headed by assistant manager Dan Mahli, will focus in coming months on measuring and reporting progress toward the "green" goals it has identified.
In addition to MPCA, the GreenSteps Cities program is supported by the State Commerce Department, the League of Minnesota Cities, CERT (Clean Energy Resource Teams), Urban Land Institute Minnesota, Izaak Walton League of Minnesota and Preservation Alliance of Minnesota. The program, which grew out of statewide listening sessions 12 years ago, began in 2010. Only eight cities, all in the Twin Cities area, have completed all five steps. Other regional participants include Bemidji, Crookston, Dilworth, Fergus Falls, Mahnomen and Warren.