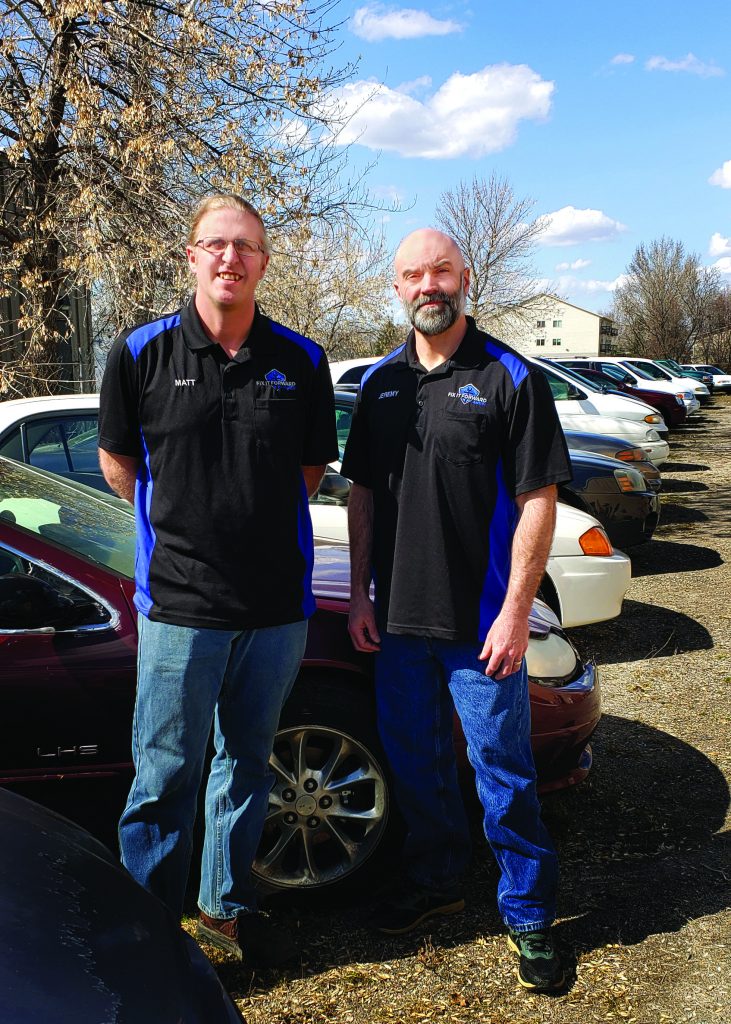 Nancy Edmonds Hanson
hansonnanc@gmail.com
When you have a car you can count on, you tend to take mobility for granted. If not, says Matt Carlson, just imagine the struggle to rebuild a stable life.
"Transportation is the number one obstacle standing between a woman and independence," Matt says, quoting professionals he's come to know at the YWCA Women's Shelter. "Child care is number two, but there are programs to help with that. Not so, for transportation.
"Without a car, you can't take the kids to day care, then get to work or school," he observes. "You can't get away from an abusive situation. The MAT buses don't run everywhere or at all hours. Uber doesn't work so well if you need three child car seats. You can have all the support in the world, but there's a critical piece missing."
That's why he and a corps of volunteers have been working with clients of the YWCA, the Rape and Abuse Crisis Center and – by now – more than 30 other local agencies to help people (women in particular) keep their cars running. Based on an idea the former software developer first dreamed up 15 years ago, the nonprofit he calls Fix It Forward Ministry has brought together dozens of car lovers of the community to provide essential maintenance and repairs for people who are working hard to put their lives back together.
Since its birth in a shop on a farm north of Moorhead in 2015, Fix It Forward has grown to be the guardian angel of hundreds of single mothers' and families' transportation needs. Its volunteer "car guys" have repaired between 350 and 400 vehicles for owners recommended by the original agencies and many others who help people in need – Lakes and Prairies Community Action, Churches United for the Homeless, the Jeremiah Project, the F5 Project and many more.
Not only that. Not so long after news of their volunteer mission began to get around, according to Fix It vice president Jeremy Jensen, car owners inspired by their work began to offer them vehicles of their own to fix up and give away. As of today, they've inspected, repaired and matched 157 vehicles with new owners.
All of those whom the Fix It Forward folks assist are referred to them by social service agencies. "We don't interview, qualify and screen anyone. We're just guys who are fixing cars. That's not in our tool kit," Matt explains. "All of the people we do work for are also getting help by some other agency that's set up to do that part. They come to us, and then we make it happen."
Matt and Jeremy have known each other since Moorhead High School, where they graduated in the early 1990s. They met again at Microsoft, where Jeremy – also a developer – continues to work. "We're car guys. We love to play with old cars. We have friends who play with cars," Matt explains. "We realized there was a big need for help among single moms who couldn't afford commercial repair shops, so we pulled the two pieces together to solve their problem in a safe and organized way."
Fix It Forward has faith at its root. The largest number of its volunteer car-fixer-uppers come from Triumph Lutheran Brethren Church in Moorhead, Hope Lutheran in Fargo and Prairie Heights in West Fargo. Its mission goes beyond changing tires and fixing alternators. Indeed, while they wait for their car repairs to be completed, owners and their families often talk with Stephen ministers in the waiting area.
The auto repair ministry is now an official nonprofit organization with 501(c)3 status, enabling its donors to qualify for tax donations. It's also something of a split personality. The volunteers share quarters in the professional shop at 2620 Second Ave. N. (the former site of Bert's Truck Parts, just north of the Big Lot on Highway 10) with its alter ego: Fix It Forward Auto Care, a commercial for-profit operation that occupies the location by day. While the ministry's volunteers are often self-taught or learned their car savvy in high school automotive classes or from family friends, the auto shop employs three trained full-time mechanics.
The symbiotic relationship with the auto repair shop was an unintended but ultimately brilliant stroke. As Matt tells it, the growing volunteer ministry needed liability insurance, but found it impossible to obtain. "We didn't fit the industry's models at all. They'd ask, 'How many employees do you have?' Zero. 'What are your gross sales?' Zero. Then they'd show us to the door," he says.
When the idea of pairing with a more normal business rolled around, the problem vanished; the nighttime charity work was covered by a rider. Too, the auto shop pays the rent and the utilities. It provides six lifts in the spacious shop area. Volunteers can use its tools … well, the ones they don't bring themselves. "For a car guy, I jump on any excuse to buy more tools myself," Matt confesses.
The ministry's volunteers have guidelines for what they'll tackle. "Our goal is to be good stewards with the resources we're given," Jeremy says. "We concentrate on safety and reliability. No radios, no air conditioning. We do fix windows that won't go up and down, especially up. That's a genuine safety issue."
They buy parts at a discount offered by Auto Zone and Sturdevant's. There's a limit to how far repairs can go, too: "We can't put $3,000 of parts into a car that's worth $1,500 at most," he adds.
While ordinary repairs are the meat and potatoes of the ministry's work, presenting qualified families with a car of their own puts the frosting on the cake. There's been no shortage of donated cars to rehab and match with clients, say Matt and Jeremy.
"When you come to trade in a car that's 10 or 15 years old, you often find it has very little value – even if it runs great and has years of useful life left," Matt reports. "We'll get cars people bought for their kids while they're in college; now they've graduated and bought the car they really want themselves."
And then there are cars owned by elderly parents who don't drive anymore or those who have passed away – often immaculate luxury vehicles with little mileage but a few tell-tale dings and bumps. "It can be difficult to let Dad's or Mom's car go – so many memories," he observes. "But when you know what it's going for, it's easier."
Volunteer helpers are encouraged to join the group – if not to actually fix cars, then to handle the many tasks involved in operating a nonprofit.
Cash donations are welcome, too. "We do need to buy the parts. We buy a lot of parts," Matt notes. "We figure we can fix a car for about a third of the commercial rate. We have no employees, so no salaries or Workers Comp or benefits. The commercial shop pays for our insurance, heat and electricity. We don't have the burden of overhead, so we can use our resources efficiently and responsibly."
For more information on Fix It Forward Ministry, including how to support its work, go to fixitforwardautocare.com or call  (218) 284-3200.