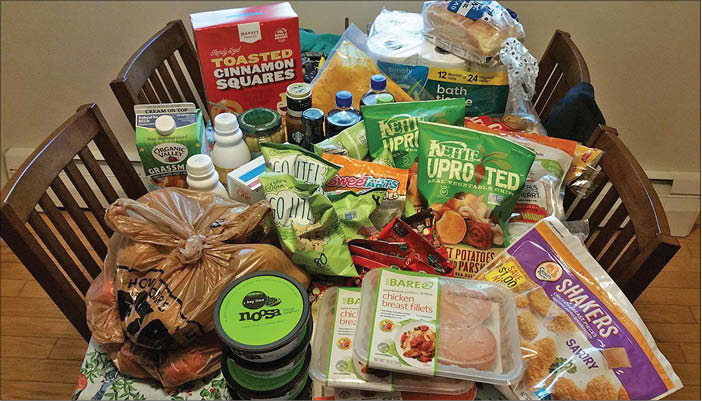 Everyone who eats can come to Ruby's Pantry, a pop-up food distribution center at Minnesota Community and Technical College, MState, in south Moorhead. The fourth Tuesday of every month anyone who needs food can pop in from 5-7 p.m. through Door W2.
Ruby's Pantry operates through donations and believes the best place to store food is in people's stomachs. The distributed food is from corporate donors. Surplus inventory or edible, usable "mistakes" move quickly from warehouses and into the pantry line.
MState found, through surveys and research, that one of the largest issues facing students was lack of access to food and the finances to be able to afford it consistently. Students cannot perform as well if they are hungry and unsure of where their next meal will come from. MState social worker Marisa Gonzalez began at MState about a year ago with providing services such as nutrition a goal.
"Having food on campus reduces barriers for students regarding time and location, but this is for any member of the community. There are no residency or income restrictions, and you do not have to be a student to attend," Gonzalez says.
Registration is done on the MState campus for a half hour before, and during the event as long as supplies last. Within the next few months, Gonzalez says, an online registration option will be provided.
"I have had many people come through the line and express that they are so glad this option has come to Moorhead. Comments such as 'this will get us through the rest of the month,' or 'I did not know what I was going to do or how I would eat this week, and then I heard of Ruby's Pantry' or 'huge save on the grocery bill' are common," she said.
Bring your own containers. Gonzalez says anything works from reusable bags, to boxes, to laundry baskets, to coolers. Beginning next month, dry good leftovers will be used to fill food shelves on campus. Other items will be donated to local food pantries.
Ruby's Pantry is a faith-based organization that partners with local churches. The MState project collaborates with First Congregational United Church of Christ, Moorhead, whose pastor is Rev. Michelle Webber.
"Melissa attends my church, which is a justice seeking church. When she and MState decided they wanted to bring Ruby's Pantry to town she approached me to see if the church would partner. I said yes and then everyone I talked to at church said an unreserved yes.
"Ruby's Pantry is a faith based organization so the church partnership is vital," Webber said.
"We are a smallish church so it's a big thing for us to do. We've had good support from the community. We were a little nervous that such a big undertaking would take away from other work we do with Churches United for the Homeless and the Emergency Food Pantry, but the work seems to have energized us.
"The first distribution we gave out 150 shares. A share is two laundry baskets full of food. The second we gave away 250 shares. Our goal is to consistently distribute 300-plus shares. We know the community can use the food.
"One of the things I love about Ruby's Pantry is that there is benevolence built in at every step. We collect a $20 donation from each participant. That covers $18 of the costs of collecting, storing, and distributing the food, with $2 of that staying in our community. Right now we are using it to get the supplies we need for distribution, but soon those costs will be covered and our church will distribute that money, as much as $600 a month, to people and programs in need in our community.
"Another aspect of Ruby's Pantry that I love is that this is not food that would otherwise end up at the food pantry. Sometimes people ask if they can bring food to us to distribute, but all of our food is corporate surplus food. This is food that otherwise would be wasted," Webber said.
Ruby's picks up directly from producers. In many cases, they have exclusive agreements. And, it's good food, Gonzalez and Webber say. You can expect several types of protein each month and likely there will be some organic products. Volunteers are encouraged to donate for a share so it's not like they are receiving a hand out – it is a hand up.
This is a community event at which we are all part of making our food systems more sustainable by reducing waste. Some of us donate for shares because it's good for the planet, some of us because it's a smart way to stretch our grocery dollars, and some of us appreciate both aspects, Webber said.
Next Tuesday at 2:15 p.m., volunteers can meet in room C118 on the MState campus for training. All volunteers who have not previously attended a training are encouraged to attend this one. Follow this link, https://www.rubyspantry.org/volunteer-application/, to fill out a volunteer application.