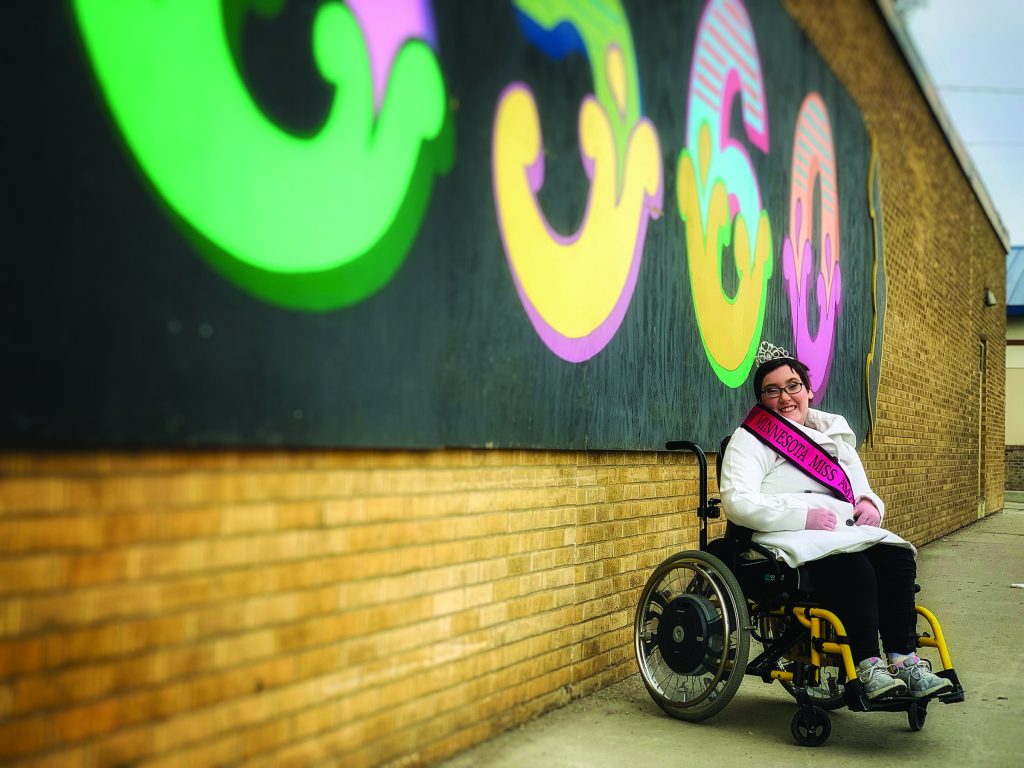 Nancy Edmonds Hanson
hansonnanc@gmail.com

Addie Loerzel is no newcomer at breaking through barriers. But when it came to the talent competition at the Minnesota Miss Amazing pageant in early April, she outdid herself … literally.
"The singers and dancers were fantastic," says her mother, Marisa Bengtson-Loerzel. "But when Addie came out in her taekwondo uniform and broke boards with her hand, the crowd went wild!"
It was a big moment for the 13-year-old, who's in 7th grade at Horizons Middle School. Over the past 6 years, she's gone from lemonade to the limelight – raising some $30,000 to grant children's wishes with her increasingly celebrated Pretty Princess Lemonade and Cupcakes stands. That's brought her plenty of fame in Fargo-Moorhead, complete with media coverage and crowds to meet her and her posse of costumed Disney princesses.
But nothing quite compared to the highlight of the pageant, held in Lakeville, Minn., April 5. With younger brother Logan holding up each board, she shattered them to the tune of "Kung Fu Fighting." She relishes the memory: "The crowd was screaming!"
Perhaps you haven't heard about the Miss Amazing Pageant, but you will. Established in Omaha in 2007 by a 13-year-old girl and a handful of volunteers, it has grown each season; 35 states are part in the 2019 competition. It encourages big dreams among girls and women with disabilities.
A journalist with the online magazine Vice may have said it best: "But this is not your standard beauty pageant. There is no swimsuit portion, not a whiff of competitiveness. Instead, Miss Amazing is all about self-confidence, celebrating individuality, and giving girls and women with disabilities the change to shine. The event is divided into eight different age groups, who each participate in a talent showcase (including things like singing, dancing, gymnastics, hockey maneuvers, and magic) and an evening-wear portion, where they are escorted by dates and hunky men from the local fire department."
Addie's mom says the girl's journey to the title began when she spotted an item posted in a Facebook group for parents of children with spina bifida, a birth condition in which part of the spine is exposed, often resulting in paralysis of the lower limbs. With the Minnesota tiara already secured, they're planning a trip to Chicago in August for the national pageant. She's especially looking forward to shopping for its elegant wardrobe requirements: "More ruffles! More sparkles! Pretty!"
Marisa, who teaches special education in Abercrombie, and her husband Brian Loerzel have supported Addie's dreams since the beginning. That included her plan, hatched when she was 7, to raise money for the Sunshine Foundation with a lemonade stand in their yard in Moorhead.
Since then, six successive sales have drawn hundreds to Moorhead each year, generating a total of more than $30,000 for the foundation, which grants wishes to chronically ill, physically challenged and abused children from 3 to 18. Addie and the whole Loerzel family traveled to Disney World that first year as recipients of one of the 40,000 "Dream Come True" trips it has funded since establishment by a Philadelphia police officer in 1975. His widow Kate, who now runs the foundation, has become a family friend whom they're visiting this week in Pennsylvania.
Addie's excitement bubbled over into a first cupcake stand even before the family headed to Florida, where she met the Disney princesses who entranced her. The little girl wanted, her mom says, to help other children experience the thrills that she had, and her vision caught on from the very first. A family friend, Hannah Boser, has been baking the from-scratch cupcakes that Addie sells, year after year. "I never bake," Marisa confesses. After she and Addie met Hannah through Hope Inc., she took on what's become a gargantuan effort. Last year she baked and frosted 3,000 cupcakes.
Nor does Addie sit by herself as her customers arrive. Her mother has helped her recruit many princesses-for-a-day over the years – 12 in 2018 – including media personalities, neighbors and random strangers they've met in the mall. Addie loves her "pretty princesses." They're outfitted in spectacular style these days, thanks to grants from the Awesome Foundation and First International Bank that have enabled the upgrade from Halloween costumes to more theatrical garb.
Besides three years of adaptive taekwondo classes at Red River Traditional Taekwondo, Addie enjoys other sports, often through Hope Inc., which organizes adaptive sports and recreation for area children. "I love skiing," she says. "It's my favorite in winter." Instead of her wheelchair, she swoops downhill at Detroit Mountain on what she calls a "sleigh," guided by Hope volunteers. Summers are highlighted by camping trips with her family – her parents, 10-year-old brother and 8-year-old sister – toward the goal of visiting all 50 states before the children graduate from high school.
Addie and her mother are developing plans for the mission she's taking on as Minnesota's Miss Amazing Junior Teen. They hope to arrange opportunities for her to meet school children to demonstrate her core belief: "We're all more alike than we are different," she says.
The young Moorhead teenager is absolutely undaunted at the prospect of speaking to audiences – one of most Americans' greatest fears. It holds no more terror for her than breaking boards on stage in front of hundreds. "No," she shrugs at the silly question. "I'm not afraid of anything."
Groups interested in hosting a visit by the young Miss Amazing Junior Teen may contact Marisa Bengston at 701-371-0796.