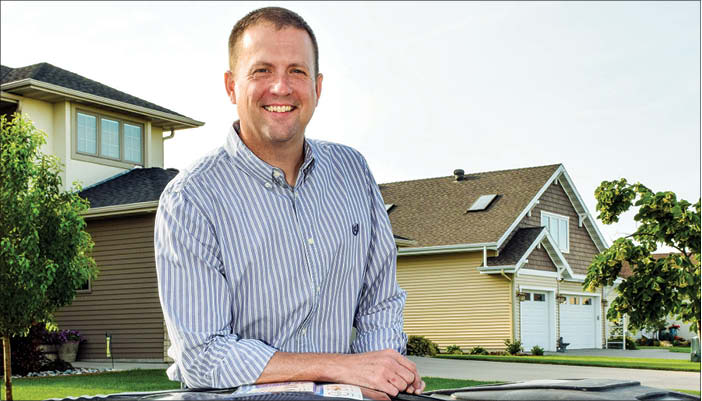 Trash is hot in Moorhead and Fargo, as residents at long last begin to fill their new blue totes with recyclable garbage. Pickups begin Monday, when those blue 96-gallon containers will begin to take their places at curbside … fulfilling a long-standing wish to make it easier to do the right thing for the environment.
But not so fast! It's not so easy to know what to toss into the blue or dump into that old grey garbage bin.
Experienced recyclers – who've been separating their plastic, glass, metal and newspapers into bins and lugging them curbside since 1991 – can't wait for the advent of single-sort recycling. Expect grins from ear to ear as they wheel their tidy blue totes to the curb on garbage days in alternating weeks.
If you're a newcomer to the recycling zone, however, you may expect a fairly steep learning curve during the first few cycles. Fortunately, answers are as close as your computer or just a call to Public Works away at 218-299-5422.
Those who have already mastered recycling will find delightful surprises on the list of what now can go into the blue totes: Milk cartons! Pizza boxes! Yogurt and juice containers! Even previously verboten junk mail is okay, including bills with their notorious cellophane windows.
"We're able to accept things now that we never could before," Moorhead Public Works Director Steve Moore explains. The two cities will be working with MinnKota Recycling to bale and transport local trash to a materials recycling facility (an MRF, or "merf") in Shakopee, Minn. There, Dem-Con's high-tech sorting lines can separate even some long-forbidden discards for reprocessing. Its combination of automated and human-handed sorting systems is capable of processing a waste stream of 20 tons per hour.
Steve expects Moorhead alone to reclaim 1,200 to 1,500 tons of recycling over the next 12 months – a major jump from the 500 tons gathered from curbside bins in recent years. His crews, like Fargo's, will truck their loads to MinnKota's facility. From there, it will be transported to the Twin Cities by parent company Beverage Wholesalers' fleet of semi trailers. The arrangement could hardly be more convenient or energy-friendly: The Minneapolis-bound trucks have normally made the trek to Minneapolis empty on their missions to bring back loads of beer; now they'll carry payload in both directions.
That single-sort recycling debuts simultaneously on both sides of the Red River is no coincidence. Steve says that his department approached their Fargo counterparts three years ago to begin planning the big move. "Neither of us could do this without MinnKota, and they needed both of us to make their investment worthwhile," he notes.
The cities, too, have invested a substantial sum. For Moorhead, that includes 11,000 wheeled totes at $50 each plus dumpsters for apartments. More vehicles are required as well, including two new autoloader trucks equipped with arms to pick up and empty totes and a regular loader to transfer the material to Fargo. All told, more than $700,000 has been bankrolled the program.
In return, Moorhead residents will see a miniscule 75-cent hike in their monthly garbage service fee – from $2.84 per month, a rate that hasn't risen in 10 years, to $3.59. The fee, Steve points out, also includes curbside pickup of yard waste.
So what can be recycled? The basics are simple:
• Metal – aluminum, steel and tin food cans; clean, dry paint cans, and empty aerosol containers from which the caps have been removed.
• Cartons – milk and juice cartons, along with empties that contained soup, broth and wine.
• Paper – mail, office and school paper. Newspapers, inserts, magazines and catalogs. Phone directories, as long as any spiral bindings are first removed.
• Boxes – non-waxed cardboard; beverage and pop cases; case and snack boxes, and empty pizza cartons.
• Glass food and beverage containers, rinsed and with their caps removed.
• Rigid plastic containers, from berry boxes and yogurt tubs to beverage bottles.
But … and there's a big "but" … it's easy to take too much for granted and gum up the works.
Take plastic. Rigid plastic, the kind that's stamped with a triangle symbol containing the numbers 1 through 7, is good. The flimsy kind that's almost universal among grocery, discount and clothing stores is an absolute no-no. So is plastic wrap, found everywhere from the meat counter to those bags of air that cushion the goods inside Amazon shipping boxes. It tangles in processing machinery and brings the line to a screeching halt.
Styrofoam is banned in all its forms – cheeseburger caskets, coffee and cold drink cups, packing peanuts. So are paper beverage glasses coated with wax or plastic, along with similar freezer or microwave containers. Aluminum foil, too, goes into the trash.
Or consider whatever came inside those food containers. No food waste can go into the blue totes – not potato peels or cantaloupe rinds or chicken bones or whatever's left in the peanut butter jar. Rinse out the bottles; toss the organic matter in the regular garbage.
The percentage of contamination within the recycling loads is critical, Steve explains. If it gets too high, the MRF may send the entire load of otherwise-appropriate discards straight to the landfill.
Until now, Moorhead's stellar home recyclers have kept those mistakes well under 5 percent of the total volume. Will it go up when a crowd of newbies join the city's recycling campaign?
That's yet to be determined. He's hopeful that the far greater convenience of single-stream recycling will inspire Moorheaders to take a little extra care as they get into the swing of things.
"If people have questions, we urge them to check out the rules on our website, and when in doubt, give our office a call at 299-5422," he recommends. "We do need everybody's cooperation to help keep our garbage stream clean."
More information on what can be recycles and and biweekly collection dates is available online. Go to www.cityofmoorhead.com and enter the search term "recycling."