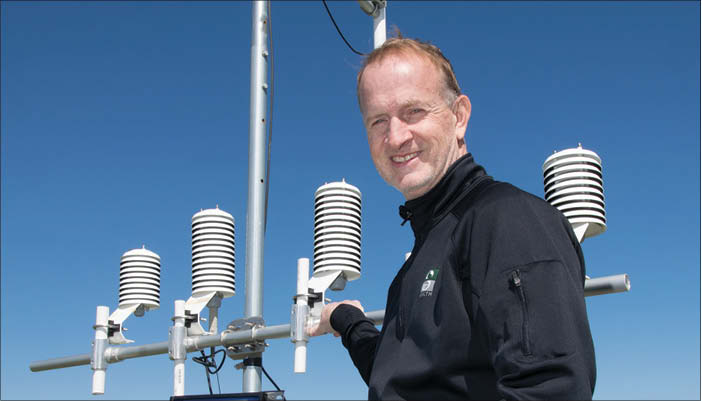 It's an evening ritual here in the Upper Midwest – tuning in the nightly news for a best guess at what tomorrow's weather will bring.
The TV weatherman's predictions are generally plenty good for planning family outings and preparing for frost that might nip the garden. But accurate reports on today's and tomorrow's weather get dead serious when it comes to the region's biggest industry. "Close" might be good enough (as the saying goes) for government work … but when multi-million-dollar decisions hang in the balance, farmers need prophecies they can count on.
That's where the North Dakota Agricultural Weather Network comes in.
Former TV meteorologist Daryl Ritchison provides the solid, scientific data that today's high-tech farmers use to guide their decisions. When is the soil ready for planting? What's the best time to spray for the cercospera leaf spot that threatens sugar beets? When will this year's scourge of wheat midge larvae emerge from the warming soil to bedevil grain fields? Are conditions going to be right for dreaded potato blight?
Where once farmers could rely only on their own observation and instinct to guide their farming practices and make costly decisions, the region's agricultural industry can now draw on far more reliable data. NDAWN – the pros pronounce it "N-dawn" – is part of the State Experiment Station based on the North Dakota State University campus . The high-tech monitoring network provides almost literally up-to-the-minute reports on growing conditions.
Its network of 91 reporting sites is scattered from Redstone, Mont., to Roseau and from Bowman, N.D., to Campbell, Minn.. Each reports current conditions back to Daryl's office via Verizon, checking in every 5 minutes around the clock. Since weather conditions can vary dramatically even a few miles afield, the data helps farmers calculate when to plant and when to get the most out of applying herbicides and insecticide, or even whether they're needed at all.
Want to know the temperature and wind speed right now in Williston or Sabin? The maps and graphs on the website NDAWN.org hold all the answers. Rainfall and residual soil moisture? How about hourly, daily or weekly highs and lows, or below-ground temperatures from 2 to 89 inches deep? The readings NDAWN collects are an open book, as far as predicting emergence of fungus, disease and yield-robbing pests. Even the difference in air temperature above the ground – 10 feet in the air, where spray booms travel, versus colder readings closer to the soil – will be collected starting July 4. Too great a variation can mean the difference between chemicals landing where they're intended or drifting, unwanted, into adjacent fields.
"It's all about increasing farmers' return on their investment," Daryl explains. "Knowing when, and whether, to apply expensive chemicals can have a dramatic impact on farmers' bottom lines." Crystal Sugar, for example, estimates that timely information and the spot-on decisions it makes possible can save growers $75 to 85 million in input costs per year.
"Multiply that by all the crops grown in our region – 42 row crops. You can see the positive return our mesonet generates," Daryl says.
The region is far ahead of most of the U.S., thanks to work begun by the ag weather network's founder John Enz in 1989. New York, for example, is only now building its own system of automated monitoring sites, fueled by a $30 million federal investment. In contrast, North Dakota has built its still-growing network with state appropriations matched by investments by a wide variety of private businesses, from agribusiness firms and elevators to banks and individual farmers. Five new sites have been added in recent month, each at an initial cost of $7,000. Sponsors also invest $1,000 per year for replacement and calibration of equipment All data gathered by the network are publicly available at no cost.
Daryl, who joined the program three years ago, considers himself a lucky man. He came to NDAWN after 25 years in broadcast, 18 of them at WDAY in Fargo, which he joined in 1996. The Elysian, Minn., native is a multi-graduate of Minnesota State University, Mankato, where he earned his bachelor's and several master's degrees. "I got to enjoy my dream career in television," he confides, "and now I have a second one here at NDAWN."
Shifting from the news to academia has brought new opportunities and challenges. "One thing you figure out on your first day at NDSU — you're never the smartest person in the room," he says, and laughs. "These people are brilliant, and they're absolutely passionate about science."
Though he's no longer on the air, Daryl remains in the public eye. He's the face of NDAWN (and the other three members of its staff) from ag conferences to service clubs and elementary schools, speaking about his lifelong fascination with the weather. As an expert on weather and how it affects crop prospects, he's frequently interviewed by everyone from local reporters to international business news services like Bloomberg Business News – often in back-to-back interviews throughout his day.
He helps train weather spotters, generally law enforcement and volunteer firefighters, to accurately observe and interpret the skies in their own neighborhoods. He himself is the National Weather Service's cooperative weather observer for Fargo-Moorhead, calculating rain- and snowfall around his home in south Fargo. His readings often differ from the official Weather Service highs and lows, which are measured at Hector International Airport. "With all the concrete, asphalt, buildings and aircraft coming and going, airports are always warmer than the surrounding area," he confides.
So what does this summer hold?Daryl cautions local residents not to jump to hasty conclusions.
"Is this going to be a late spring? After several weeks of cooler-than-average weather, some people think it's looking that way," he concedes. "This could be a year when people plant in late May or early June, especially soybeans. After two unusually warm years when farmers got into their fields in April, though, May 10 can seem miserably late.
" 'Normal' is all a matter of perception. Mid-May is actually closer to average," he notes. "It all depends. Weather is incredibly complex."
That's why the well-known weatherman was so delighted after a recent run-in with several area farmers. They acknowledged his forecast was spot-on about last winter. "It was good to hear from them," he notes. "You rarely hear compliments like that when you forecast the weather."