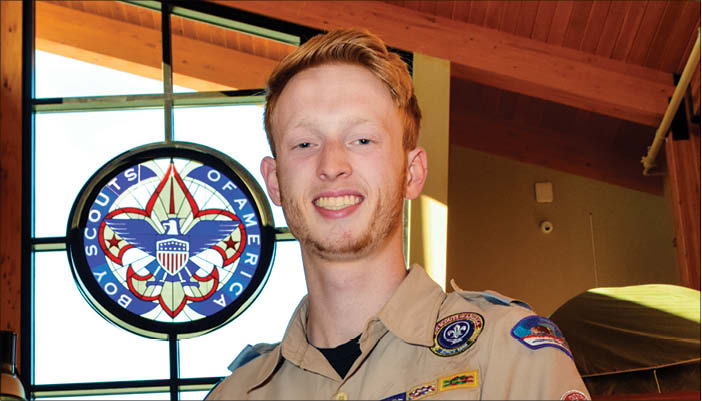 The only member of Miss Minnesota's family who won't be in Atlantic City to see her compete in the Miss America Pageant Sunday is the oldest of her 10 brothers and sisters, Brett Drevlow.
That's because Brett will be staying behind to get ready for the first date of Join Week – the critical week of meetings that enrolls this year's Cub Scouts in packs at five schools here in Moorhead. And while he regrets missing sister Brianna's big moment, he's equally excited about his own: His first week of organizing of Cub Scout packs here in Moorhead as one of the two executives serving the Northern Sky District, D-5, one of 10 in the Northern Lights Council of Boy Scouts of America.
Starting Monday, Brett will be heading up "Join Nights" to muster the troops on five Moorhead elementary campuses – Dorothy Dodds, S.G. Reinertsen, Ellen Hopkins, Robert Asp and St. Joseph's Catholic Schools. While gathering boys to form dens each autumn is always a big event, two are especially noteworthy this year.
"We're starting a brand-new pack at the brand-new school," he points out. That means he hopes to welcome five to 10 youngsters in each grade at the new Dodds School for grade-level dens – Tigers for first grade, Wolves in second, Bears in third, Webelos in fourth and, in fifth, the Arrow of Light, the transitional year from Cubs to Boy Scouts.
History will also be in the making at Ellen Hopkins School. There, Brett is recruiting leaders and kindergarten boys to establish a pilot Lion den. "This is the first time we'll be piloting a kindergarten-level den in the area," he says of the Hopkins Lions, the only such pilot program on the Minnesota side within 100 miles. Another dozen or so will be starting out this year in North Dakota.
It's an exciting time for the kids and for the parents and grandparents (whom he hopes to recruit as leaders). And it's especially important for Brett himself, who has been involved in every level of Scouting since he started school in Thief River Falls 16 years ago. As the youngest exec in the district – perhaps in the nation – the 22-year-old too is setting out on a new adventure.
"Scouting is the ideal solution for parents looking for ways to pry their kids away from their screens," he volunteers enthusiastically. "How could video games compete with the real thing – camping, hiking, hanging out outdoors with your friends? Kids love making their own racers for the Pinewood Derby and building sailboats for the Rain Gutter Regatta. You should see them get into it. They can't get enough!
"Scouting is so much more fun than staring at some kind of screen … so much more fulfilling. And most kids have never been exposed to it before."
Yet he concedes the competition is tough – not only from technology but, especially, from sports programs much more intense than those of his own not-so-distant school days. Those factors have contributed to a slow decline over recent years that he and fellow District 5 exec Kevin Mehrer (who works with clubs in the Fargo area) hope to stop dead in its tracks.
"When I was 7, basketball and hockey didn't practice every day," Brett says. "Families weren't pulled in so many directions. Now their schedules are way more intense, and scouting has changed to accommodate them." That's led to far more flexible scheduling to enable more kids to fit the Scout experience into their busy schedules. The Moorhead packs, for example, range across a wide variety of meeting frequencies and times. He points out, "We offer more opportunities than ever before. We want to work with your schedule, not compete with it."
Brett's own clan is a prime example of scouting's impact on growing children. The second oldest of the little Drevlows, he excelled from the first. He was the top seller of popcorn – the young scouts' traditional fund-raiser – in the Thief River Falls district, peddling more than $5,000 to earn money for trips, uniforms and gear and winning a TV for his achievement.
When he reached high school, Brett's Eagle Scout project was named one of the top efforts of the year. He led a campaign to restore the aging River Walk in his hometown. He raised funds, researched repairs, and recruited and led a force of 10 Scouts (including two of his brothers) who refurbished historic pictographs and replaced benches along its meandering length between the Red Lake and Thief Rivers.
All of the Drevlows, it turns out, have followed the path of Scouting. Three more brothers – so far – who've become Eagle Scouts. Brianna has earned Girl Scouts' equivalent, the Gold Award, with another sister closing in on the Silver. Their father Joe has served as a Scoutmaster, and younger siblings are also on their way.
Brett graduated from Concordia College May 7 with a degree in environmental studies and concentration on policy. He'd begun as a music performance major – another family tradition – but found the science a better fit. "When I was a kid, I always wanted to be a park ranger," he recalls. His major combined his unbounded love of nature with the tools to analyze and dissect problems.
Then, a few weeks later, he married his college sweetheart Jenny. A registered nurse, she found a job in the ICU at Essentia Hospital, complicating his original notion of going to law school. "I'd been working as a paraprofessional here at the Northern Lights Council when I heard about this job opening up," he reports. "It'ssomething I knew I could give a lot of passion to. It gives me the chance to give back to the program that's given me so much." He assumed the district executive post June 1.
Besides shepherding the Moorhead scouting program, Brett's responsibilities extend as far north as Halstad and Mahnomen, to Frazee in the east and to Barnesville to the south. He's working right now with the White Earth tribal council and Boys and Girls Clubs to establish the program on the reservation, something he hopes to see come to pass later this winter.
"We're totally changing course this year. We expect to grow," he forecasts. "We're totally focused on engaging new families in Scouting. We want to build character and teach leadership to kids who have never had the chance before."
He speaks fondly of his own boyhood experiences … camping in the Northern Tier of the Boundary Waters, traveling twice to Philmont Scout Ranch in northern New Mexico, and loving every minute at Camp Wilderness near Park Rapids, Buffalo River and Maplewood State Parks and Little Yellowstone. "You don't have to travel miles and miles," he says. "You can find great adventures right here.
"And it's not all camping all the time. If you're interested in cycling, for example, you can earn a merit badge in that. We have troops that focus on engineering, technology and aviation. There are computer science merit badges. It's all about character-building and instilling good values.
"Wherever you want to go … Scouting can take you there."
Moorhead parents and children are invited to learn more about Cub Scouts at these Join Night events.
Sept. 11, 6:30 p.m. – Dorothy Dodds School; contact Brett Drevlow, 701.499.0659.
Sept. 12, 6:30 p.m. – S.G. Reinertsen School, meeting at Christ the King Lutheran Church; contact Sean Helgeson, 701.318.5666.
Sept. 14, 6:30 p.m. – Ellen Hopkins School, meeting at Grace United Methodist Church; contact Jamie Lockwood, 218.443.6150.
Sept. 14, 6:30 p.m. – Robert Asp School, meeting at St. Francis Catholic Church; contact Erica Lavoi, 218.410.1540.
Sept. 21, 7 p.m. – St. Joseph's Catholic School; contact Aaron Wolf, 218.731.4932.
Contact Brett at 701.499.0659 for details about Boy Scouts.