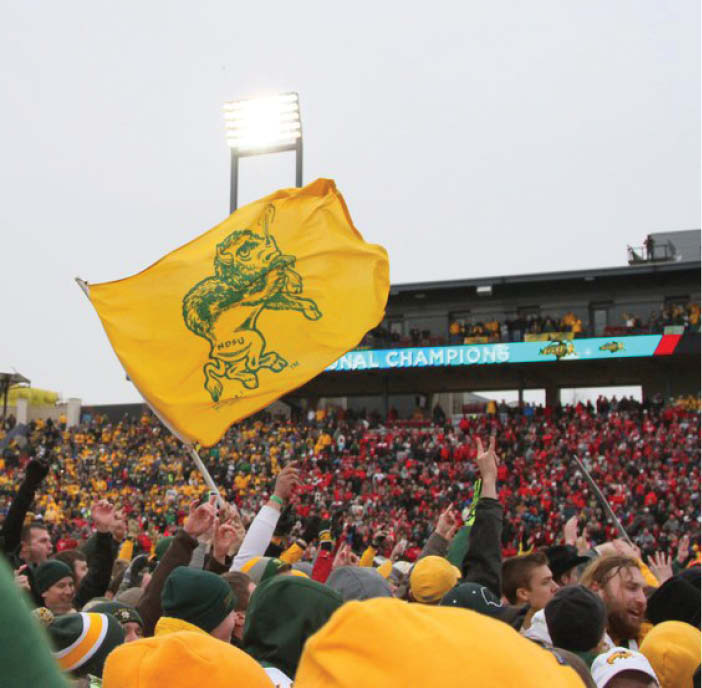 This has to end sometime, doesn't it?
There's no way the North Dakota State football team can keep winning games, national championships and the adoration of more and more fans.
At some point, some time, the Bison are going to stumble and fall flat on their faces. Next year. Yeah, that's it. Next year, for sure.
Do you want to bet?
Didn't think so.
If there is a poster child for finding a way to get it done, come hell or high water or Tre Roberson, NDSU is it. If there was any doubt, last weekend's 29-27 victory over Illinois State in the FCS national championship game should have erased it.
By all rights the Bison were deader than phone booths after Roberson, Illinois State's gifted quarterback, bolted 58 yards for a touchdown with 98 seconds left in the game to give the Redbirds a 27-23 lead. Roberson is said to wear a Superman T-shirt under his uniform. Maybe it took a superhero to slay the mighty Bison. At last someone had found the formula.
Or not.
The Bison answered with a desperate, frenetic series of plays that will make the names Carson Wentz and RJ Urzendowski unforgettable parts of NDSU lore. Wentz is the NDSU quarterback, Urzendowski a receiver. Wentz threw the ball to Urzendowski, who one year ago was lying on his couch as a high school senior watching the Bison play in the title game against Towson. Urzendowski caught it, three times.
That put the ball at the Redbirds 5-yard-line, where Wentz was able to do the rest. He rocketed into the end zone for a touchdown with 37 seconds left to give the Bison a 29-27 lead. A few moments later, it was over.
The Bison from having a couple of shovelfuls of dirt thrown on them to a fourth straight national championship. Apparently this doesn't have to end sometime after all.
"With our guys, you never saw any doubt in their mind. You never saw any panic in their eyes," Bison first-year coach Chris Klieman said. "We've obviously been in this situation before, even in the playoffs, and our guys just know it's our time. When you have the success that we've had over the past four years, guys just know how to win."
Four straight national championships and a 58-3 record over the past four seasons. That's more titles than defeats, for those scoring at home. Included was an FCS record 33-game winning streak and fawning from national media like ESPN. The Bison have won five straight over schools from bigger conferences like the Big 12 and Big 10. It's silly.
"I think if we would have came in here as true freshmen and said that our goal was to win four national championships, our goal is to have (ESPN's) 'College GameDay' come to Fargo two times, people would have laughed at us," said senior linebacker Esley Thorton, who made the title-clinching interception. "Before the season, if we would've said we're going to win our fourth national championship after losing 24 seniors, I think people would've laughed at us, too."
If anybody is dumb enough to laugh at the Bison, or doubt them, they get whatever is coming to them.
And here's the deal: They're not exactly going to be the Little Sisters of the Poor next season. Wentz, Urzendowski, Zach Vraa and much of their talented offensive line returns. NDSU will lose a bunch of studs on defense, for sure, but have some talented players returning like C.J. Smith, Nick DeLuca, Jordan Champion and others. The cupboard will be thinner, but hardly bare.
After the Bison victory, somebody as the postgame press conference asked Klieman the question everybody was wondering.
"One for the thumb?" Klieman was asked, implying whether a fifth straight title and one more championship ring was a possibility next year.
Klieman could only chuckle.
"We're going to enjoy this one for while," he said.
Fair enough. But the question was a legitimate one.
As the final 98 seconds of Saturday's game proved, maybe this never has to end.
(Mike McFeely is a talk-show host on 790 KFGO in Fargo-Moorhead. He can be heard 2-5 p.m. weekdays. Follow him on Twitter @MikeMcFeelyKFGO.)