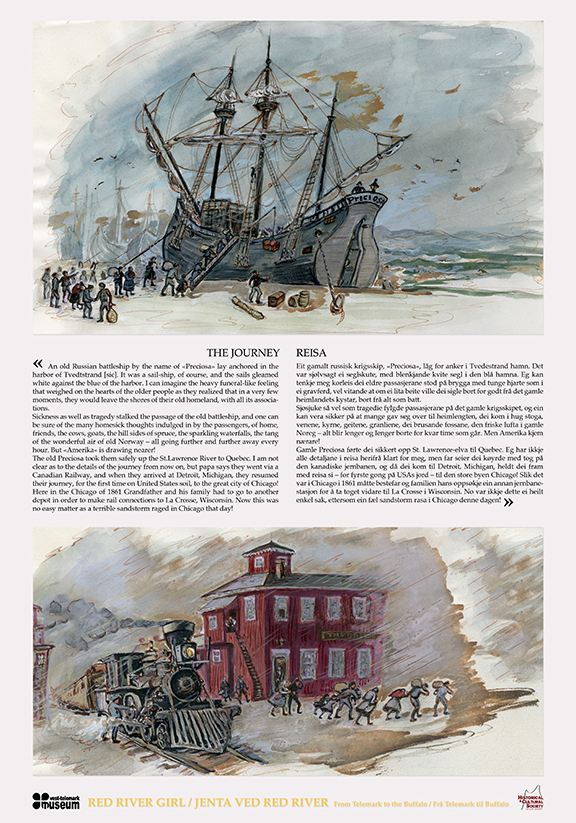 clay county histories
Markus Krueger | Program Director HCSCC
There is a wonderful local history exhibit on display at the Hjemkomst Center right now, and it is all the more amazing because this local history exhibit was made in Norway. Jenta ved Red River: Frå Telemark til Buffalo – Orabel Thortvedt og kunsten hennar (that is, Red River Girl: From Telemark to The Buffalo – The Art of Orabel Thortvedt) is a bi-lingual exhibit in English and in Norwegian that was a collaboration between the West Telemark Museum in Eidsborg, Norway, and the Historical and Cultural Society of Clay County in Moorhead, Minnesota. It will be on display until March 7, 2021.
The exhibit centers around the work of one of my absolute favorite people, artist and local historian Orabel Thortvedt (1896-1983). Orabel was born along the Buffalo River between Dilworth and Glyndon to a family of important early pioneers of the Red River Valley. Have you ever noticed how there are a lot of Norwegians around here? The first major group of Norwegians to come to the Red River Valley, the Buffalo River Settlers, was led by Orabel's Grandpa Ola Thortvedt in 1870. Orabel grew up listening to her family and neighbors telling stories of the Old Country, the Red River Trails, sodbusting, prairie fires…it all fascinated her.
Listening to stories became harder, though, when a childhood illness left her almost deaf. Losing her hearing, however, unexpectedly created a unique opportunity. In 1930, Orabel received a scholarship to take lip reading classes in Minneapolis, and when the guy who gave out scholarships saw some of her artwork, he gave her a scholarship to the Minneapolis Institute of Arts School as well. She returned to the family farm a trained artist, and she was also a talented writer and an incredibly important local historian who obsessively documented the history of the Buffalo River Settlers. She spent decades perfecting her magnum opus – an unpublished, beautifully illustrated typewritten manuscript that tells the story of her family's journey from Telemark to the Buffalo River.
As it turns out, the Buffalo River Settlers are not only important figures in Minnesota history. As early leaders in the massive emigration from Telemark in the 1860s, they are also important figures in Norwegian history. Historians from the West Telemark Museum found out about Orabel Thortvedt while studying where their people ended up in America. They contacted our museum because in 2013 we made an exhibit called Prairie Daughters: The Art and Lives of Annie Stein and Orabel Thortvedt.
In March of 2019, three historians from the West Telemark Museum came to Moorhead. They were astonished at the massive amount of documentation and artifacts that the family donated to our historical society over the years – everything from paintings to paintbrushes, family photo albums, diaries and shelves full of Orabel's research and writing. We took them to the Thortvedt farm and introduced them to family members. Then they went home and created a beautiful exhibit to be displayed in both Eidsborg and Moorhead.
When the exhibits are done there will be a lasting legacy to this collaboration. The West Telemark Museum published Orabel Thortvedt's illustrated manuscript with commentary in both English and Norwegian. Orabel never met me but I know her well. I've studied her art, I've read her diaries, I share her obsessions with our history and cats. When I got my copy from our gift shop, I teared up knowing how much this would have meant to her. The Norwegians reproduced it marvelously. It's the most beautiful book I've ever seen.