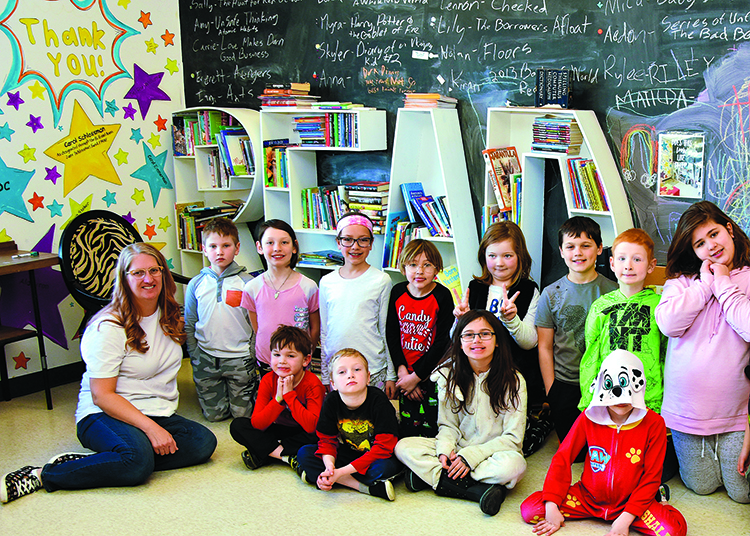 Nancy Edmonds Hanson
"We've got the number-one therapeutic STEAM learning program in the nation," says Carrie Leopold with a grin. "I'm completely safe in saying that because we're the only one."
Carrie is the learning evangelist behind Inspire Innovation Lab, Moorhead's one-of-a-kind after-school program for elementary children. When school buses and the Inspire van disgorge rowdy young scholars there at the end of the school day, they're about to take an enthusiastic dive into two more hours devoted to more of what they've been splashing around in all day – more education.
But what an education! Unlike their classrooms, the Inspire lab is devoted to a unique kind of learning. The youngsters – two dozen or so on an average day, ranging from kindergartners to the oldest, a sixth grader – arrive ready to engage in project-based activities that draw on all the disciplines taught under distinct headings in school, from science and math to reading and technology. Not only that: They'll also absorb life skills to build resiliency and their ability to handle their emotions.
These children and their parents may be forgiven if they sometimes overlook all that serious stuff. What they're all about within these the rooms of kid-friendly challenges, where eager voices rise and energy crackles. What it resembles is … fun.
"What I've always wanted to do," Carrie confesses, "is change the face of education. I want to move schools toward project-based learning that integrates a whole mix of disciplines – science, technology, engineering, the arts and math – into problem-solving. In the end, it's not about the problem itself or the solution. It's about creativity, teamwork, cooperation – all the good stuff that happens in the middle."
She calls the blended, sometimes raucous process "messy learning."
Carrie's path from growing up in West Fargo to where she has arrived today was anything but straight and narrow. After graduating from Minnesota State University Moorhead with a bachelor's degree in biology and master' in education, she worked in a constellation of roles revolving around those twin loves. For a time, she was STEM outreach coordinator for the State College of Science's Fargo campus. Working in the department of applied sciences, she focused on bringing educational tools on nanoscience, biotechnology, microelectronics and biofuels to schools across North Dakota.
She engaged on grants helping schools connects with emerging technology, developing project-based learning units and a curriculum. It was ultimately frustrating, though, in one big aspect. "When people got the grants, schools were able to initiate projects and get students involved. But then the money would dry up and it would all go away. It happened over and over," she observes. "Finally I figured that if I started my own on literally nothing, there would be nothing to go away."
She laid the foundations for Inspire some five years ago. "I put together a board that believes in this kind of learning and told them, 'If we can't pay the bills" [with fees parents pay for the after-school care] "I will pay them myself." Fortunately, it has never quite come to that. "But at the end of our first year, our checking account balance was $12."
Carrie and her staff of professional educators seem to thrive on the noise and energy of the Inspire lab. Located in the former Red Owl building at Main and Fourth Street South, it's a complex of rooms set up for active engagement. Posters and artwork line the walls. The zoo, a collection of caged birds and lizards, takes up one corner, while books and activities stuff shelves elsewhere. The two restrooms are decorated with "grossology," images and info on the kind of natural topics that elementary ages adore.
About 40 children are enrolled in Inspire, some part-time, others five days a week. Carrie pledged from the beginning that no child would be turned away; as a result, about half of her regulars are on informal scholarships. In addition to those who pay tuition, the lab's costs are supported by grants and donations from Aldevron, Cargill, AT&T, the F-M Area Foundation and several generous individual supporters.
Projects and themes combine ingenuity and collaboration. Earlier this year, the lab focused on the engineering design process, creating pinball machines and marble mazes. Later they moved into projects based around holidays both obvious and obscure. "They may not be able to describe what they did in technical terms, but they can do it pretty well," she says.
At the moment, the lab kids are working on topographical maps comparing Norway and Kenya. That's one outcome of the mission trip Carrie recently took to Africa with members of her Community Presbyterian Church and others. Coming up next: the Inspire Wax Museum, with each child researching a historic character and then becoming that person, complete with costume and a brief visual presentation and performance.
A less visible side of Inspire's programming – the therapeutic part – focuses on the youngsters' emotional and cognitive needs.. "What I never anticipated was the number of children who have special needs," she reflects. She estimates that half have issues with trauma, anger, self-confidence and self-esteem. Several are on the autism spectrum. Along with their regular activities, several receive services from the North Dakota Autism Center and Embrace Therapy on site.
All participate in daily activities to build resiliency. They resolve conflicts in peace-makers circles. The leaders focus on helping them recognize and deal with their feelings. "The goal is to help them build their own skills for self care," Carrie explains. The first step happens when they come in the door. Each child chooses an elastic wristband that reflects how he or she feels – green for the calm after a good day, orange for rougher times, and red for when they're feeling their worst. They take a moment to talk it out with a adult, who listens and gently steers them to release their feelings.
Carrie and husband Derek have five children of their own, two adults and three teen-agers. "He's totally supportive," she adds. In addition to her work with Inspire Innovation Lab, she's active in other arenas. In 2018 she ran for the North Dakota Senate in District 13, basing her campaign on child advocacy, child abuse and social services. A Democrat, she was defeated … this time.
For a woman so involved in her own community, her choice of Moorhead to launch Inspire is a bit unexpected. "I chose Moorhead for the cheap rent," she says. (She was in the Center Mall for two years before opening her after-school education program in the Main Avenue site.) "I had no preference for which city at the time.
"But I've come to see something special here. People seem to be more receptive on this side of the river."