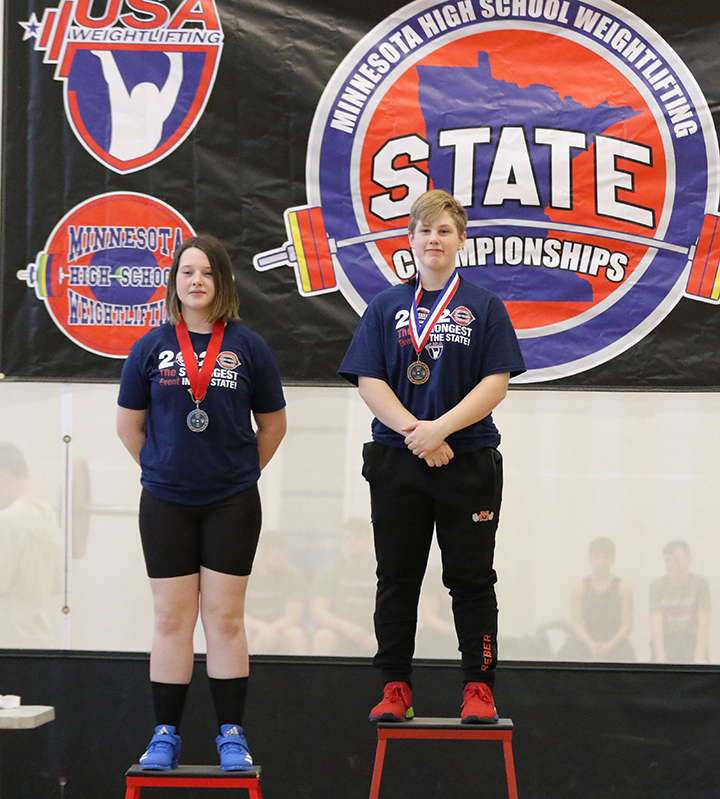 Moorhead traveled to Cannon Falls for the State Weight Lifting tournament on March 7 to compete with 18 other teams and as part of 112 lifters. Coach Cory Herrmann commented on the junior varsity team, "This is a group that is extremely hard working, dedicated and young. We had a lot of athletes that were new to the sport this year and a great group of seniors that mentored them throughout the year. It was like having more coaches in the room and it built a lot of trust. Our JV lifters training also helped them excel this year and brought home 5 medals.
Girls junior varsity opened up the day's events as 3 Moorhead girls lifted in 2 classes. Grace Kolo and Mya Reiber were state champions in 64K and 81K weight classes respectively. Olivia Brissett placed 2nd in her class.
Boys junior varsity had four lifters in four weight classes. Ben Hrdlicka triumphed for gold and was the state champion for the 89K weight class. Junior Gaye and David Carlson both received silver in their weight classes and Osama Allawi brought home the bronze medal for 49K. The JV team also took 2nd as a team.
"Our Varsity lifters battled all year long and broke some personal records, meet records and even state records," coach Herrmann added. "We had a lot of great lifters that improved greatly during the season and came very close to qualifying for the state meet. Kaden Tranby, Angus Wegge-Schlick and Jacob Wesley all came within kilos of qualifying. Sydney Tweeten, Claire Atchinson, Mahmoud Younis and Micah Jackson battled till the last chance meet and finished just short. Isaac Benedict worked very hard and qualified but unfortunately he was not able to lift the day of the state meet."
The varsity lifters all brought home medals, too. Moorhead girls varsity had 3 lifters. Ella Rice placed second for silver. Claire Howell broke personal records and battled to take home the bronze, her second medal in two years at the state event. Mackenzie Neuhalfen placed third and received the bronze medal.
Nolan Meier increased his weight totals and brought home the silver medal. Maier also medaled at last year's state tournament. Chrisanto D'Agostino had a big year at Moorhead. D'Agostino won the state title in the 96 K class for the second year in a row. He lifted 133K in snatch for a new State record and 164K in clean and jerk for a combined total of 297K which also broke the State meet record he had set at the Spud Thud earlier in the season. D'Agostino also became the first Spuds lifter to win a National Title. He also became the first male athlete from MN to ever win a Junior National title.