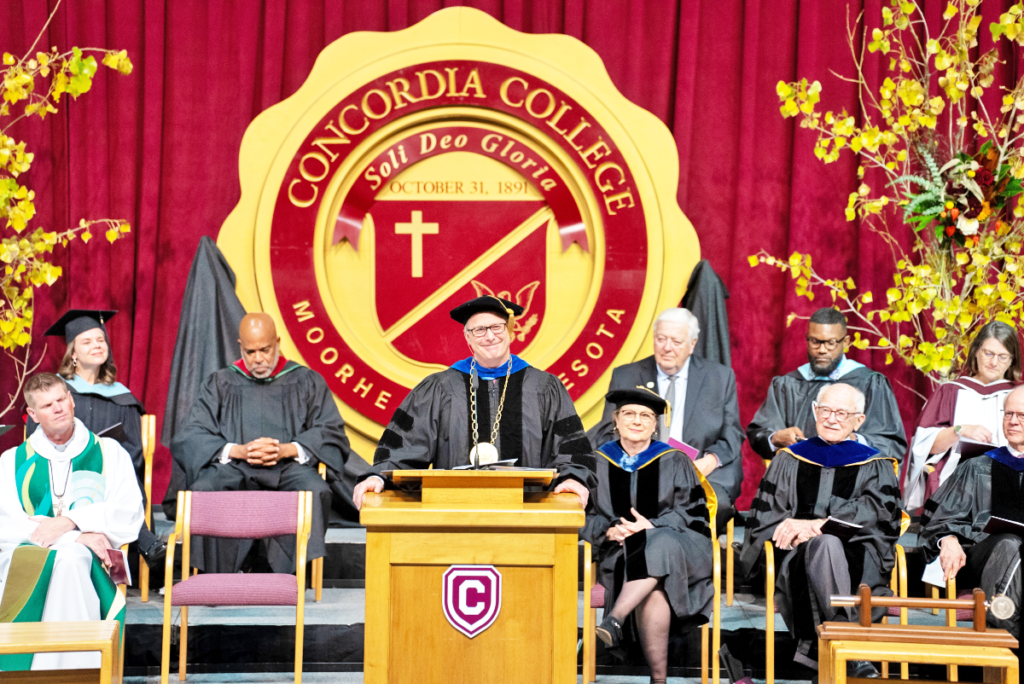 CONCORDIA COLLEGE INAUGURATES PRESIDENT COLIN IRVINE
MOORHEAD – On Sunday, Oct. 15, Concordia College officially installed its 12th president, Dr. Colin Irvine, at an inauguration ceremony in Memorial Auditorium.
Faculty, staff, students, alumni, and distinguished guests joined together to show their support of Irvine, who is committed to institutional growth, program development, and initiatives promoting diversity, equity, and inclusion.
In his inaugural address, President Irvine focused on the power of momentum, taking lessons from the college's origins in advancing its mission to prepare students to influence the affairs of the world.
"I am truly humbled by this opportunity to serve in this role at this time in this special place," Irvine said. "I believe that we are called as Cobbers and supporters of Concordia College to serve the needs of our neighbors. In doing so we will continue to build on the firm foundation of our proud past, here on campus, in Fargo/Moorhead, in the Red River Valley, in Bemidji at the Concordia Language Villages, and throughout the world."
"I believe our future is full of academic excellence and innovation," he added. "I believe our future is full of artistic brilliance and beauty. I believe our future is full of athletic champions and championships. I believe, above all else, that our future is brighter than ever and that our best days at this amazing place are ahead of us."
The inauguration capped off a week of Homecoming festivities, which included a dedication ceremony of the Heimarck Center for the Sanford Heimarck School of Health Professions, an alumni achievement awards banquet, student concerts, and a parade.
President Irvine succeeds Dr. William Craft, who retired in June 2023.
CENTER AVE TO BE REDUCED TO TWO LANES FROM 8 ST TO 11 ST FOR SEWER PROJECT
MOORHEAD – Center Ave from 8 St to 11 St has been reduced to one lane in each direction for business sewer connection work. The project is expected to last three weeks, weather permitting.
While east-west traffic will be maintained throughout the work, drivers should expect some delays in the area and seek alternate routes, if possible.
FARGO-MOORHEAD CVB AWARDS DESTINATION DEVELOPMENT GRANTS
The Board of Directors of the Convention and Visitors Bureau serving Fargo, Moorhead, and West Fargo (FMCVB) recently awarded Capital Grants from its Destination Development Fund to two local projects.
The Board awarded a grant of $100,000 to the Red River Regional Marksmanship Center, in West Fargo, to help pay for construction of a new $4.1-million facility in West Fargo. Construction of the new facility will allow RRRMC to expand its firearms safety and training programs as well as host more and larger shooting matches and competitions, all of which will attract more overnight visitors to our communities.
The FMCVB Board also awarded a grant of $500,000 to the City of Moorhead to help pay for renovation of Matson Baseball Field, a $2,000,000 joint project of the City and Moorhead American Legion Post 21. The project will include a new grandstand with shaded covering, a plaza area, new concession and restroom facilities, a new scoreboard and audio system and other amenities. The renovations will allow the American Legion Post to attract more Minnesota baseball tournaments, and to collaborate with Fargo & West Fargo on larger events.
The RRRMC grant will be paid in one installment, and the Matson Field grant will be paid in three installments.
The Fargo-Moorhead CVB is funded by the 3% local lodging tax collected on hotel rooms in Fargo, Moorhead, and West Fargo. Since 2012, the FMCVB Board has awarded more than $5 million in grants to worthy tourism-related projects across the three cities.
CHECK OUT PUBLIC TRANSIT OPTIONS DURING TRY MATBUS WEEK
Try MATBUS Week takes place October 16-21, and is a fun and interactive opportunity for residents of the Fargo-Moorhead community to experience all of the benefits that MATBUS has to offer. There will be several special offers and events during the week to encourage residents to try out MATBUS services and join passengers who take nearly 2 million rides per year in the Fargo-Moorhead area.
This year, all rides are FREE on MATBUS fixed routes for the entire week. This promotional fare will not apply to MAT Paratransit.
On Thursday October 19, celebrate Customer Appreciation Day at the Ground Transportation Center. From 11 am-7 pm MATBUS staff will be giving out free popcorn and bottled water.
If you have never used MATBUS, check out MATBUS.com, which has helpful tools like the "How to Ride" video, Google Maps-powered trip planning, and live bus tracking. New riders can also call the Customer Care Center at 701.232.7500 option 1, or message on Facebook, X, or Instagram with any questions.
UNVEILING OF FELIX BATTLES MONUMENT
MOORHEAD – A monument in honor of Felix Battles will be unveiled on November 4, at 11am outside the Minnesota State University Moorhead Center for Business on 11th St about 8th Ave S. There will be special keynote speakers and chance to learn more about Moorhead's first Black barber and Civil War veteran. This project was led by MSUM and the Historical and Cultural Society of Clay County.
Felix Battles was a courageous American Civil War soldier who risked his life to free his fellow Americans and preserve the Union. He overcame a lifetime of injustice and adversity before moving north to the frontier, where he built both a home and a business. The monument will serve as a reminder of his bravery and the sacrifices he made for his country.
The monument also aims to promote a greater interest in Felix's story. It will stand as a symbol of the forgotten heroes – particularly among people of color – who have made great sacrifices for our community. An advisory board of community leaders believes that Felix Battles is a man Moorhead can be proud of, and the monument will help keep his legacy alive for generations to come.
All members of the community are invited to honor Felix Battles and his contributions. To learn more about Felix Battles, visit hcscconline.org/felixbattles.html.