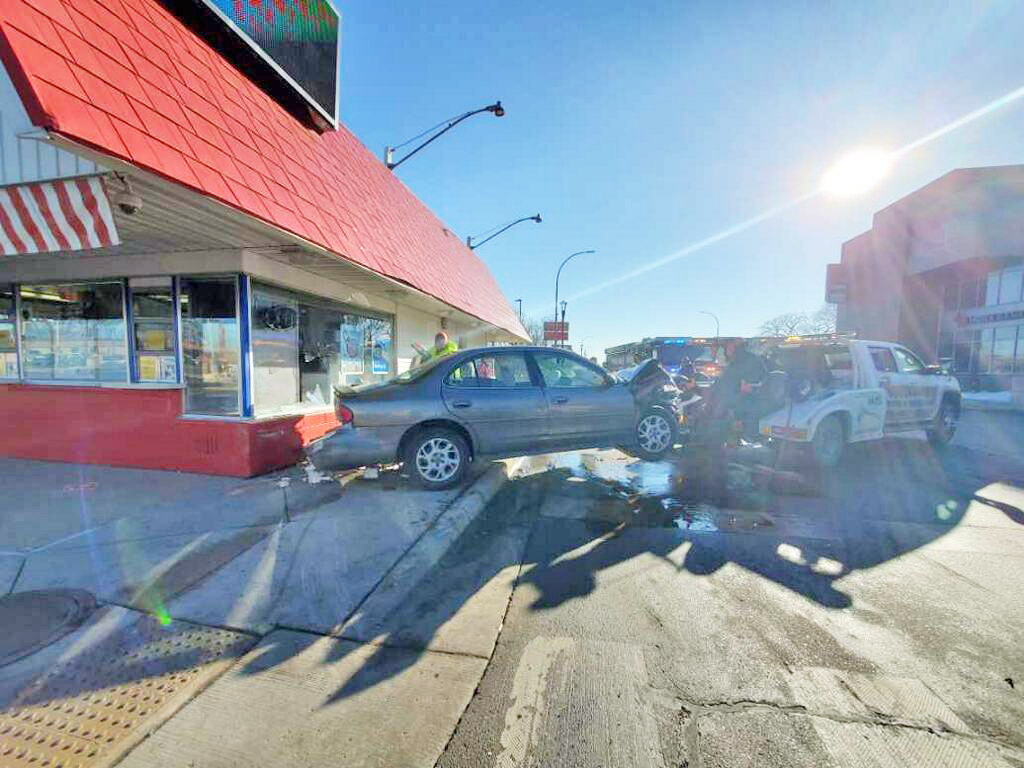 Crash Causes Damage to Downtown Dairy Queen
MOORHEAD – On Saturday morning, March 13, officers were dispatched to the intersection of 8 Street and Main Avenue for a report of a two-vehicle crash. Officers noted that one vehicle had struck the exterior of Dairy Queen. Both drivers were evaluated on scene by ambulance personnel; however, no one required transport to the hospital.
The investigation determined the victim's vehicle was stationary on Main Avenue at 8 Street facing westbound.  The suspect vehicle was reported to be traveling eastbound on Main Avenue when it crossed the center lanes at 8 Street and struck the victim vehicle's passenger side. The suspect vehicle then continued eastbound and came to a rest against the Dairy Queen building.
Statements on scene lead to the belief the eastbound driver possibly fell asleep while operating their vehicle. The driver, Brandon Wanner, age 20, of Fargo, ND, was cited for Careless Driving. Both vehicles required tow trucks to be removed from the scene. The damage to the Dairy Queen forced them to close for the day. 
M State goes virtual with spring open house
MOORHEAD – Minnesota State Community and Technical College is inviting prospective students to its first-ever virtual open house from 10 a.m. to 2 p.m. on Thursday, March 25.
No travel is required as participants will be able to visit with faculty and staff while learning about M State admissions, programs, financial aid and other student services.
Faculty from nearly two dozen programs will be on hand at virtual "booths" to talk about the degrees, diplomas and certificates offered at M State. The booths will include programs in the areas of business, construction, fine arts, health care, human services, information technology and transportation.
Learn more or register at mstate.vfairs.com, or call or text 877.450.3322 with questions.
Fall semester begins Monday, Aug. 23, and registration for summer and fall semester courses is currently under way.
FMVA BIG Art Exhibition Opens at the Hjemkomst Center
MOORHEAD – The Historical and Cultural Society of Clay County has opened the 2021 FMVA BIG Art Exhibition in the Hjemkomst Center's 4th Floor Gallery. The annual exhibition showcases the work of the Fargo Moorhead Visual Artists and offers a comprehensive, multimedia introduction to the recent work of established artists, emerging artists, and arts educators in the Red River Valley.  
This year's exhibition also marks a return to the Hjemkomst Center. The 2020 exhibition was set to open last spring only weeks after the Hjemkomst Center was closed for three months by an emergency executive order. Instead, HCSCC and the FMVA collaborated on a digital gallery that is still available on HCSCC's website (www.hcscconline.org/fmva2020). As COVID-19 vaccinations are only beginning in Fargo-Moorhead, HCSCC will also make this year's BIG Art Exhibition available online as a digital gallery that will go live Thursday, April 1.  
This year's show includes 68 pieces in ceramics, sculpture, textiles, oils, watercolors, photography, woodcuts, mixed media, and more. FMVA screen printer and exhibition lead Amanda Heidt continues to see tremendous growth in the quality and variety of submissions. The exhibition will be on display at the Hjemkomst Center through Sunday, May 16, 2021.