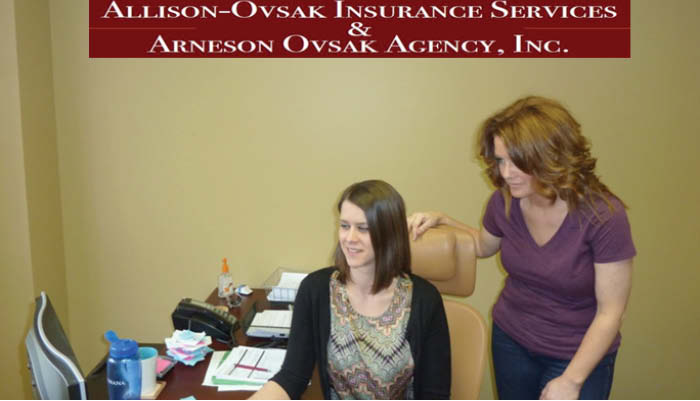 "What I enjoy most about my job is the opportunity to help people with their healthcare insurance options," said Kristina Schultz. As a licensed agent and office manager at the Moorhead office of the Arneson Ovsak Agency, she has been assisting clients with their healthcare insurance options since 2003. "I have the opportunity to help them understand their choices and place them with an appropriate plan based on their situation."
Tammy Ovsak purchased the John C. Arneson agency in 2010 from Jack Arneson and renamed it Arneson Ovsak Agency, Inc. and Allison-Ovsak Insurance Services. They are independent agencies with over 50 years of combined experience. Schultz explains that the agencies work exclusively in the healthcare insurance field so that they provide their clients with the level of expertise they should expect from health insurance representatives. She also said that the agencies offer a wide range of health insurance products and pricing through several regional and national insurance carriers. Their goal is to build long-term relationships with their clients including individuals, Medicare beneficiaries, and small businesses by providing customized solutions.
Schultz understands the local community's needs; as she grew up on the north side of Moorhead and attended St. Francis Catholic School through the sixth grade. After graduating from Moorhead High School, she attended MSUM. Schultz was undecided on a career path so she took a few years off after her freshmen year to review her options. Understanding the need for secondary education, Schultz enrolled and graduated in 2002 from the private two-year college Aakers Business College (Rasmussen College) with an Associate Degree in Business Management
Schultz's work ethics and customer care skills were developed over the years working at the family business, Duane's House of Pizza. She developed a passion for serving customers and teamwork, as well as observing how to run a business, manage costs, and control inventory.
She began her insurance career with the Arneson Agency when Jack Arneson offered her a position. Schultz now works with all lines of health insurance including Medicare, individual, and group markets and manages the day-to-day business of the Moorhead office. Schultz is a designated BluePartner with Blue Cross and Blue Shield of Minnesota (BCBSMN), which means that she is in the top 10% of agents in the state of Minnesota.
Schultz explained that they have a very large Medicare clientele. She said that some of the Medicare clients really rely on what they do. Many do not understand the insurance options that are available to them. Schultz said, "they put their entire trust in us. They need direction on what choice to make. Some of the clients do not have family members who are actively involved in their lives to help them make these choices. The question they ask most often is what would you do if I was your parent? I really take that to heart. I try and guide them as I would my parents."
Schultz understands the many frustrations that can arise with healthcare insurance and encourages those with questions to give her a call– she has the answers. Call today.
Kristina M. Schultz – Licensed Agent
Licensed in MN and ND
218-236-8787 or 877-245-5119
kschultz@702com.net