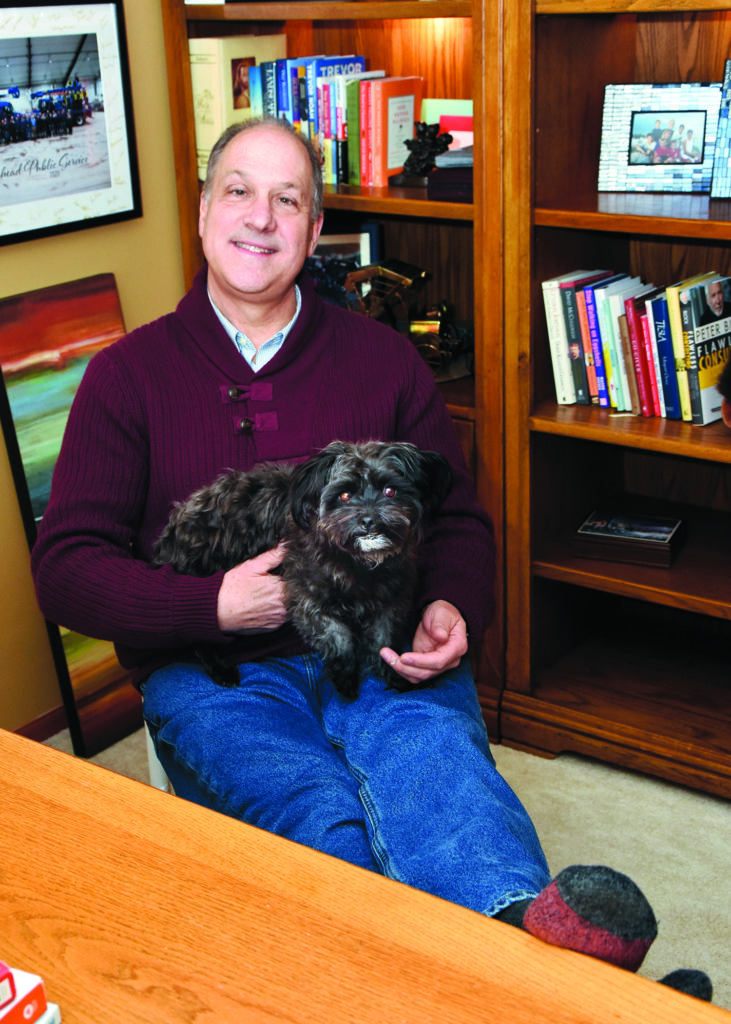 Nancy Edmonds Hanson
After 38 years with Moorhead Public Service, Bill Schwandt is weighing his options.
Schwandt, whose last day as general manager was Jan. 27, had headed the city's public utility – which handles both electrical power and water service – for nearly 27 years, since he succeeded his longtime friend and mentor Tom Heller. "My first day as general manager was April Fools Day," he reflects with a grin, relaxing in his home office this week.
"It's been a good run. When they do this for a long time, utilities people get passionate about providing the community with reliable, affordable services … making sure they can take for granted that when they flip the switch or turn the faucet, the power or water is going to be there. I'm passionate about utilities."
Schwandt submitted his letter of resignation to the city in January after the appointment of a sitting member of the council, Heidi Durand, to the five-member board that governs the city-owned utility. That followed the resignations of MPS commission chair Dave Anderson and member Ralf Mehnert-Meland and failure to reappoint John Rogalla. Former council member Joel Paulsen, who resigned last August, was appointed in his place; a second recent city council alumna, Mari Dailey, already serves as a commissioner.
Tension has roiled the relationship between city government and the public utility in recent years. While his resignation leaves open the question of the degree of autonomy MPS should and will have, it clears the boards for the biggest career decision Schwandt has made since he came to Fargo as a college student in 1982: What's next?
It's a question the Burlington, North Dakota, native hasn't asked himself since boyhood. The son of the Burlington mayor, he says he was attracted toward civic service since the days when he rode around beside his dad in their town of perhaps 800 people. "Burlington was small, but that meant something," he said.
When he enrolled at Minot State College, he says, his direction was an open question. "We freshmen were gathered in a large room. Someone said, 'English majors over here. Education majors there. Pre-engineering – follow that man.' I had to go somewhere, so I thought that sounded good," he remembers. By the time he transferred to North Dakota State University two years later, he headed directly for electrical and electronic engineering, choosing the small cohort who focused on public utilities.
"Electronics was the hot field in 1982," he says. "Out of 120 in my class, only seven of us went with power utility classes. The other guys scoffed, 'You'll just be looking at meters.'" But the joke, he notes, was on them. "The power field has become incredibly exciting. We're talking climate change, the end of coal … all the new technology that will save the world."
He goes on: "People in our field used to be heroes when we brought electricity to the country, then made it reliable and cost-efficient. We did that with coal generation. Then carbon emissions made us seem like bad guys. Now we're heroes again because electrical engineers are the problem solvers who are going to save the world. We see a problem. We figure out a solution through trial and error. Then we can say, 'We built that,' and go on to solve the next problem."
Bill interned at Moorhead Public Service, facing his first problem on Day One – how to make use of the agency's brand-new (and rather intimidating) DEC Rainbow personal computer. He recalls standing in the door of a small back room with manager Heller and Jerry Pronovost, silently contemplating the newfangled device sitting silently on a table. "After 20 seconds of silence, Jerry said, 'Well, there's the monster,'" he says. "They paid me $7.50 an hour to figure out what to do with it." And he did, putting the utility's spreadsheets into Lotus 1-2-3. That modest achievement was the start of the sophisticated digital budgeting and controls that run MPS's power and water operations today.
After graduation in 1984, he spent a year in Kansas City, but his heart remained in Moorhead. When a project engineer position opened up the next year, he was back in City Hall, focusing on SCADA – supervisory control and data acquisition, using computer systems to monitor and control operations. "I was one of the new breed of engineers … just missing the slide-rule era," he says. He gained a reputation as "the computer guy," a moniker that has stuck with him.
Marketing was added to his assignment a few years later. Then, in 1992, Tom Heller left MPS to head the regional Missouri River Energy Services, which then and now was a major supplier of power to the Moorhead system. Bill served as interim director until being named to head the 70-employee agency a few months later.
Conservation has always been a focus of MPS's interaction with its residential and commercial customers. Bill explains that from 1957, when Garrison Dam came online, until about 1975, the city's needs were met entirely by power from the Western Area Power Administration, the federal agency that distributed hydroelectricity to municipal energy agencies. "We were 100 percent renewable," he points out.
The city's growth, however, changed that. WAPA's generating capacity was at its maximum, requiring supplementation from coal-fired generating plants. That put pressure on electrical rates, since the supplementary power – which met about half of the city's needs over the next decades – is considerably more expensive than WAPA's allotment.
Today's numbers are very different. Hydropower still represents about half of Moorhead's load, and 22 percent comes from coal-fired power – mostly from MRES' Laramie River Station in Wyoming. Of the remaining 28 percent, 12 percent is wind power, including the output of MPS' own Capture the Wind turbines, 8 percent nuclear, 7 percent natural gas, and one percent from Moorhead's own Capture the Sun solar panel field.
Next up, Bill predicts, is Capture the Earth, an initiative to harness geothermal power as another carbon-free source of heating and cooling. "Our residents expect us to be innovative. Geothermal is four times as efficient as heating the air," he explains. But the expense of current technology means it is impractical at the moment – a situation he expects to change in coming years.
Moorhead has won a flurry of regional and national awards for innovations under Schwandt's leadership, both on the electrical side and for its great-tasting tap water. But not every innovation has been a winner.
"Go Moorhead was a good try, but the day we finally sold it was a happy, happy moment," he concedes. From 2005 to 2009, Moorhead offered Wi-Fi internet service to subscribers in the city. While many residents supported it, it earned its share of complaints for spotty service, along with objections that the service should stay in the realm of for-profit private companies. "I thanked 702 Communications profusely that day," Bill remembers. "For a time, though, we provided good service to residents at a very good price."
After decades of fighting floods, building infrastructure and making sure the lights come on in Moorhead when a resident flips the switch, Bill, who's 58, is taking a breather these days – "my sabbatical," he calls it. Sitting in his home office – slippers on his feet, coffee in hand and a lively pup perched on his lap – he's thinking of his next direction.
Bill's credentials in the world of municipal utilities have already begun to generate far-flung opportunities that would build on what's become a nationwide reputation for civic management. On the other hand, he and his wife Cheryl, who were high school sweethearts back in Burlington, would like to stay put in the city where they raised six sons – three of them now electrical engineers like their father, and three focused on dentistry. (Cheryl is retired from a career as a dental hygienist.) Other leadership opportunities in Moorhead and Fargo could definitely tempt him.
"Do I stay in utilities and move, or do I do something entirely different? That's the question," he muses. "I want to find something that's challenging and enjoyable. This sabbatical is great. I'm getting ready for the next chapter."