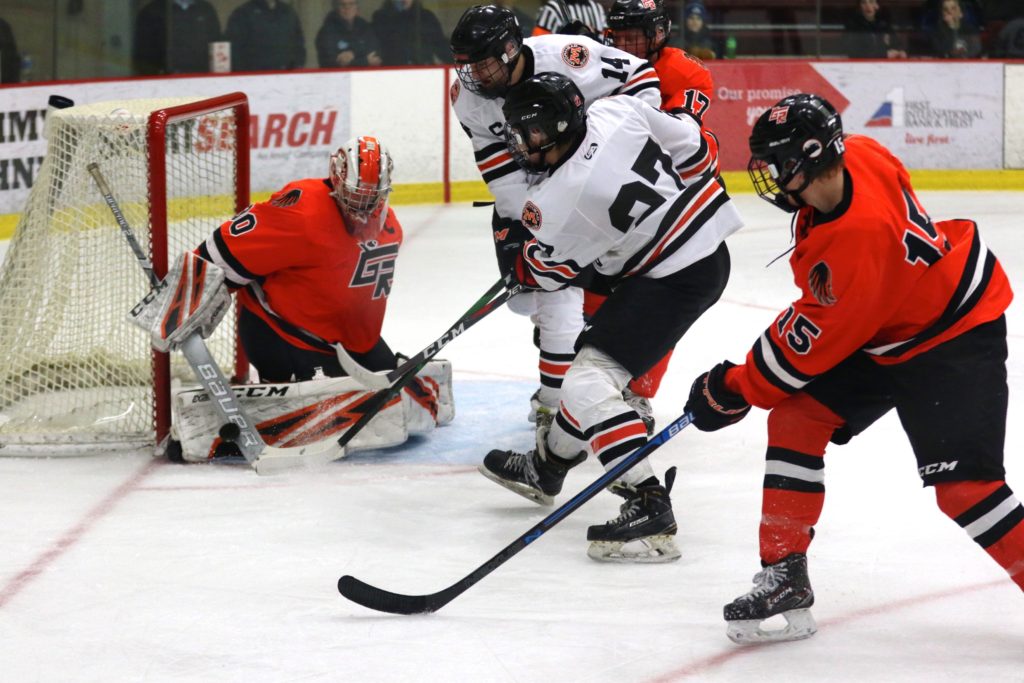 Moorhead hosted Grand Rapids at the Moorhead Sports Center on Jan 23. Both teams skated with great energy for a fast-paced game, but there was no score in the first period of play. Half way through the second period, Cullen Gess opened up scoring for the Spuds by putting one over the shoulder of GR's Carter Clafton. Caden Triggs and Carter Johnson got the assists. Most of the third period expired before Moorhead scored again when Max Dronen captured a rebound on a Triggs' shot and knocked it home, with an assist to Lukas Feir. Hudson Hodges got the shutout by stopping 22 shots on goal. Moorhead got two of their 25 shots by the Thunderhawks' Clafton. The Spuds are currently rated number four in Class 2A.
Boys hockey played Bemidji at home on Jan 28. The Spuds shutout the Lumberjacks in a 9-0 blowout. Caden Triggs scored four goals in the game and has a season total of 28. Carson Triggs, Carter Johnson, Michael Overbo, Lukas Feir, and Gavin Lindberg each added a goal to the tally. There were 16 assists in the game; Cullen Gess and Max Dronen each had three, Luc Mjoen and Johnson added two each, and one assist each was offered up by Luke Gramer, Carson Triggs, Overbo, Feir, Lindberg, and Hudson Hodges. Moorhead had 60 shots on Bemidji's two goalies, while Hodges saved all ten shots sent his way.
Moorhead will play their last regular season home game on Feb 15 against Hill Murray at the Moorhead Sports Center. Tournament action will begin on Feb 18, also at the Moorhead Sports Center with teams to be decided.
(Photo/ Bill Grover)