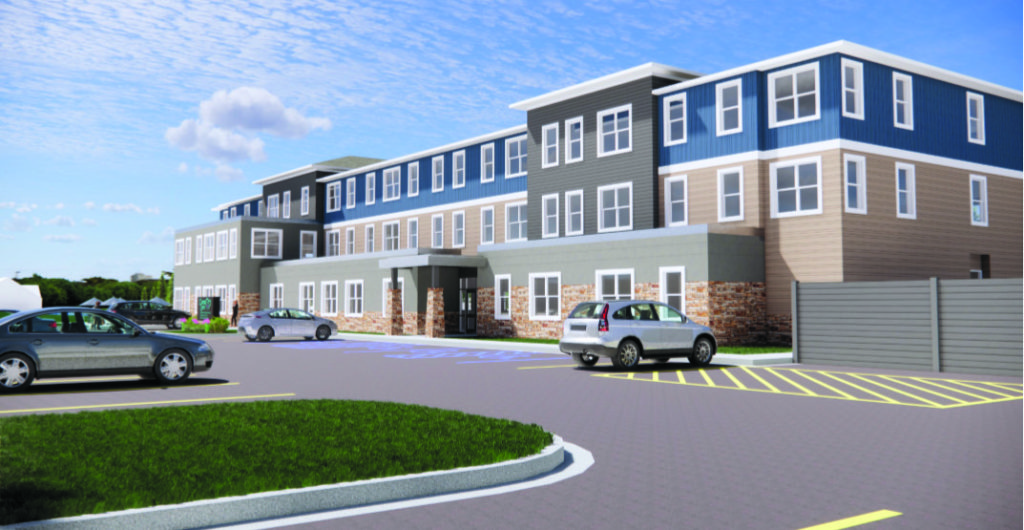 Nancy Edmonds Hanson
The fastest growing segment of the homeless population – here and across the nation – is men and women 55 years and older. "They're part of what they're calling the 'grey tsunami,'" says Rev. Sue Koesterman, executive director of Moorhead's Churches United.
The organization is best known for providing temporary shelter, meals and support services at Micah's Mission, its main facility at 1901 First Ave. N., and the Dorothy Day House, 714 Eighth St. S. Since it opened its first apartment house, termed "permanent supportive living," in 2018, however, Churches United has been learning and expanding its role in long-term housing solutions.
Now the nonprofit is laying plans for a second apartment development to offer a home for the chronically homeless – the Silver Linings Apartments, to be built on the same Churches United property west of 34th Street on Third Avenue North. An informational meeting is scheduled online on Thursday, June 18, beginning at 7 p.m. To join the virtual meeting, go to the Churches United page on Facebook, or click https://tinyurl.com/CUinfoSLAmeeting.
Silver Linings Apartments will offer 36 one-bedroom units designed for older adults. Half to three-fourths of them will be reserved for those making less than 30% of median income, with the balance available for those making up to half that amount. Ten units will be fully handicapped-accessible.
Koesterman says the senior homeless population consists of two groups, each with its own needs. Mostly men make up the first group, those who have struggled with chronic homelessness most of their adult lives, but whose needs have grown as they have aged. "Lack of shelter, exposure to the elements, poor nutrition and no health care reduce their life expectancy by 20 years," she explains. "By their late 50s and 60s, these people are more like those in their 70s and 80s."
The second group includes both genders. "They are people who have aged into homelessness," she says. "They've worked all their lives in minimum wage jobs, often manual labor, perhaps in a series of part-time jobs. They have no opportunity to save for retirement. They may have been living in a cost-sharing arrangement with a roommate or family members. When a crisis occurs – an illness or injury, perhaps, that costs them their employment – they fall behind on the rent and end up losing their shelter." Homeless women, she adds, often have shorter lifespans because of violence and victimization.
She says Churches United has learned a lot from its first venture into permanent supportive housing with Bright Sky Apartments, where many parents with children live in its 45 one-, two-, three- and four-bedroom apartments. The new facility takes these lessons into account, with a centrally located reception area, larger work areas for food distribution, and bigger common areas. The new building also includes two pods of eight smaller apartments grouped around central commons areas equipped with kitchen and laundry facilities, all designed to create a greater sense of community for those who are stressed by the relative isolation of independent living.
Like Bright Sky, Silver Linings will offer a health office with on-site nurse available, an area for distributing food from the Great Plains Food Bank, and rooms for counseling services.
Koesterman's group has again partnered with Beyond Shelter, Inc., of Fargo to develop the new facility. They are seeking funding from state and federal housing programs. About $450,000 will need to be raised locally. If financing is approved, construction could begin in early 2021, with occupancy by early 2022.