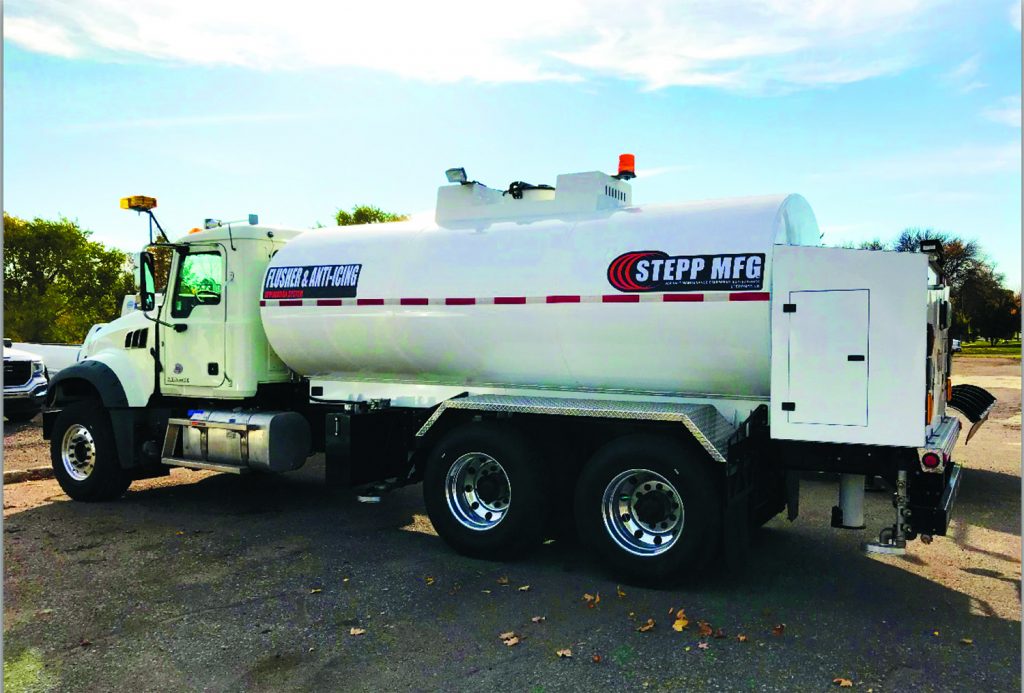 Nancy Edmonds Hanson
hansonnanc@gmail.com
The prospect of winter's ice and snow is within sight, and the city Public Works Department is ready to take it on. That's the message director Steve Moore shared with the Moorhead City Council Monday.
The department has 14 equipment operators assigned to keeping the city's 500-plus lane miles of streets, avenues, cul de sacs, and walking and bike paths clear of ice and snow over the next six months or so. When Mother Nature dumps her frigid gifts on the city, they take to the roadways at the helm of a fleet of heavy vehicles: Three regular snow plows plus three "spares;" four plows equipped to disperse salt, sand and brine, plus two trucks for salt and sand with brine tanks; three motor graders; five pay loaders; a 3,000-gallon anti-icing truck; and three snow blowers used primarily on pathways.
Moore reported that the staff has completed "smart salt training" in the combination of art and science used to determine when and how to spread salt to prevent icing. The city is in the process of filling its arsenal of 1,000 tons of sodium chloride. "Our number one priority is safety on the roadways," he told council members, adding that his crew's secondary goal is protecting the surrounding environment.
When weather threatens, they roll out their anti-icing phase. Roads are sprayed with brine to prevent snow from freezing and bonding on the surface, enabling plows to remove it. But that works only in specific conditions – low wind speeds and pavement temperatures of at least 15 degrees. Carbohydrate additives can extend its effectiveness a little lower, he said, but more frigid temperatures – along with blowing snow – rule it out. "It's an early and late season kind of thing," he said.
He added, "Sand provides only traction. It doesn't melt anything." The city uses it much less than in the past, largely because it disperses after only a dozen or so cars have driven across it.
Snowfall of 1 or 2 inches calls for phase I of removal. During the snow event, he explained, his crews concentrate on primary and secondary routes, with their higher speeds and heavier traffic. Phase II begins after the snow has stopped falling. That's when crews turn their attention to clearing residential streets. An ideal scenario has them launching their work between midnight and 4 a.m., well before the city wakes up.
Clearing the entire city typically takes 10 to 14 hours. Especially heavy snowfalls, like those experienced late last winter, can take upwards of 16. A particular challenge, Moore said, is the city's 240 full and partial cul de sacs. With nowhere to shove the snow, clearing the roadway requires the attention of pay loaders. "It takes a lot of time," he said ruefully.
Council member Heidi Durand asked a question she said she's heard from her constituents: Why doesn't the city equip its plows with snow gates, hydraulic attachments that can be used to trap snow in front of the plow as it passes driveways? Moore said he is emphatically against them.
"We talked with our counterparts from Bismarck, where they've been using them. They said, 'Don't do it,'" he reported. The costs have been dramatic. That city has had to increase its street crews from 20 to 28 operators. Three or four passes are needed along each side of the street, they told him, requiring both a motor grader and a loader plow. It has drastically slowed clearing the city, which now requires 36 hours with two shifts. Finally, they're ineffective with snows of more than 4 inches or so.
With 12,000 driveways in the city of Moorhead, Moore said local results would be similar: "Snow gates aren't affordable. They multiply the cost, and they don't work as effectively as people image. I'm definitely not in favor."
***
In other business, the council gave its approval of extending state-paid workers' compensation tax credits to eligible businesses under the Border City Enterprise Zone. The Workers Compensation Rebate Program provides an income tax credit for up to 20% of the businesses' expenditures to buy insurance to cover their employees, which is required under state law. The program is capped at $25,000 per business.
It covers the period from last July 1 to April 30, 2020. Economic development program administrator Amy Thorpe said about 103 businesses have signed up so far, but she expects the total reach the previous year's level of 230 after the first of the year. The state-paid credits amount to about $271,000.
Council members asked whether the workers comp credit is, in fact, the most effective way to benefit all local businesses, with council member Durand inquiring whether a restaurant tip wage credit could be discussed. City manager Chris Volkers reported that addressing the restaurant wage issue is one of several tax disparities they plan to investigate. "We need to talk to our businesses," she said.