CLAY COUNTY RESIDENTS URGED TO USE ELECTRONIC RECYCLING PROGRAM
MOORHEAD – Clay County Solid Waste is encouraging Clay County residents to use its electronic recycling program. Clay County has two locations open to Clay County residents year-round. Electronics recycling is available at the Clay County Landfill at 3301 190th St S, Hawley MN, Monday through Friday 8:00am – 4:30pm and the first and third Saturdays of the month 8:00am-12pm. Clay County also offers electronics recycling at the Electronics Shed at 1300 15th Ave N in Moorhead on Tuesday evenings 4:00pm-6:00pm only.
In 2007, Minnesota passed a statute to start a product stewardship program to collect electronics. Manufacturers of electronics have to register with the state and pay fees. This fee helps pay for the collection and recycling of electronics sold in Minnesota. There is no fee for residents to use this service.
Recycling old electronic devices saves energy. It also ensures less raw materials and natural resources are needed to create new devices. Recycling old devices helps to prevent electronic waste from entering our local landfill. Over the last 11 years, Clay County has diverted and recycled 1600 tons of electronic waste.
Common acceptable items include: TVs, computers, anything you plug into a computer, cell phones, rechargeable batteries, fluorescent bulbs, LED bulbs, holiday lights, fax machines, DVD/VHS players, videocassette recorders. Anything outside of this list is NOT accepted.  
Common unacceptable items include: microwaves, tv remotes, wall phones, stereo/radios, sound system equipment, Wi-Fi routers, modems, appliances, treadmill, mini-refrigerators, dishwashers, iPod, mp3 players, pagers, vacuum cleaners, CD-ROMs, diskettes, cassettes, and toner/ink cartridges.
Please visit https://claycountymn.gov/494/Electronics for more information.
COVID-19 UPDATE – To practice safe social distancing there is no assistance available to help unload items from your vehicle at this time. Masks are required.
MAKE SURE SUMP PUMPS ARE DRAINING OUTSIDE
MOORHEAD – A reminder from the City of Moorhead. If you haven't already, please make sure your sump pump hose is draining outside. Unnecessary discharge to the sanitary sewer creates a risk of overloading the system and can cause possible backups. The City wants to alleviate this risk for you and your neighbors.
BIG WALLEYE CERTIFIED AS STATE RECORD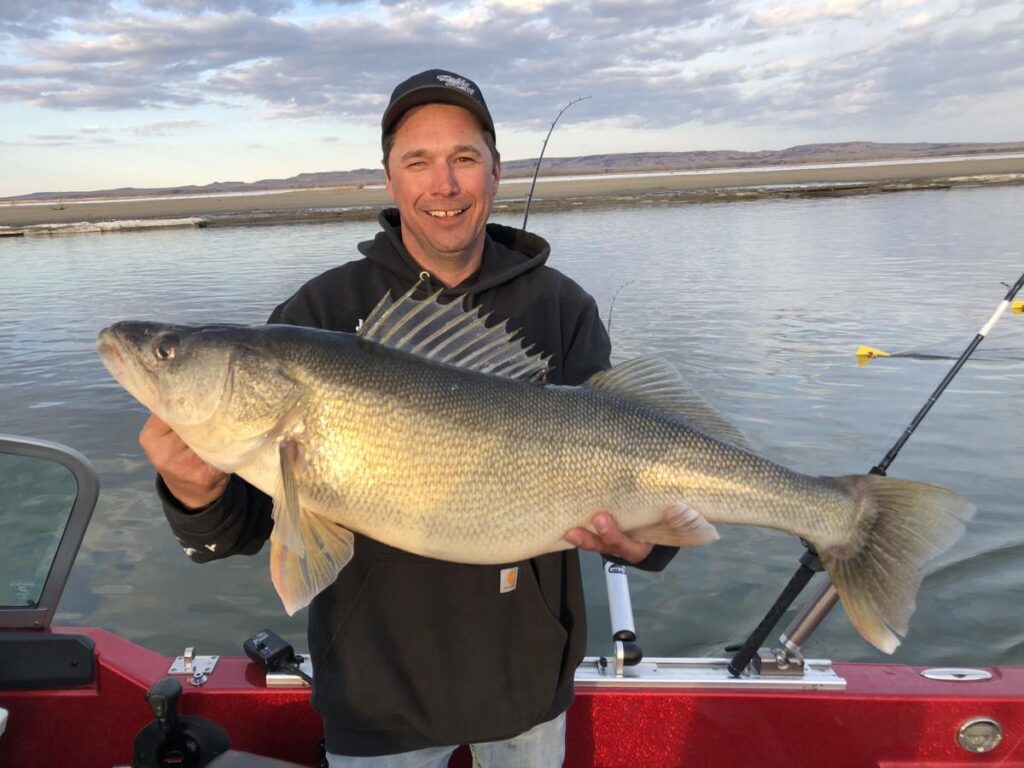 (Photo/ NDGF)
A 16-pound, 6-ounce walleye caught March 13 by Dickinson angler Jared Shypkoski is the new state record, according to North Dakota Game and Fish Department personnel.
Shypkoski reeled in the 33-inch fish in the Eckroth Bottoms area of upper Lake Oahe.
The previous record of 15 pounds, 13 ounces was taken in 2018 by Neal Leier of Bismarck, approximately 30 miles upstream on the Missouri River near the Fox Island boat ramp.
FREE QUICKBOOKS WEBINAR FOR BUSINESSES
MOORHEAD – Central Minnesota Credit Union is offering a free webinar May 4. QuickBooks keeps your financials organized, providing one place where you can easily manage your business and get real-time insights on how your business is doing and make sound financial and management decisions.
QuickBooks ProAdvisors will help you unlock the full potential of QuickBooks in this 4-hour virtual training. You will learn how to set up a company in QuickBooks, enter sales information, connect bank accounts, budget, process QuickBooks payroll, and much more.
Join Central Minnesota Credit Union on Tuesday, May 4 10am – 3pm (break at noon) for this free event. RSVP by April 23: mycmcu.org/quickbooks