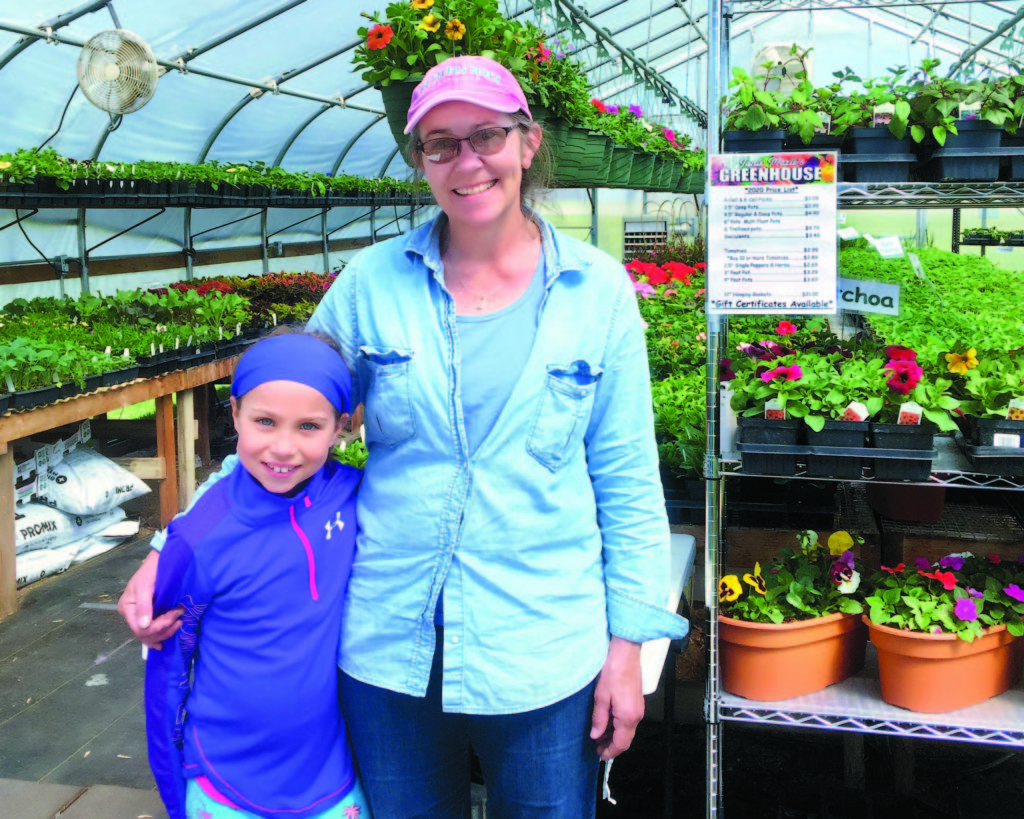 Nancy Edmonds Hanson
nancy.edmonds.hanson@gmail.com

Gardeners are born optimists. Even when winter does its worst, their hearts are full of spring. But in the untested depths of the Covid-19 pandemic, many wondered: What would planting season bring this year?
They weren't alone. "When everything closed down in March, I had no idea what was coming next," says Jane Mattheis. "I kept tending my plants, though, and planting my seeds. I figured that, if worse came to worse, they'd make great compost."
But optimism prevailed. Today, as it has for 25-odd years, Janie Marie's Greenhouse is drawing green thumbs (and otherwise) to her spot along Highway 75 four miles north of Georgetown. Her greenhouses are flush with greenery that she's grown herself – 64 varieties of petunias, 35 coleus, 42 tomatoes, 49 hot and sweet peppers, and nearly countless others, from alyssum to zinnias and from broccoli to zucchini.
Janie's is a one-woman show. Born of a love of horticulture and a longing for "dirt of [her] own," the casual country garden destination has been drawing customers from near and far spring after spring, as much for the down-to-earth humor and steady advice of its proprietor as for its rainbow of plants.
When Governor Tim Walz added greenhouses to the list of essential businesses permitted to function in the face of the pandemic, Jane may have been one of the smallest operators to breathe a sigh of relief on April 8, when he added green businesses to the list, but certainly was near the top of the most fervent. With every planting in the three greenhouses on her farmstead seeded or potted by her own fingers, she knew at last that her babies would live to flourish and burst into bloom.
Shopping for plants is a different experience this year, Janie cautions. "In years past, people would pull just pull off the highway and wander inside," she says. "Not this year. I'm doing everything I possibly can to keep everyone safe and healthy … including me."
That means impulse stops are discouraged in favor of socially distanced shopping, achieved through appointments made by phone or on Facebook. "If it gets too crowded, people who've made an appointment come first," she cautions. "The others will wait until they're done."
She greets customers in a mask, then asks them to wear one themselves; her 9-year-old assistant, granddaughter Kaia, dons one, too. Despite her aversion to the kinds of herbicides and pesticides many garden centers count on, she is most enthusiastic about killing viruses, with commercial-strength disinfectants enthusiastically applied to touchable surfaces.
Jane grew up in the Twin Cities where, she says, she never knew you could make a living with plants … not until she spotted the horticulture program in her brother's NDSU catalog. She earned her degree in 1984, then moved to the Clay County farmstead four miles north of Georgetown, where she converted a decrepit granary into her first small greenhouse.
At first, Jane grew and sold vegetables from her Valley Veggies stand beside the highway. The growing part went great, but the business side had its shortcomings. "When everything is ready in the garden, the price bottoms out," she points out. "There's so much on hand that people start dickering." She hated that: "When a guy stood there trying to talk me down a nickel a pound, that was it."
She found her calling in flowers. As a member of the Minnesota Everlastings Co-op, she started plants for fellow growers as well as raised her own perfect specimens destined for dried floral arrangements and interior designs. Two bad growing seasons cost the cooperative its main customer, though, and that market collapsed.
"So I figured, 'Let's do bedding plants,'" she recounts. "I was already raising them, so I added more, and it just exploded. More and more people were coming. I put up another greenhouse and added more every season.
"I could have really gone nuts with it," she reflects. "But I never wanted to sit at a desk doing the books and looking over employees' shoulders. I wanted to grow! I'd always thought of it as a hobby, but it turned into a real business. At my age, I took a look at my ambition and my priorities, and I didn't want to go any farther in that direction."
Today, at 60, Jane has recognized a surprising truth: "I don't want to work this hard much longer." Between keeping up her five-acre farmstead and raising her granddaughter, her personal enterprise offers enough distraction to keep her rooted to the job. Beginning in November with ordering seeds and plugs – tiny seedlings of highly sought patented plant varieties – the momentum builds through the dead of winter. Seed geraniums go into soil in late January, joined by other annual flowers as spring draws nearer. Plugs arrive in March. Vegetable seeds start stretching out roots in April. By May 1, her traditional opening day, the greenhouses and grounds are bursting with pots of color and hundreds of flats of tiny budded plants, each full of the promise of colorful, fruitful summer days to come.
Jane is at the stage, she says, where an end is coming into sight. "It's not here yet," she hurries to assure, "but I can see it coming." She is considering selling her business at year's end to another young horticulturist whose dreams abound with petunias and pumpkins and the warm scent of damp soil. In the meantime, she's nurturing a bumper crop this year of the region's favorites while handing out sage advice. "Every year, I have customers who come in at the end of April, looking for the best selection of plants. I tell them to wait, but they don't listen. They plant and freeze and come back again," she laughs. But she understands, exactly, the eagerness they cannot quite resist.
When the Janie Marie's Greenhouse story ends and Jane moves on to her next chapter, she's unsure what she will do next. "Maybe I'll just take time to smell the roses," she suggests.
"But you don't have any roses," granddaughter Kaia, already plant-savvy, tells her.
"All right, then," Grandma Janie says with a fond laugh. "I guess I'll smell the petunias."
Janie Marie's Greenhouse is open from 10 a.m. to 6 p.m. seven days a week through the end of June. To book a time slot, visit her Facebook page or call (218) 790-0729.