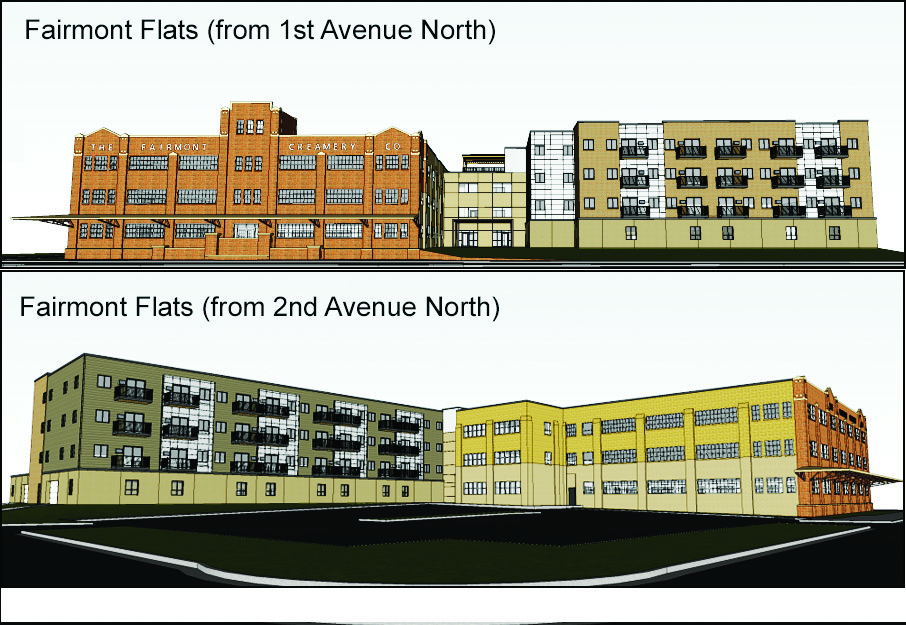 city council
Nancy Edmonds Hanson
Developer Kevin Bartram's proposal to redevelop the block on First Avenue North anchored by the old Fairmont Creamery received unanimous approval of the Moorhead City Council Monday in the form of a 15-year property tax exemption expected to amount to $1.4 million.
Bartram and SDG4 LLC requested the exemption through the city's Renaissance Zone program, created in 2011 to encourage development of the downtown core. Their two-phase, $16.3 million proposal is expected to begin later this year with conversion of the creamery – built in 1923 – to 36 apartments. In the second phase, the adjacent structure constructed in 1987 by Eventide Senior Living will be demolished and replaced with a four-story, 69-unit building. In-unit washers and dryers, underground parking and other shared amenities are included the plan. Completion is expected in Spring 2023.
Bartram purchased the building from Eventide, which had operated it for nearly 40 years as an assisted living center. Residents were relocated last year after a water line break created widespread damage. After assessing damage to the 1987 building, the architect also concluded that the small two-room units could not be effectively remodeled into full apartments. Renovation of the creamery building will retain the historic details and architecture of the century-old landmark.
Economic development consultant Derrick LaPoint pointed out to the council that their approval of the Fairmont Flats brings the city much closer to its "500 in 5" plan to increase the number of residents within walking distance of the downtown district: "We're 360 into our 500 goal."
City manager Dan Mahli predicted more to come in 2022. "We may have to boost that number," he quipped.