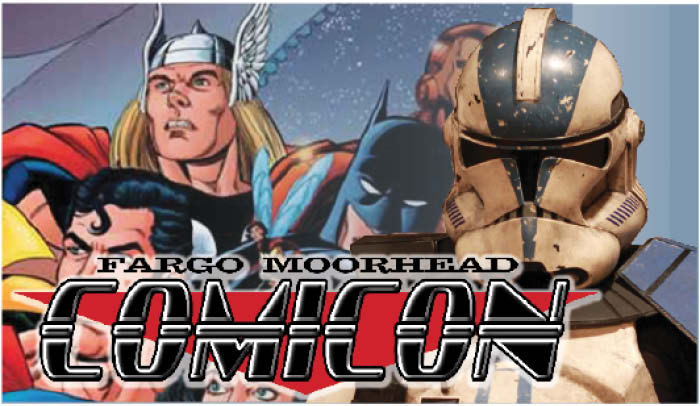 Anyone who has ever watched the popular television show, The Big Bang Theory, has heard of Comic-Con. Those that haven't are still undoubtedly familiar with comics, some likely even learning to read by following the adventures of Archie and Veronica or L'il Abner. The first modern comic book, Famous Funnies, was released in the United States in 1933. Since then, comics have captured the attention of generation after generation. It stands to reason that a festival was created to celebrate the books and their various characters.
The first Comic-Con was held on March 21, 1970 in San Diego, California. Other conventions soon began sprouting up all over the country, eventually coming to Fargo five years ago. Fargo-Moorhead Comic-Con is sponsored by the same organization responsible for Valley-Con, an annual celebration of all things sci-fi, fantasy, horror, comics, gaming, anime, film & TV. The first Valley-Con was held in March of 1977, and the event has gradually become one of the top conventions in the country.
Valley-Con is held each fall, which left an entertainment gap during the winter and spring. Enter Comic-Con. "Comic-Cons had erupted around the country and we felt it was time to do one here," explained FM Comic-Con Chairman Tony Tilton. "We started as a small one-day event and in five years it grew to two days and a much larger space." According to Tilton, over 1,000 people typically attend the convention. If it turns out anything like Valley-Con, that number will continue to rise over the next few years.
FM Comic-Con started at the Eastgate Event Center in Moorhead with a dozen vendors and minimal programming. The positive response encouraged organizers to expand each of the past four years. "It was basically a vendor show to begin with, but has now grown into all day games, panels and workshops, videos, and costume contests for kids and adults," Tilton said. The event also includes charitable donations that go to the organization's primary charity, Extra Life, which benefits the Sanford Children's Hospital. "100% of the money raised stays here in Fargo/Moorhead," Tilton explained.
This year's Comic-Con will be the first one held over a two-day period. The expansion is another example of the impressive growth of the convention. Tilton promises fun for everyone. "It's Halloween and Mardi Gras along with a vendor's show and game festival all wrapped into one fun time," he said. The convention includes a roving costume contest for everyone who attends in costume. "Every hour we'll pick out a fun/good costume and give a gift certificate to use with our vendors," Tilton explained. New programming this year also includes an airbrushing workshop and a panel conducted by Paradox comics on getting into comics.
Visitors can also enjoy a party on Saturday night from 7:00pm to midnight. Area groups like the Star Wars group from the 501st Legion will be in full regalia running games for both fun and charity. There will also be music and dancing, as well as a cash bar. The adult costume contest will commence at 8:00pm. The kids' contest will take place earlier that afternoon at 2:00pm.
Tilton would like to encourage anyone to stop by, not just those interested in the comic book world. "Vendors have a huge variety of items, not all comic related, on sale for extremely good prices, as well as collectibles," he said. "For less than the cost of one matinee, you can see colorful costumes, check out panels and games, and have some fun. It's very family friendly."
FM Comic-Con will run from 10:00am to 5:00pm both Saturday and Sunday, February 28th and March 1st at the Baymont Inn & Suites in Fargo. Saturday's evening events will take place at the same location between 7:00pm and midnight. Admission is only $7 for adults, $5 for teens, and $3 for kids, which includes entry for both days. Children under the age of five are free. "FMCC is purely for fun and for all ages," Tilton said. "Stop on by."
For more information on Fargo-Moorhead Comic-Con or to view the complete event schedule, visit http://www.valleycon.com/FMComicCon/.