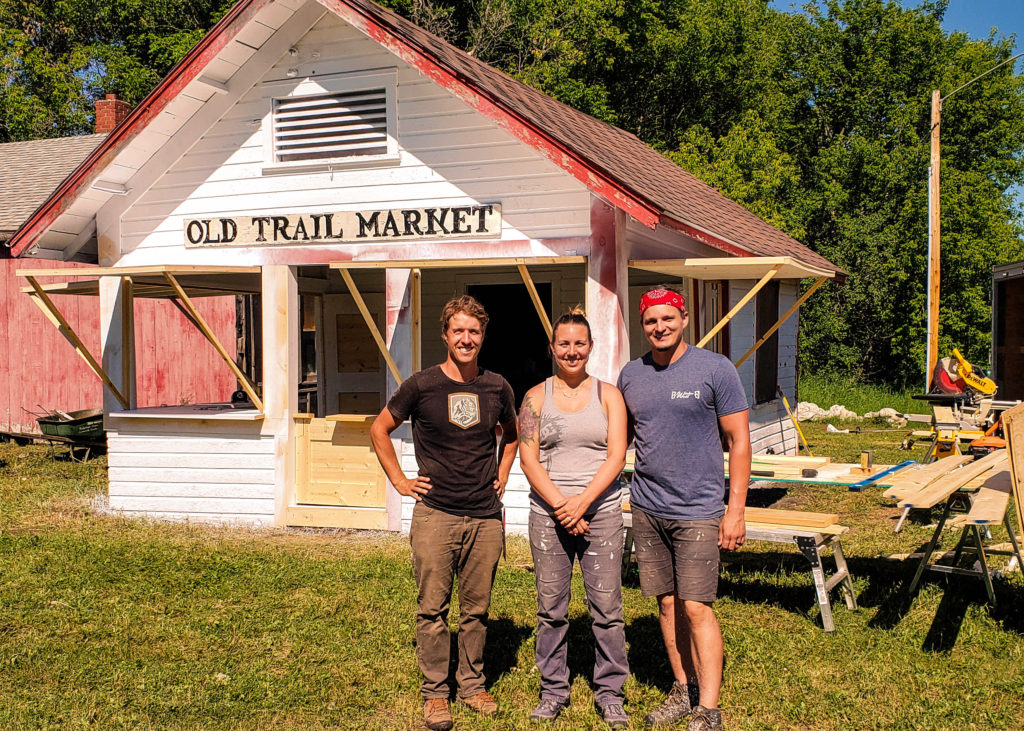 Nancy Edmonds Hanson
"I can grow more produce than I can sell at farmers markets," young farmer Sam Rydell observes, surveying his small acreage north of Moorhead. "For the last couple years, I've been looking for other avenues to pursue – selling directly to restaurants, for example, or wholesale the Sanford Health and Microsoft.
"I'd been tossing around the idea of home delivery because a lot more people seem to like the convenience of food deliveries. And then COVID-19 came along and added some urgency."
That's how his operation, Nurtured Plains Farm, became a virtual vegetable stand – and more. Today he and partners Melissa and Carter Broer are putting the finishing touches on a refurbished Old Trail Market on 11th Street north of the city. In the meantime, Sam is peddling the first of his maturing crops – kale, salad mix, Swiss chard, zucchini and summer squash, parsnips, radishes and (soon) string beans – from his website, www.nurturedplainsfarm.com.
There, customers looking for homegrown produce picked to order at the peak of freshness can place their online orders. He'll deliver their veggies to their homes on Wednesday, or they can pick up their custom order themselves on Friday afternoon.
He'll be selling his harvest again at the Red River Market in Fargo when it reopens for the year on Saturday, July 11. He also plans to take advantage of the busy traffic that passes the Old Trail Market every day, but hasn't established days and hours yet when he'll be open.
Sam's expansion this summer is built in part on a rather unlikely partnership. He got to know Carter and Melissa Broer when he went to work after the 2018 season wound down at their growing franchise business, Window World of Fargo. As he and Carter got to know each other, they began throwing around ideas that combines the Broers' experience in marketing and merchandising with his own green thumb.
"I threw the idea of partnering at him without even talking to Melissa first," says Carter, who was born in Bismarck but grew up, as did his wife, in LaCrosse, Wisconsin. Fortunately his life partner was all for it.
Sam himself took a twisting journey to his current field – and fields, which he rents from the Probstfield Living History Farm. A Fargo native, he graduated from Concordia College with a degree in hospital administration and went to work at the corporate headquarters of Fairview Health Sciences in the Twin Cities. "I worked in strategic planning," he explains, "staring at data all day, crunching numbers and making PowerPoints. I quickly began looking for something more meaningful, where I could be outside meeting people.
"I say that I'm still in health care industry," he adds. "But now I'm in prevention rather than treatment."
After several years working for produce farms in the Twin Cities, he returned home and started his small-scale Nurtured Plains Farm. "I was fortunate to be able to rent from Probstfield. It's really hard to rent small plots of land instead of hundreds of acres," he says. His fields abutt Probstfield's Community Gardens, 100 small plots that are tended by a diverse cross-section of the community.
Meanwhile, the Broers were looking for more to do: "Our business has grown to the point where we don't need to be there all the time, so we wanted to find something else to keep us too busy all summer," Carter jokes. While Sam grows the fields, they've assisted him in growing his visibility in the market.
Home delivery of fresh vegetables isn't an all-new idea; CSAs (community-supported gardens) have been bringing weekly baskets to members for several years. What's different about Nurtured Plains is that home cooks can order exactly what they want when it's available, rather than taking a preordained portion of everything that's ready that week. Charges are based on the quantities and the products they choose.
"We can't turn it around instantly," Sam cautions. "We're not pulling their order from some warehouse. We go out and pick it when they place their orders." Thus, deliveries for next Wednesday must by ordered by Monday. Customers who plan to drive out to pick up their prepacked orders Friday must fill out the online forms by Wednesday.
The Probstfield ground Sam rents and the Old Trail Market they trio has renovated have been feeding local families for nearly 100 years. At the end of World War I, Probstfield relative Ray Gesell returned to a deeply depressed farm economy. He came upon the idea of truck farming – selling the vegetables grown in his extended family's own garden to help make ends meet. Though the founding family is long gone from the produce stand, a series of other mostly young entrepreneurs has occupied it over the years.
Making a living on the land remains iffy to this day. Sam says he may not be there yet, "but [we're] working toward it. There's no one right way to run a farm. There are so many places and ways to sell. We're trying this one."
Indeed, however much he enjoys being in his field, Sam never forgets that sales make all the difference. "You have to figure out what works and what doesn't. A lot of people start out with very idealistic ideas of what truck farming will be like. If you can't sell what you grow, you're going nowhere."