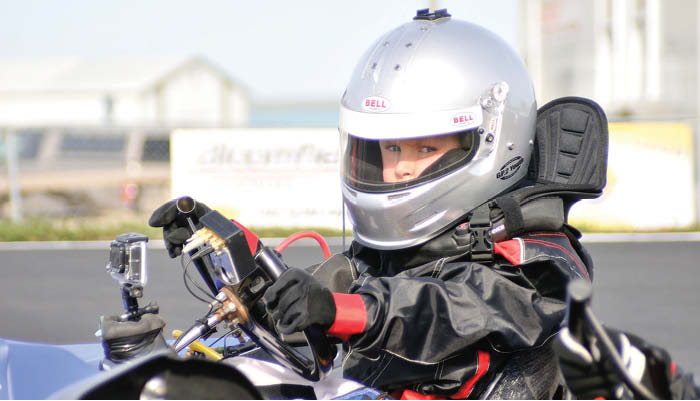 Fifty-plus years ago the first go-kart was developed in California by Art Ingels, who took a small chainsaw engine and mounted it to a tube frame chassis weighing less than 100 pounds. Since then, go-kart racing (or simply kart racing) has developed into an ultra-popular activity. Many of the world's professional racers got their start on karts.
One of the local kart racers is six-year-old Alex Clark, who races as part of the Red River Kart Club (RRKC) in West Fargo. According to Alex's father, Jeremy, the boy has always been interested in vehicles, including snowmobiles, four-wheelers, dirt bikes, and jet skis. When a friend had a kart for sale, Jeremy jumped at the chance to get Alex involved. That was over a year ago, and the boy has not looked back since.
Although Alex started a bit slow in terms of race results, he quickly caught on. "The first three weeks he was getting lapped," Jeremy explained. "The fourth week he told his grandma that he wanted to go around holding the checkered flag and to do that he had to win the feature. He ended up winning both the heat races and the feature that night."
Nick Skalicky has been around racing for over two decades. He was part of the group that took over the RRKC in 2010. "We wanted to get the affordability back in it," Skalicky said. "In 2010 we had only about a dozen karts; now we average around fifty." He credits that growth to the club's focus on being family-oriented. "Our number one goal is to keep it a family atmosphere."
In addition to his love of racing, Skalicky enjoys watching the younger kids grow and develop. "I've seen so many come through the program and it's so neat to watch kids like Alex progress so much in their first few years," he explained. "One day, when it really registers, they take off like a lightning bolt."
For Jeremy Clark, the atmosphere of the club is one of the best parts of watching Alex race. "Everyone at the club has been so great to us as newcomers. It is a great place for kids or even adults to learn to race" he remarked. "It's great to teach the kids responsibility and teach them some basic mechanical skills."
Some people may balk at the thought of young people racing because of safety concerns. Skalicky understands those issues and keeps safety a primary focus at the club. "We are always looking to improve safety and we keep it in the front of our minds," he said. "We haven't had any bad accidents in our seven years and we plan to keep it that way."
Jeremy also understands those concerns, especially in regards to his own child. "Safety is always a concern as a parent no matter what hobby your child is involved with," he said. "Alex wears a competition grade helmet, boots that cover his ankles, abrasion resistant pants, coat, and gloves, a chest protector, and a neck brace." Although there are no roll cages or seat belts on the karts, Jeremy is confident that Alex is safe while racing.
The RRKC is a non-profit organization that relies on donations and the efforts of its members to stay afloat. "It is a team effort," Skalicky explained. "Especially in terms of accomplishing things behind the scenes, everyone does their part and works together." The club also relies on fundraising efforts, particularly in terms of keeping the track running smoothly. According to Skalicky, the current track is the only asphalt track in a 200-mile radius. It will need to be repaved in the next few years.
The future of the RRKC looks very bright as the program continues to grow. "We recently teamed up with a guy in Bismarck and our next step is to do a kart tour," Skalicky said. "We will go to their track and they will visit ours so we can work together and share some numbers so we aren't on an island by ourselves."
It appears the Alex Clark also has a bright future. Since he started racing, the boy has won four features and a handful of heat races. Who knows, he may just be the next Mario Andretti or Dale Earnhardt. We can all say we knew him when.
More information about the Red River Kart Club can be obtained at www.rrkartclub.com.