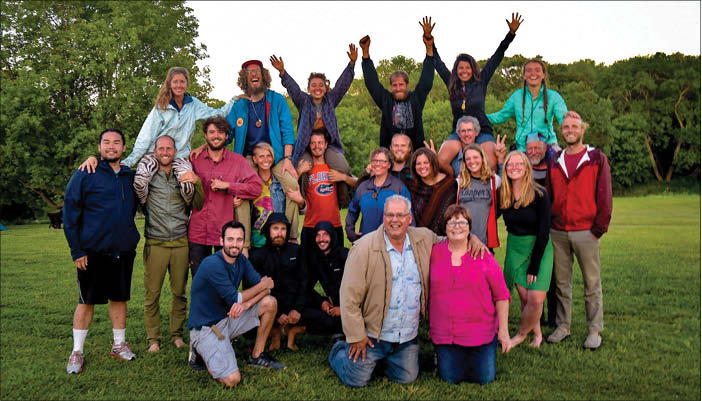 "Doing Good Deeds on Bikes," the Green Riders pedaled into Moorhead partway through their 3,700-mile journey from Central Park in New York City to Seattle. The volunteer work they did here in our towns is the same work they are doing coast to coast – with local hosts and cooperation.
The group's purpose is to "leave a path of goodness everywhere we go." Rob Greenfield, 30, is internationally known for promoting a healthy earth and healthy living. An author, TedX speaker and co-organizer of this trip, he led 30-some riders on his bamboo bicycle into Moorhead. Rob lives "protecting and respecting the earth."
Megan Myrdal of the Little Free Garden project helped coordinate community action for the group and Prairie Roots Food Co-op hosted the group for both garden planting and an inter-active education session. Last week they planted five gardens in Moorhead and Fargo. Moorhead's new gardens are at the Urban Orchard, 802 3rd St. S., and The Rourke Art Museum. The Little Free Gardens were planted with seedlings from Jaclyn Weber and Thor Selland, both Moorhead.
"We were so excited to do this project with the Green Riders. Rob Greenfield's work and advocacy around zero waste and sustainability is so inspiring. It was awesome to have the opportunity to show him and the riders our community and do some work with our project.
"Rob and the team shared great ideas for how we can continue to grow our project and also told us about similar work that's happening across the country that they've seen or participated in. It's really cool to think that we're a local movement that's tied to and catalyzing a growing national wave focused on good, healthy food for all," Megan said.
The work with the Green Riders brings the total number of Little Free Gardens to 107 in seven states, with 91 of those in the FM area.
Greenfield said, with their trip about halfway done, that they have planted dozensof fruit trees, thousands of vegetable and wildflower seeds, volunteered in community gardens, cleaned up massive amounts of trash and rescued more than a ton of food from going to waste. Along with co-organizer Cheryl Davies, the long bike ride in the service of others hopes to help communities become happier, healthier and more vibrant.
Deb White, Minnesota State University Moorhead professor and chair of the Department of Sociology and Criminal Justice, calls her connection to the Green Riders a "small world" moment. One of the riders, Lee Davenport, is a childhood friend from Vestal, her small hometown in Upstate New York.
"Lee connected me with Rob Greenfield, one of the organizers of Green Riders, so that I could assist them in finding a place to stay and a service project to take on in the Fargo-Moorhead area. Not more than 24 hours after Lee connected me with Rob, my friend Nevada Littlewolf from Virginia, Minn., whom I've worked with through my women's leadership program, also recommended to Rob that he contact me. Rob was a bit surprised and confused at first when both contacts hereceived for the FM area ended up being the same person! And, as a final twist, it turns out that my friends Nevada from Minnesota and Lee from New York once attended a mutual friend's wedding in Wisconsin," Deb says.
Deb contacted Megan and then, for a place to camp, Mara Solberg of Solberg Farms south of Fargo. Mara, her husband Warren and their son, Bjorn, offered a space that sheltered Green Riders along the river in a meadow area being prepped for their daughter's August wedding.
"I am often having people out to our farm for various events, or just for company. In this day and age many people may frown over how I invite total strangers to come and visit. But, the truth is that I don't believe people are feeling welcomed enough and so have a tendency to pull in. The younger generation is responding to this in a big way, by widening their circles of friends and meeting up together more and more often," Mara said.
Green Riders talked about how life-changing being on this kind of ride can be. Being "so close to the earth" is a theme that riders from Australia, Canada, England, France, Indonesia and around the United States shared as inspiration for being riders. They ride 50-70 miles a day. All of the cyclists are on their own for personal needs.
Barbara Wiener, a filmmaker from Minneapolis, joined the group here. She filmed for a company in London doing a feature about the group. The heartland section of the tour is the only part being filmed.
​For more information go to www.RobGreenfield.tv/GreenRidersTour, or Facebook.com/RobGreenfield.