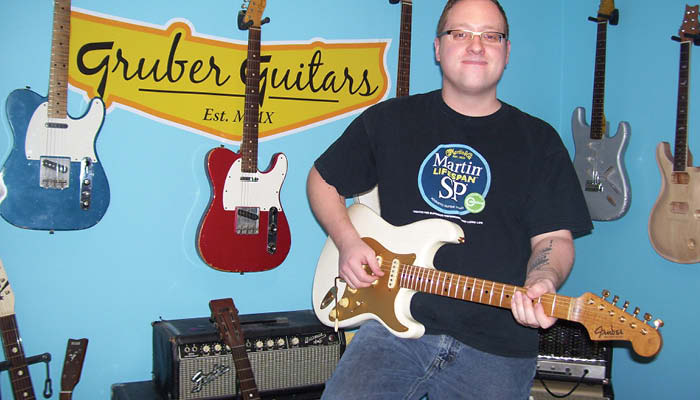 "Almost every job I have had since age 14 has been in music," explained Nik Gruber. As the owner, operator and chief luthier of Gruber Guitars, he has studied guitar and guitar repair extensively all the while being an active teacher and performer in the Midwest for the past 18 years. Gruber Guitars is a full-service home-based guitar repair shop in Moorhead.
Gruber explains that his mission is simply to get more people involved in the world of music whether it's fixing that dusty student model from the attic, finely intonating your main gigging axe, or restoring a treasured vintage instrument. Gruber Guitars will work to get your guitar laying and sounding its best.
Originally from Omaha, NE Gruber spent most of his childhood in neighboring Council Bluffs, IA. He is the third of four children and they all play guitar as well as other instruments. He credits not only his father for his love of music but in a large part to his sister Gwen, who took him to his first real concert. Gruber recalls that many of his early memories involve hearing guitar music in his home on a daily basis, as his dad was an avid guitar player. He remembers fondly of the many trips that he and his dad took to the local guitar store often times just to admire the instruments starting at age five. Consequently, it was only natural to follow in his dad's footprints at an early age of 11. At age 14, Gruber began teaching guitar at Lidgett Music in Council Bluffs where he taught hundreds of students over four years. He recalls being fascinated by how guitars worked, how they were put together, and why they sometimes failed.
At 18 he enrolled at the University of Iowa where he studied jazz, theory, and composition under John Rapson and Steve Grismore. Gruber graduated with an M.A. in Jazz Studies in 2006 and he immediately put his training to use teaching guitar at Kirkwood Community College. In the year between his undergraduate and graduate studies he became interested in guitar building and in 2003 he designed and constructed a set-neck custom guitar.
In 2009 he and wife Heather moved to Moorhead. He later opened Gruber Guitar, and Heather became a professor of Classical Studies at Concordia College. Gruber is also at Concordia teaching guitar as well as being the director of the Concordia guitar ensemble, which he founded. He serves as an independent contractor to a few music stores such as Marguerite's Music in Moorhead. Gruber stays current in the local music scene by performing once or twice at area venues such as the HoDo and The Lodge in Detroit Lakes.
However, he spends most of his days at his home shop fixing almost anything with strings, broken instruments and building new ones. The three main categories are repair, restoration, and custom construction. Gruber employs as many as two assistants or apprentices in training. Information about the services and photos of his work are available on his website. He explains that he uses the Facebook page as more of a blog so the most up-to-date photos can be viewed there.
Gruber said he believes in doing the job right, not doing the job fast. Every repair from the smallest adjustment to the biggest restoration is done with due diligence. He said that his work is guaranteed, so that you don't have to worry about it down the road. "We treat your instrument as if it is our own."
Nik Gruber
218.329.0443
nik@gruberguitars.com
www.facebook.com/gruberguitars