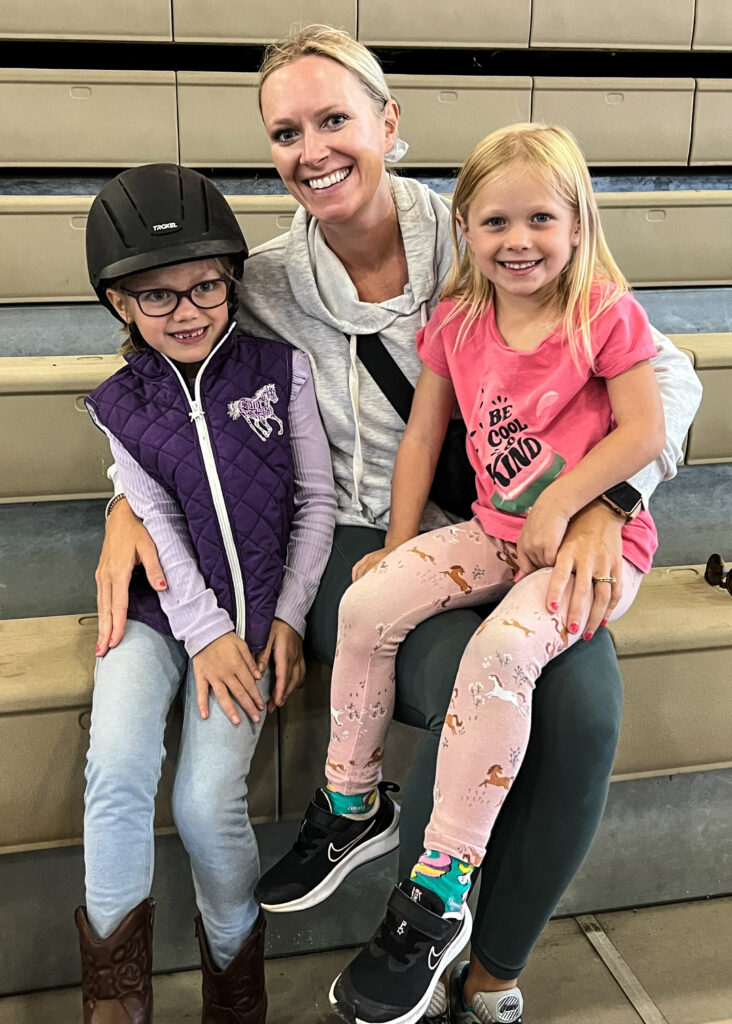 For two Moorhead girls, and many others, horses have become more than magical mounts that bring pleasure to all who ride them. They have become healers, helping their young riders overcome physical and mental challenges astride the wise and wonderful beasts.
Just ask Ellis Weiss and Greta Tangquist and their mothers, Kendra and Elizabeth. Greta, 13, has been participating in equine therapy since she was 5. Ellis, who's 6, has been riding for three years. They spend half an hour every week in the North Dakota State University horse barn, where they and their therapists lead them through the paces of hippotherapy to help develop their coordination, balance, and strength.
Called Bison Strides, the five-year-old program goes far beyond teaching riding and horsemanship. Its goal, says director Dr. Erika Berg, is to improve neurological function and sensory processing. Adaptive riding is its flagship. Boys and girls enter the program with a physician's diagnosis or significant parental concerns about the child's behavioral or emotional well-being, cognitive or physical development.
Ellis came into the program, Kendra Weiss says, at the suggestion of her team at Beyond Boundaries Therapy in Fargo. Occupational therapist Katie Havelka, with almost 25 years in the field, directs the nonprofit's animal-assisted therapy. Leasing horses and the arena from Bison Strides, she directs sessions for children with physical, cognitive and mental disabilities.
That's how Ellis became involved. "She was diagnosed with epilepsy at 18 months," Kendra says of her tiny blonde daughter. "At first she was having hundreds of seizures every day. She was on eight different medications."
But Ellis has been seizure-free for the past three years. "It was hard for her to keep up with other kids in sports and activities," her mother confides. "Equine therapy has brought her so much confidence. She has never been afraid. She's so happy and easy when she's on horseback."
Havelka explains, "Horses are therapeutic for anybody. We're using them as a therapy tool. The movement of the horse, so much like that of a human, encourages sensory integration over time. Half an hour in the saddle is the equivalent of one and one-half hours of sensory input."
She explains that the horse's gait mirrors the human's. "They walk like us. Lateral, anterior to posterior, rotational – their planes of movement tell the brain how the body should work and should feel." The young riders assume a variety of positions on the back of their gentle, calm horses – sitting frontwards, then backwards, then sideways, then taking the "Superman position" (laying on the animal's back with arms extended).
Horse-assisted therapy, she says, is beneficial for kids with cerebral palsy, Down's syndrome, autism, ADHD and developmental delays. "For someone with cerebral palsy, the horse's motion starts to retrain the brain," she says. "It aids with weight-bearing on the legs and standing. Over many, many sessions, that spark happens."
Greta has faced different challenges. Born 10 weeks premature, the first months of her life were spent in the neonatal intensive care unit, hooked up – her mother says – to tubes and wires. "That was the first time I heard about horse therapy," Elizabeth says. "Even when she was very, very sick, her doctor said he hoped she would be on a horse someday. She has faced so many hurdles … but here she is."
The Tangquists began Greta's therapy at Riding on Angels' Wings, the Felton, Minnesota, program established by Bette Shipley in 2002. When that pioneering program ceased in 2017, NDSU's Department of Animal Science picked up its services as part of its minor in equine-assisted therapy. Sessions take place in the NDSU horse arena west of the campus.
College students take part in the program, walking on either side of the young riders and mastering other aspects of the adaptive riding approach to therapy. "When a person sits on the back of a horse, it moves its body as if it was walking. That rhythmic input stimulates the brain and body," program director Berg explains. "It helps integrate and organize the child's sensory system." She adds, "The part of the brain associated with sensory movement is very close to the speech center. It can jump-start it a little bit."
Greta, who struggles with audio processing and is home-schooled, loves her weekly sessions at the arena. "It's fun. It doesn't feel like work," her mother points out. "It's a sneaky kind of therapy.
"This is Greta's own thing. When she's on a horse, she is calm – happy and confident."
The 13-year-old sums it up more simply: "I love this."
For more information on equine-assisted therapy, visit www.beyondboundaries.us/specialprograms and www.bisonstrides.org.