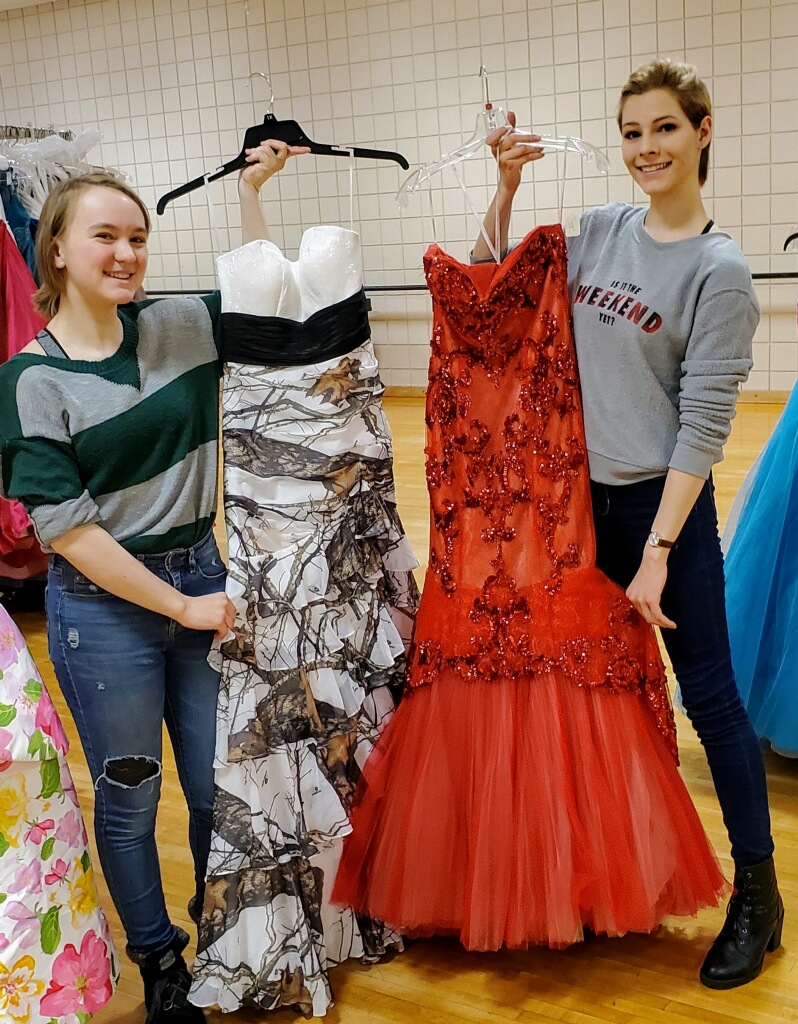 Karen Newman
Rack upon rack of beautiful prom dresses greeted an excited crowd on the upper level of Nemzek Hall at Moorhead State University (MSUM) on February 7 and 8. With prom season fast approaching, If the Dress Fits, a nonprofit agency, partnered with MSUM's chapter of the Public Relations Student Society of America to provide free prom dresses for high school students. The nonprofit's founders, Ashleigh and Amy Arntson, traveled to Moorhead with a large trailer containing about 400 dresses, representing about two-thirds of their inventory.
Ashleigh Arntson, an MSUM graduate, works as an admissions representative for the Minnesota School of Cosmetology in St. Paul. Amy Arntson is a member of Essentia's Physician Quality Department in Fargo and Duluth. If the Dress Fits began when Ashleigh became frustrated as she struggled to find an affordable prom dress in her junior year at Esko High School which is located near Duluth, Minnesota. Her mother, Amy, explained, "Our whole family is frugal." Troubled by the thought of students who couldn't afford a gown to participate in what is considered by many to be a significant high school experience, Ashleigh approached her mother to ask for ideas. She wanted to make prom dresses available anyone who might not be able to otherwise afford them. Amy explained, "My daughter is absolutely concerned about helping others. I have a business degree from Concordia. I helped her set up a business plan. I delight in being able to work with her as an adult on a professional level."
In a video on their Facebook page, Ashleigh added, "If the Dress Fits is now an official Minnesota 501(c) (3) nonprofit." 2020 marks its fifth year, as the event has grown from a local venue in the Duluth area to also reach teens through giveaway events in Moorhead, Barnum and Little Fork, Minnesota. It is advertised as the '2020 FREE Prom Dress Giveaway Tour'.
The press release for Moorhead's weekend event emphasized that the goal of If the Dress Fits is to make sure that any teen, regardless of family income, be able to shop for and wear the perfect prom dress. Amy emphasized that their inventory includes dresses from size 0 to size 26. A donation box at the door of each dress giveaway gives interested individuals the chance to make a cash contribution, but a donation is not required to receive a gown. A high school ID is requested to assure that a student who has chosen a dress is eligible for prom participation.
As the nonprofit expanded, they attracted co-sponsors. In addition to the MSUM student group, If the Dress Fits partners with two other northern Minnesota organizations to provide prom experiences. They supply gowns for special needs participants attending a prom event sponsored by the Duluth chapter of A Night to Shine, a program of former professional football player Tim Tebow's charitable foundation. They also coordinate with Duluth's North Woods Children's Services to outfit high schoolers enrolled in their residential and day treatment programs for their formal graduation event.
As the nonprofit grew, donations grew as well. Families continue to donate lightly worn dresses but businesses have also become increasingly involved over the years. The Fargo bridal shop, Your Day by Nicole, donated many new dresses and a New York-based designer donated new gowns worth up to $1500 each, retail.
When the nonprofit began, their storage space was the Arntsons' home. When the inventory outgrew the Arntson basement, the nonprofit relocated to a temperature and humidity-controlled site. Financial contributions to assist with storage, transportation and travel expenses may be made at the door or by going to the If the Dress Fits Facebook or Instagram pages and selecting the donation link. The nonprofit has also sought and received a limited amount of grant funding. Amy Arntson added that professional dress rack contributions are always welcome.
Justin Goldade, an officer of the MSUM Public Relations Student Society of America chapter, appreciates the opportunity to get real-life, hands-on experience in planning and facilitating a large group event. With directives from Amy and Ashleigh to guide them, the student group coordinated publicity, checked the facility and recruited volunteers. Student group volunteers joined by interested community members labored Saturday morning to assemble dress racks and to unpack and hang gowns. They served customers at the two-day event. Finally, late Sunday afternoon, the volunteers dismantled, repacked and loaded gowns after the show. Goldade said, "Learning the importance of process in actually facilitating an event was important for us. We learned that by doing A, it leads to doing B and then to C, as the event's plan is implemented." He continued, "It is a privilege to fulfill someone's dream of going to prom and it is good feeling for us to be part of that. It is really paying it forward for the people who donate gowns that will be worn for a uniquely American cultural event. These dresses are more than fabric hanging on a rack. They represent joy."
For more information about If the Dress Fits, the nonprofit may be contacted at the following email addresses:
Ashleigh Arntson: ashkarntson@gmail.com
Amy Arntson: gardnerarntson@yahoo.com