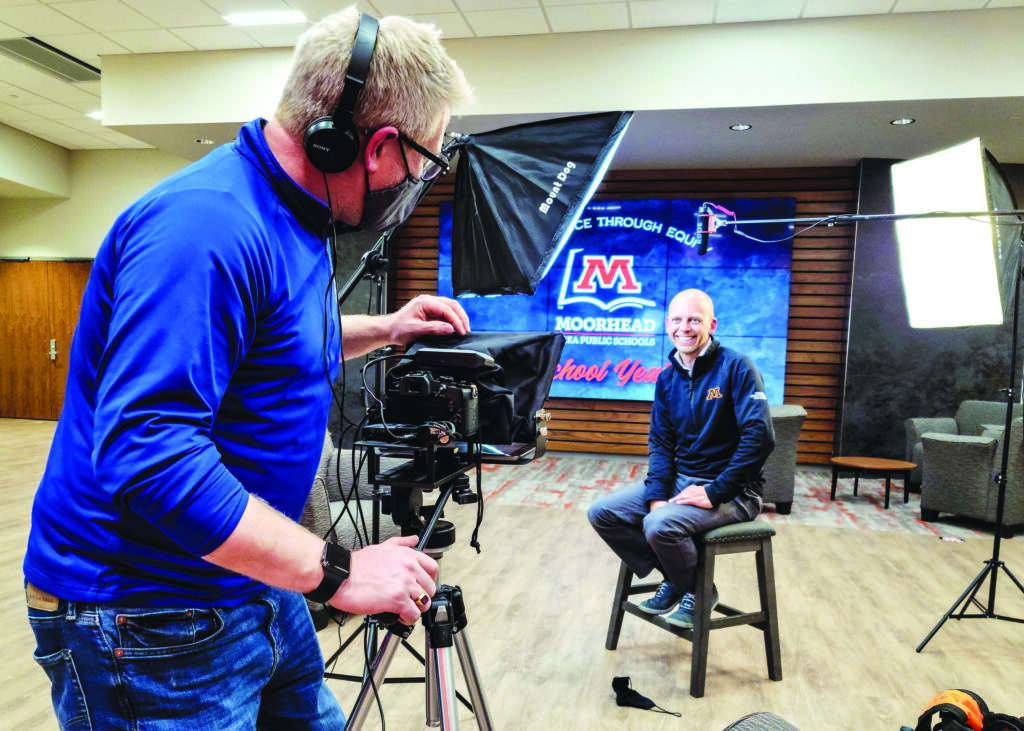 Videos prepare parents for 5-year-olds' first days of school
Nancy Edmonds Hanson
It's the biggest step that 5-year-old feet must take: Starting school. From the familiar routine of home and day care, they jump into a whole new world filled with new faces, new skills and new demands.
Stressful enough for youngsters, the transition can be even more daunting for parents, especially first-timers. And when the little ones are being launched into pandemic-challenged schools, it can seem doubly disconcerting.
In normal times, Moorhead elementary schools have eased parents and offspring into their new environment with a series of ten weekly face-to-face sessions led by the district's early childhood educators. "It was great," recalls early childhood coordinator Joelle Hofer. "Parents and kids spent the first hour having fun, then split off to hear from staff about nutrition, transportation, school nurses, and the skills and steps children should master to get the most out of kindergarten."
Not this year! Though 600 5-year-olds are expected to walk through the schools' doors in September, circumstances have forced some out-of-the-box thinking. Last year, the program was cut short when pandemic precautions ruled out face-to-face meetings. It was a foregone conclusion that it wouldn't work for this fall's crop of beginners.
So, like so much of this year's learning, the district has gone online. Public engagement director Brenda Richman and her staff have teamed up with elementary principals for a series of original video productions titled – surprise! – "Keys to Kindergarten." They're putting the final touches on the program this week. It will debut online next Thursday, April 22. Links will be sent to all families who have registered their kindergarteners online. It will also be posted on the district's website.
The series of five three- to five-minute videos could be subtitled "Everything You Need To Know About Kindergarten … But Had No Chance to Ask." Principals of all four Moorhead elementary schools provide the on-camera talent, intercut with footage of beginning students enjoying and learning in local schools. Supplementing the big show, four additional videos have been produced, one per school, to offer children a virtual tour of the place where they're likely to spend their next five years.
"Thank goodness for Brenda and her staff," Joelle emphasizes. "There's lots to learn here. Parents can watch everything or just the parts that interest them most."
Joelle queried the same school staff members she would normally have booked for the live sessions – school nurses, bus drivers, food and nutrition staff, and classroom teachers. Each provided her with the five most important things they want the beginners to know – along with what parents can do to make the transition safer, less stressful and more fun.
The information is introduced by principals Robin Grooters of Dorothy Dodds Elementary School, Josh St. Louis of SG Reinertson, Chris Triggs of Robert Asp and Lynelle Giddings of Ellen Hopkins, along with Joelle herself. The production crew includes music teacher Chris Olson of Hopkins and Brian Cole of Horizons Middle School, with Brenda as the director and producer.
What kinds of tips can parents glean from the videos? Here are five top tips for classroom confidence suggested by kindergarten teachers:
• Students should be able to recognize and write their names, as well as identify some letters and numbers.
• Social and emotional skills are very important – separating from a parent, interacting with their peers, listening to directions, and paying attention to a task for five minutes or more.
• It's important that the child be able to sit for a story, as books are a huge part of kindergarten classrooms.
• We would like students to be able to identify and express their emotions: "I feel happy, because I'm at school." "I feel sad because I lost my pencil."
• One of the most important things to help students get ready is to practice independence skills: Getting dressed. Getting a coat on and zipping it and putting on mittens without assistance. Buttoning; pulling pants up and down for toileting. Getting shoes off and on independently.
Parents who have not yet registered their kindergarteners are urged to visit https://www.isd152.org/page/kindergarten-enrollment. By signing up, they'll automatically receive the URL for "Keys to Kindergarten."